- I ship from Finland
- all prices are in EURO
- the prices do not include shipping costs
- my feedback can be found here http://eglfeedback.livejournal.com/263645.html


Pink jacket by BABY, THE STARS SHINE BRIGHT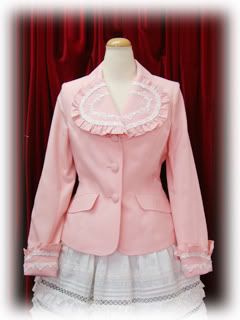 Cute jacket with many details! It has lots of rose venice lace, a pretty logo
embroidery on the pocket and a lovely Alice in Wonderland -themed lining. This
jacket is also very versatile since the lacey collar, the frilly bustle on the
back and the cuffs are all detachable. The jacket is in good condition, hardly
ever used. It's very good for cool weather.

Pics!

proof of ownership http://i196.photobucket.com/albums/aa123/corina-chan/P1110822.jpg
the removable bustle on the back http://i196.photobucket.com/albums/aa123/corina-chan/P1110823.jpg
the emroidery on the pocket http://i196.photobucket.com/albums/aa123/corina-chan/P1110824.jpg
the cute lining http://i196.photobucket.com/albums/aa123/corina-chan/P1110825.jpg

Measurements

length:
52cm
shoulder width: 38cm
bust: 88cm
sleeve length: 61cm

Price:105e


Handmade blue x pink skirt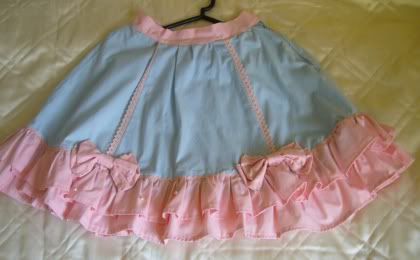 This skirt has lots of pearls on the bottom ruffles, as well as pink rick-rack ribbon
and two pink bows! It was inspired by AP's Candy Pop collection. Please keep in
mind, that I am NOT a professional seamstress and this can be seen on the
reverse side of the skirt, but there are no flaws that can be seen while wearing
the skirt.

Measurements

waist: 68cm
length: 52cm

Price:
21e

thank you for looking and have a nice day!