Please pay by Paypal. Singaporean buyers can pay by DBS bank transfer!
All prices include international shipping (tracked), but Paypal surcharges still apply. For US buyers, it's an additional 4% rounded up to the nearest dollar.
Priority goes to the first person to leave their Paypal address (or to local buyers). Please pay within three days of receiving the invoice.
I take holds and will wait until the specified time, but only with a 20% nonrefundable deposit. :3
Feel free to make offers! There are some items that I'm not in a hurry to sell, however, so whether I agree or not will depend on circumstances.
All measurements listed below are garment measurements.
I have positive feedback <a href="http://community.livejournal.com/eglfeedback/403720.html">here</a>.
Item 1: Innocent World Nicholas Fruits skirt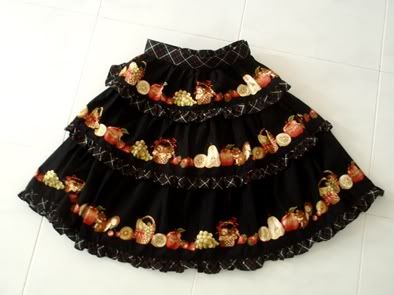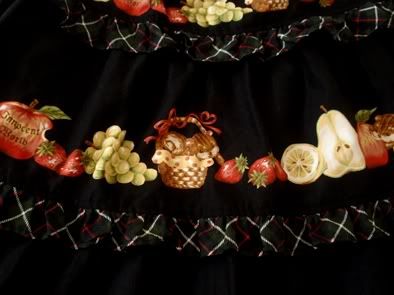 A beautiful three-tiered autumn skirt with tartan ruffles and a print in autumn colours that stands out against its black background.
SIZE L! Measurements as according to Hello Lace:

Waist: 64 – 78cm (note: the shirring is a little tight, so you want to be at least 73cm.)
Length: 55cm

USD 120 (including international shipping)





Item 2: Innocent World Frigg bolero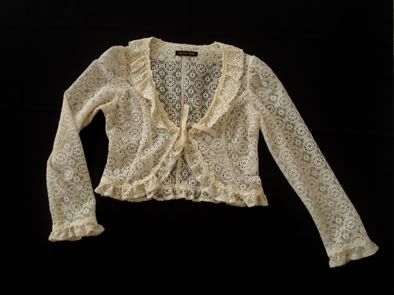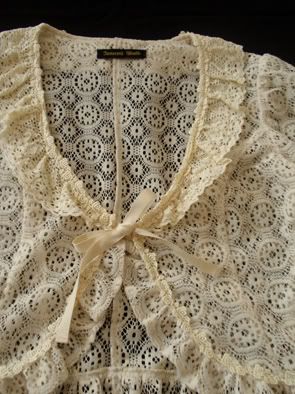 Another lovely piece, made of crisp, textured torchon lace. The official measurements say bust 89cm, but mine say 96cm from armpit to armpit – and it fits me at bust 93cm just fine.

Bust: 96cm
Waist: 80cm
Shoulders: 26cm
Length: 44cm
Sleeve length: 60cm

USD140 USD 120 (including international shipping)





Item 3: Angelic Pretty Royal Poodle OP + headbow set, sans brooch


I still love this print to death, but the cut of this dress just doesn't suit my body shape. The set came to me with the waist-ties present but the brooch missing. Otherwise, the dress has been worn very gently by its previous few owners, and to my eye it looks as good as new. The dress is ¼ shirred and there is corset lacing at the back, meaning that the dress can be adjusted to fit a variety of measurements. In the print are all the colours of snow and ice, with accents in glittering silver.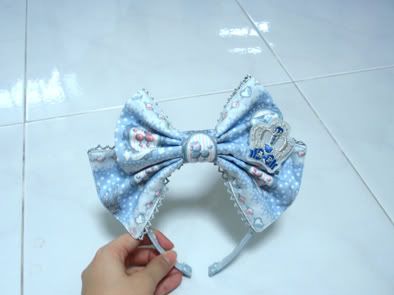 Bust: 90cm (+10cm from back shirring)
Waist: 70cm (+10cm from back shirring)
Length: 90cm

USD 280 USD 260 (including international shipping)




Item 4: Angelic Pretty little bear's café skirt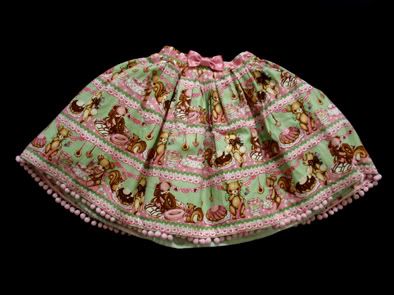 Angelic Pretty's little bear's café skirt in lime! Another wishlist item which didn't work out against the rest of my wardrobe. The skirt is made of a wonderful thick fabric and fringed with a soft pink ball trim, delightful to see and touch.
I've only worn it out once, briefly, so I'm selling it for slightly less than what I got it for. This skirt comes complete with waist ties and inbuilt petticoat, and appears in perfect condition.

Waist: 63 – 73cm
Length: 52cm (including fringe)

USD 230 (including international shipping)




Item 5: AATP Relief JSK
NWT




I fell so much in love with this dress that I bought it even though I knew it was too small in the bust. As such, it's still new with tags. Fully lined, with brown grosgrain ribbon detail and gorgeous, gorgeous lace.




I put this dress on the comm sales last year and it did sell, but I'm having to put it up again thanks to the non-paying buyer. Please find it a good home. ;__;




Bust: 86cm
Waist: 73cm
Length: 95cm

USD 410 before international shipping USD 390 (including international shipping)





Item 6: SurfaceSpell evening with the Unicorns skirt

NWOT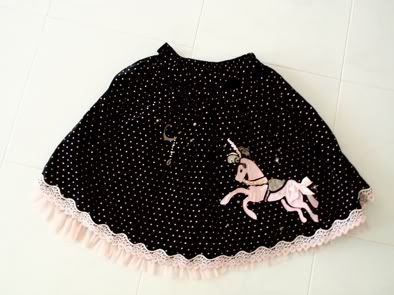 This is a gorgeous, gorgeous skirt. Blue velour, so dark as to be almost black, polka-dotted in pink and embellished at the bottom with pale pink lace and the softest pink tulle. The unicorn applique is fixed with rhinestones, with stars embroidered right into the fabric. I'm putting it up for sale because I haven't worn it at all due to a lack of matching coordinates, and thought someone else might give it the love it deserves.

This is one of the items I'm in no particular hurry to sell, so I'm only letting it go at full price. Thank you for reading!

Can be safely handwashed in cold water.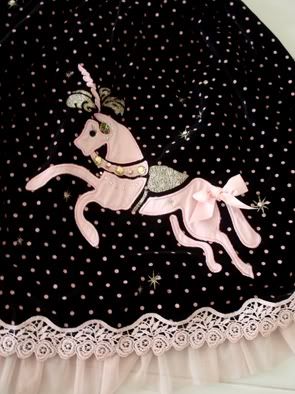 SurfaceSpell size L.
Waist: 58 - 80cm (has shirring)
Length: 54cm

USD 65 (including international shipping)