Terms & Conditions:

♪~Payment~♪
I prefer payment by Paypal, but will accept money orders, cashier's or personal cheques or cash payment.
All snail mail payments are at buyer's own risk and tracking is recommended. I am not responsible for any lost payments.
All cheques and/or money orders will be held until cleared.
Prices are primarily in US dollars. British Pound, Euro, and Japanese yen may also be accepted.
Buyers are responsible for Paypal fees which can be
calculated here
and will be added into invoice.
Invoices are in US dollars unless otherwise agreed upon.

♪~Shipping~♪
I ship from Hawaii, USA and will ship anywhere the USPS ships to.
Prices are not inclusive of shipping unless mentioned. Prices including shipping are only to the US.
I ship First Class or Priority as first choice. Parcel post is optional and slower, but cheaper. Tracking is recommended for this.
All domestic shipments may come with tracking and/or insurance at buyer's own cost.
International shipments may be registered for all mail types, insurance available only through EMS.
International shipping primarily through envelope unless otherwise requested. Shipping extras at buyer's own cost.
I am not responsible for any packages once they have left my hands.

♪~Others~♪
I will do holds with a 20% deposit.
Payment plans available. Non-refundable 20% deposit sent via personal payment required.
All sales are final. NO REFUNDS
I expect responses to comments within 24-48 hours unless previous mention of delay.
Please respond, even if it is to say you are no longer interested.

Feedback here:
http://community.livejournal.com/eglfeedback/1122027.html

Black Brocade Corset Top :: $25
Has back zipper, lightly boned. No stretch
Size M, new
Bust ~ 34 inches
Waist ~ 27 inches
Fanplusfriend Black Shirring Top :: $65 shipped
New, Size F, will trade for a larger size or different top
Fully shirred, bust up to 38 inches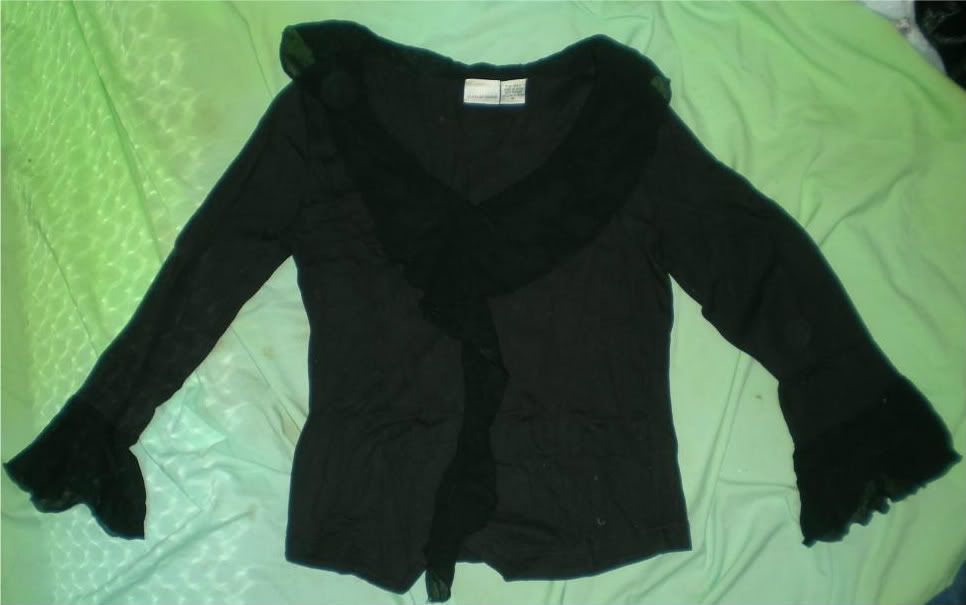 [
detail
]

Offbrand Ruffled Cutsew :: $25
Size medium, fits up to large
Ruffles are chiffon. Top is new
Fanplusfriend White Corset Bustle Skirt
Size F, Waist ~26 inches
New, never worn
Will consider a trade for this for a larger sized skirt
Also have this in black and ivory at a slightly larger size and will consider selling
Bodyline Butler-Maid OP :: $85
Dress Length: 88cm
Skirt Length: 52cm
Shoulder Width: 38cm
Bust: 88cm
Short Sleeve Length: 24cm
Waist: 70cm
New with tag. Sale is for dress ONLY without detachable sleeves.
Damaged Black Offbrand Shoes
1 1/2 inch rise and 4 inch heel, matte pleather with silver flower buckle
Size 5.5US
New. Severe humidity damage. These are free, just pay for shipping.
Works well for zombie or wrecked lolita
I just want to see if anyone wants these before I toss them.
Demonia Danke Shoes
Worn once for a dandy photoshoot, minor scuffs from storage
Size 7US
Will consider trading for this in size 9 or 10
Demonia Kera Shoes
Matte pleather body with 3 inch rise, 4 inch platform
Worn once for a photoshoot, minor damage from storage + local humidity
Some ink marks used to cover some damage only noticeable if looking for it
Size 7US
Older sales here >>
http://egl-comm-sales.livejournal.com/16690677.html
{Anna House and Bodyline + tops, shoes, and accessories}
And here >>
http://egl-comm-sales.livejournal.com/16778664.html
{plus size and a wig}