My feedback: http://eglfeedback.livejournal.com/1360516.html
☆ I only accept Paypal.
☆ US buyers/traders preferred! I will consider international, but this is my first sales/WTT post, so US is preferred!
☆ Prices include shipping inside of US, inquire for other regions
☆ Prices are negotiable and partial trades will be considered.
☆ I live in a smoke-free home! I do have a dog who sheds excessively! He is not allowed in my room but his hair gets everywhere! I will remove any dog hair from the clothes to the best of my ability but those with allergies beware!
☆ All prices in USD

My little pig here is my proof! My purple/blue polka dot sheets are also in every photo!

DS/DT
First item is a Meta bolero from the latest LP! NWT, only tried on! It does not suit my body type. Not recommended for large busts. Amateur measurement: about 15 inches across not stretched. Could probably stretch only 1-2 inches more max.
Features cute bows and buttons on the front! There is an extra button sewn onto the tag. On the back collar there are also 2 little bows. In the photo the ends of the sleeves look like they poof out. When I tried it on, they still did that.
I would prefer to trade/partial trade this for one of my WTB/WTT items (below)! Price is $80 OBO.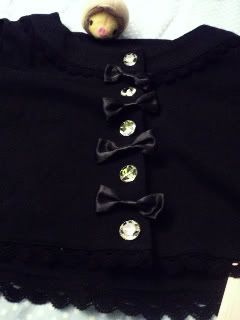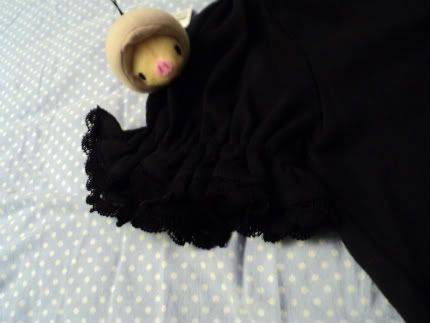 Second are the socks I received in the Meta LP! They are OTK. Only tried on. I had to remove the tag to try them on but I will include it in the package! I would prefer to trade/partial trade these for one of the items on my WTB/WTT list below!
Price is $25 OBO.
WTB/WTT!!



I am currently looking for a few items to go with this OP:
This image belongs to LJ user blue_meddy and is being used with her permission!


I am looking for a headbow to match this! I do not want any headeating bows because they are too big on my small head! I am looking for something lavender but will consider others if they match! I am not looking for a particular brand and I am not that interested in handmade items but I will consider them if you have a particular one in mind to show me!

I am also looking for socks! I am thinking something with a small floral detail or with some lavender detail (nothing too overwhelming because I want the print of the dress to stand out more). If you have something else that may look cute, feel free to show me! It does not need to be a particular brand. I prefer OTKs but will consider knee highs as well. I prefer unworn or only tried on socks unless you have small feet! I am a size 22.5 cm so even slightly stretched socks are too big for me, sorry!

Lastly for this OP I am looking for some shoes. I need size 22.5 (5-5.5 US). I was thinking something in lavender but will consider other colors! Does not need to be brand!

I am also looking for socks and shoes to go with this OP (it is the raschel lace OP from the Meta LP):


The same criteria as above applies for shoes/socks as far as size/brand/etc. For the socks I would like something black with maybe a small floral design. I will consider other options that may match though! I also prefer OTK but will consider regular knee highs. For the shoes I would like something with a heel (nothing flat).

Lastly I am looking for a blouse and socks to match this JSK:


I am looking for a long sleeve black blouse that will match this! I need something that will fit a smaller size (about an 80-82 cm bust). It does not need to be brand.
I am also looking for socks to match as well! I was thinking white or black with a small design that will match the print/design. I prefer OTK but will consider regular kneehighs. Same criteria above regarding wear/brand/etc.

I would love to trade/partial trade my first 2 items for any of these items listed! I just spent a lot on these items so I do not want to spend a whole lot on my WTBs. I will consider all offers though!

Thank you and sorry if my WTB is too vague, I am open to lots of ideas!
Let me know if you have any questions!