terms of service:
- paypal or local transaction only. (no e-checks, concealed cash)
- payment must be made in USD only.
- all holds require a 20% non-refundable downpayment.
- PP fees are the buyer's responsibility unless sent by gift.
- first come, first serve basis. please leave your paypal address to hold your place in line, regardless of whether or not you will end up buying (i will not invoice you until i get your approval).
- let me know ASAP if you are no longer interested.
- loss of contact after 24 hrs will be interpreted as loss of interest.
- trades for other brand items welcome, but !DS (in general) has priority.
- once the package leaves my hands, i am not responsible for any loss or damage.
- priority goes to highest offer.
- i reserve the right to refuse sales to anyone either due to negative (or no) feedback / previous bad experiences.
- unless otherwise specified, i ship via first class & recycled packaging. for international transactions, i always mark the package as a gift. value declared is up to the buyer.
- haggling within reason is allowed, but please note you may lose your place in line by offering a lower price.

feedback page:

[

here ]


serious disappointment on my behalf for the following two items DDD: i bought these without double-checking their measurements, and they are both way too small for my stature. both jackets are incredibly cute (and warm) — perfect for the coming winter! condition is NWT; front is closed via removable velvet ribbon, fur collar is detachable. fully lined with satin & brand logo.

★ liz lisa fur collar cardigan (pink) [ NWT ]
$95 + shipping & fees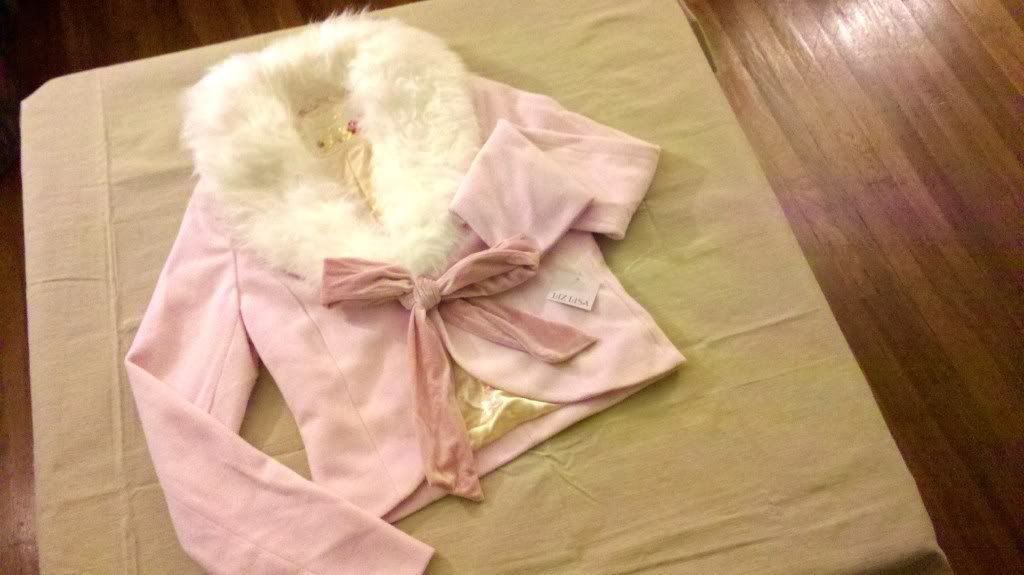 max bust: free size if open, 33" closed (firm!)
recommend waist: ~28"
max arm circumference: ~10"

close-up | top | bottom | alternative view | lining | tag


★ liz lisa fur collar cardigan (black) [ NWT ] [

sold

]


$95 + shipping & fees






★

btssb triple tier burgundy headbow [

sold

]
$45 + shipping & fees


★

btssb bunny trumpet ring [ NWOT ]

[

sold

]
$35 + shipping & fees




★

algonquins tartan check skirt
$45 + shipping & fees




min waist: 25"
max waist: 29"

those measurements are absolute! bought the skirt second hand, tried it on, but it wasn't flattering. definitely better suited for petite girls =]. the skirt actually opens up and is a wrap-around, so you could wear this over another skirt if you like. condition is good, with minimal piling inside. very versatile and perfect for punk!~

buttons close-up | unbuttoned | tag




these are a few brand accessories i have for sale; all of them are items i didn't want to keep from non-negotiable sets.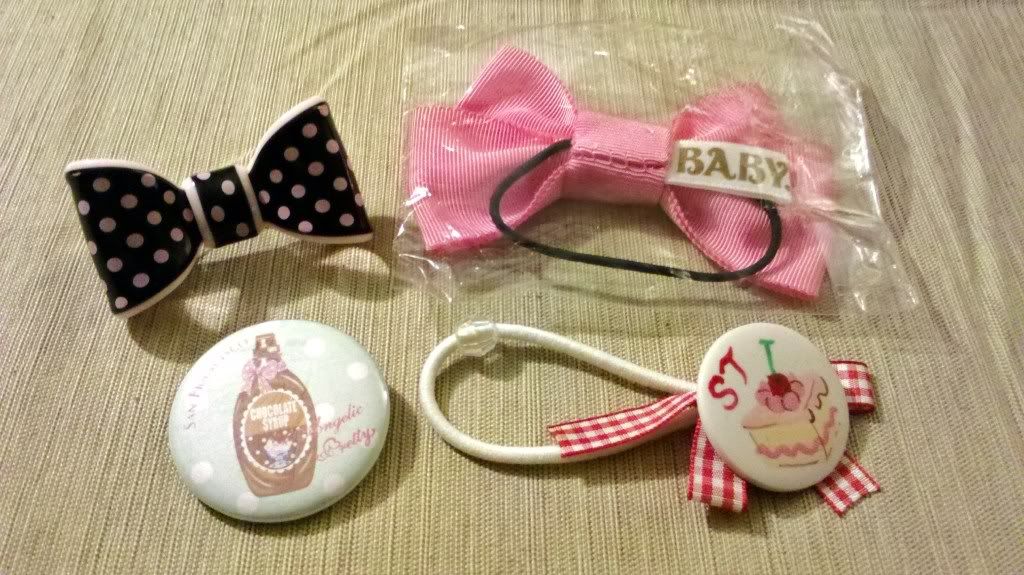 ★

shirley temple black x pink ribbon hairclip [ NWOT ] [

sold

]
$15 + shipping & fees



★

btssb pink grosgrain hairtie [ NWOT ]
$10 + shipping & fees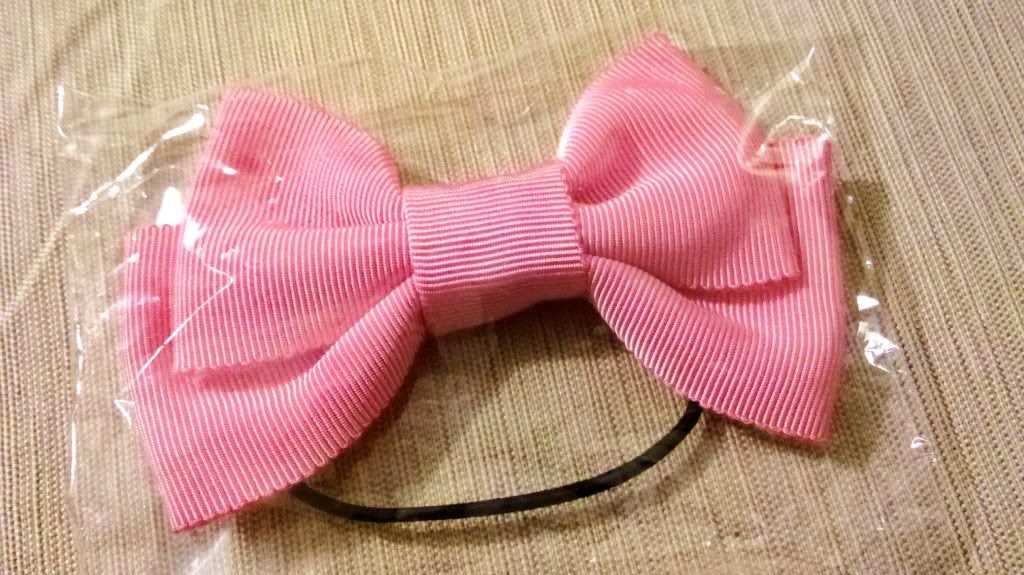 ★

shirley temple cake ribbon hairtie
$8 + shipping & fees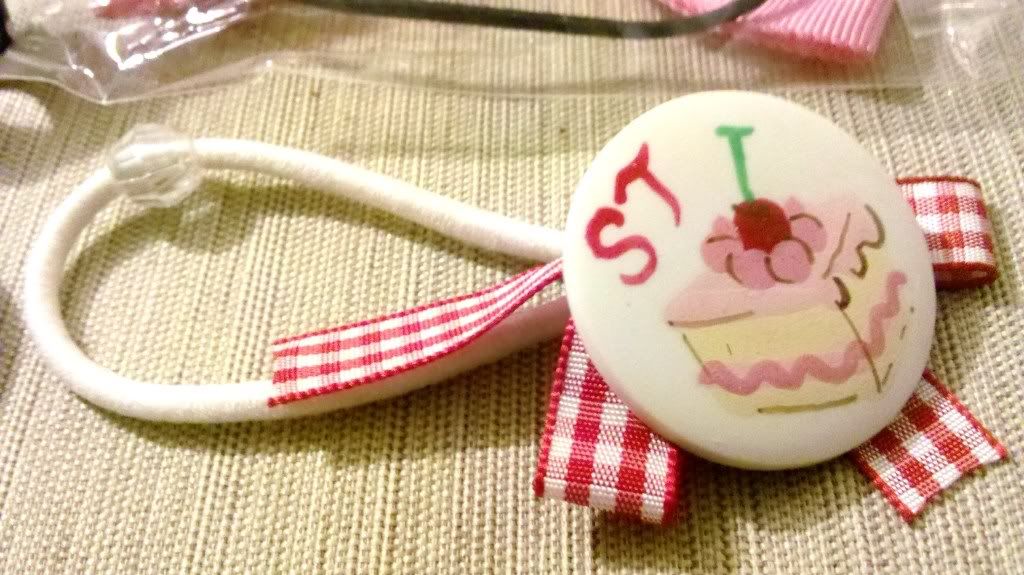 (second-hand, in good condition)



★

AP san francisco exclusive honey cake pin [ NWOT ] [

sold

]
$5 + shipping & fees



- [ accessories lucky pack sale ♫ ] -
$25 $20 ea + shipping & pp fees

over the course of many months, i've simply collected too many accessories, either from unexpected gifts of sellers, or from impulsive buys that never got worn / worked with my closet ._. i've since divided them up to the closest genre they belong to, in the hopes that they can be easily worked into someone else's wardrobe =]. the conditions of all items are listed; if there are any flaws, they are described and photographed with the corresponding item.

please note, i chose to group these into lucky packs because selling them individually would be too exhausting for me. as such, the packs can not be split. sorry in advance & thanks for understanding ^^

★ hime accessories pack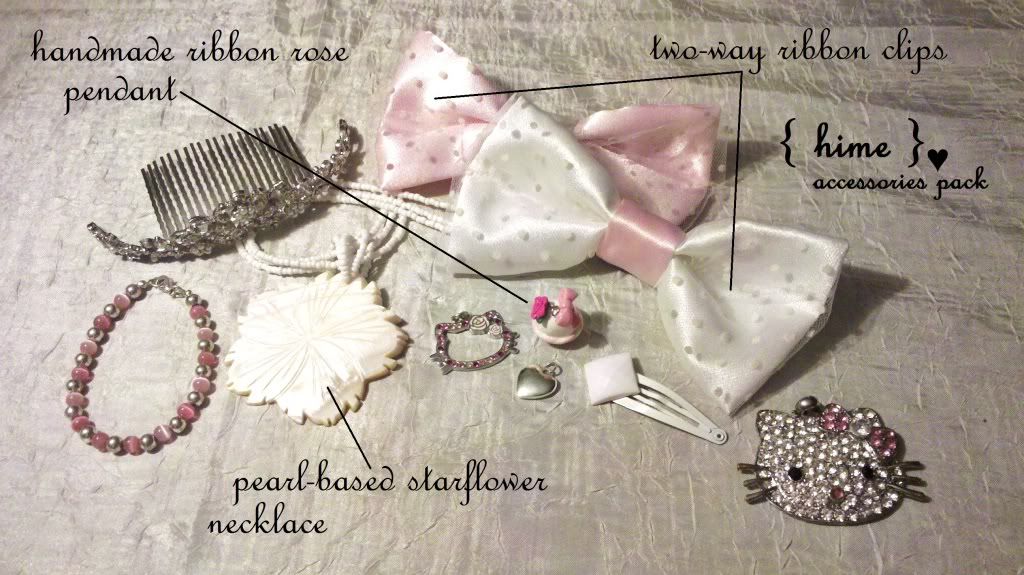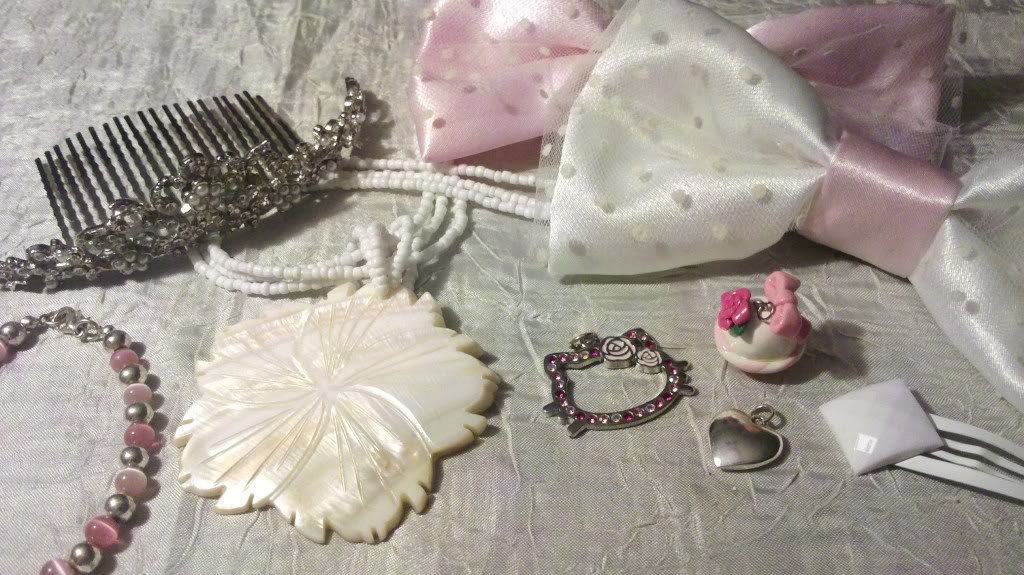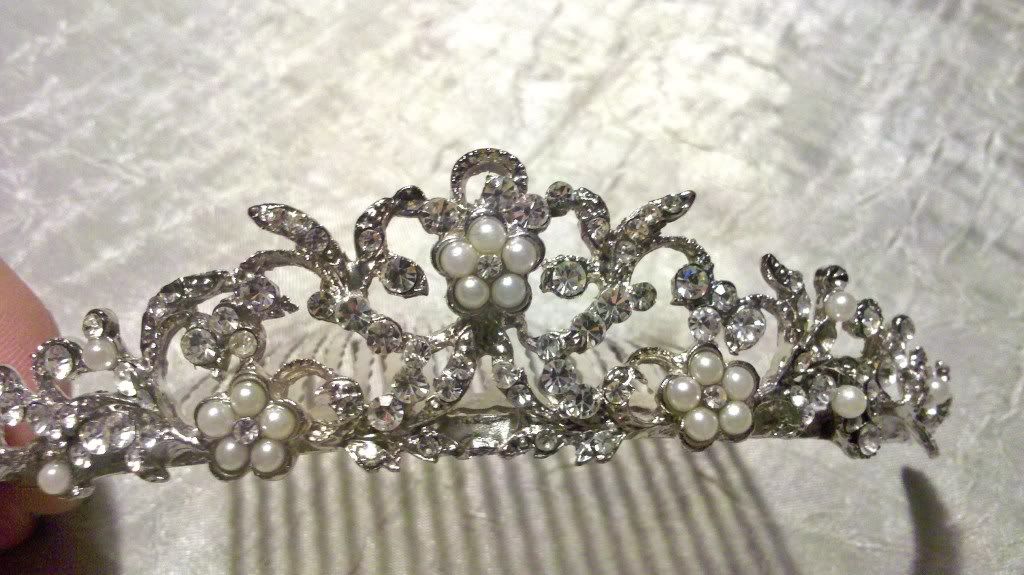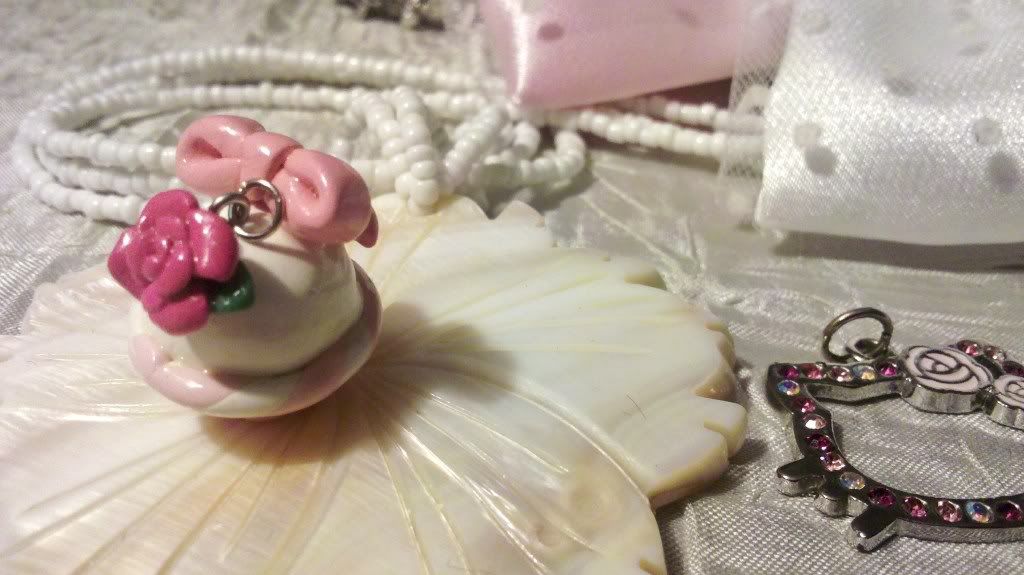 includes:
- (2) pink x white dot tulle two-ways. can be worn both as a brooch and as a hairclip (NWOT)
- silver tiara crown [ front ] [ back ] (worn by previous owner, sanitized)
- pearl dust starflower necklace (worn a few times by me, in excellent condition)
- pink x silver bracelet (worn many times by me, in good condition)
- (1) singleton white diamond hairclip
- large hello kitty pendant (worn a few times by me, in excellent condition)
- (2) small hello kitty & silver heart pendants (worn by previous owner, in excellent condition)
- handmade floral ice cream pendant (NWOT, but part of the back ribbon broke during transportation)




★ fruits accessories pack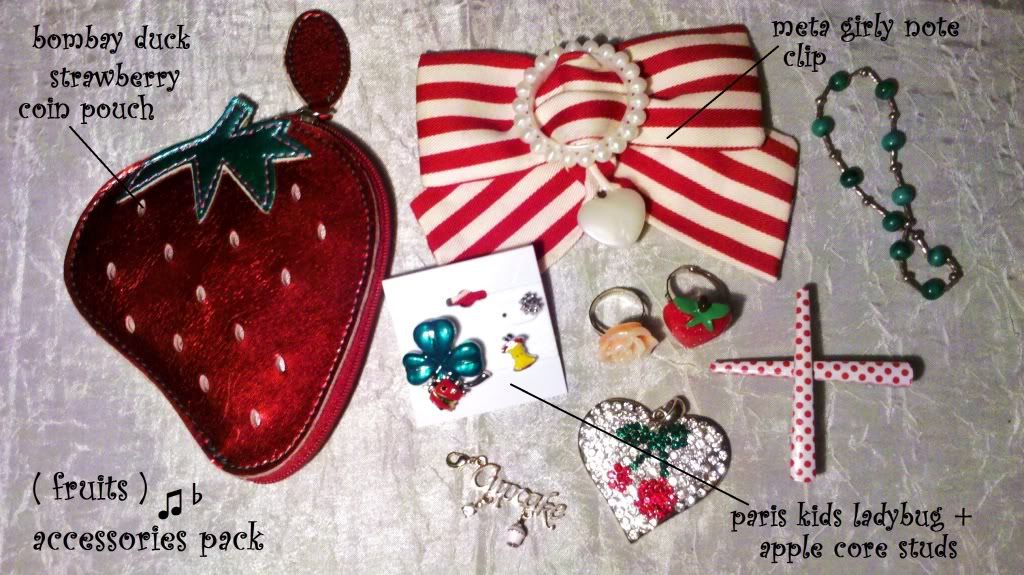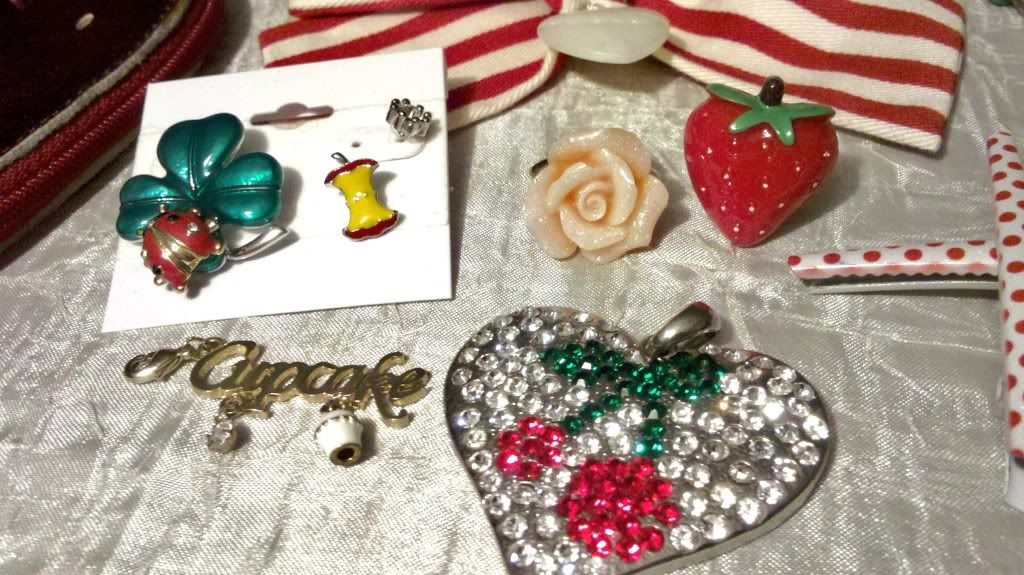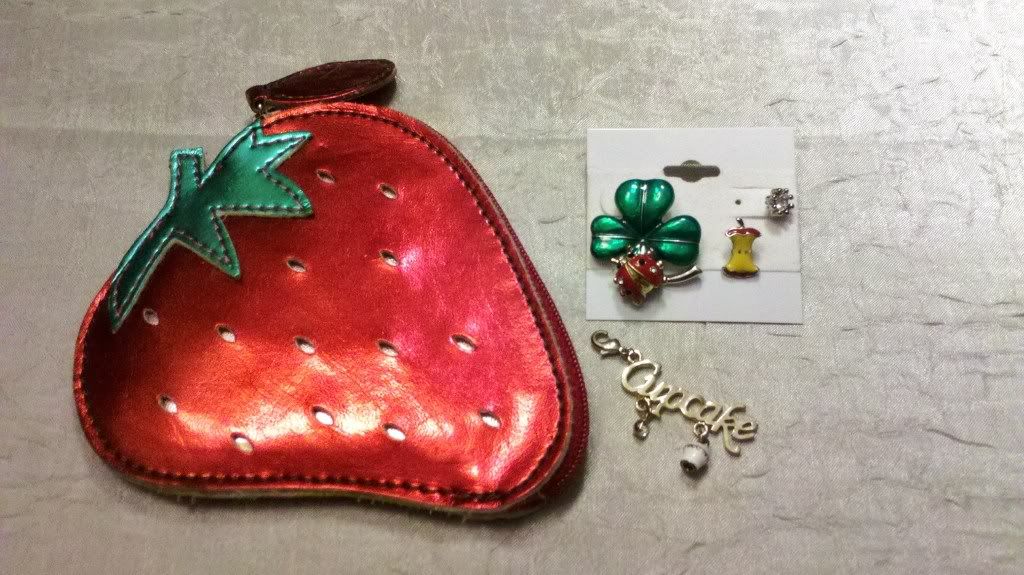 includes:
- bombay duck strawberry coin pouch (used by both previous owner & me, in good condition [ inside shot ])
- meta girly note sidebow (worn by previous owner, small dent in safety pin)
- paris kid's clover ladybug, apple core & snowflake studs (NWOT)
- silver heart cherry pendant (NWOT)
- (1 pair) red polkadot hairclips (new, tried on by myself only)
- (2) handmade cabochon rings, adjustable (marmalade glitter rose & strawberry) (new, tried on by myself only)
- green x silver morse code bracelet (worn by previous owner, in good condition)
- gold 'cupcake' pendant (w/ lobster clasp) (free gift, NWOT?)



★ classic accessories pack
$25 + shipping & fees
previously,
- plaid ruffle chiffon blouse -- $15
- whip magic OTKs (pink x mint) NWOT -- $30
- angelic pretty black & white polkadot folding mirror -- $40
- angelic pretty triple bow floral headdress -- $36
thanks for looking!
xx