- If traded/bought before the 29th of November, I will be shipping from Perth, Australia. If after this date, it will be shipped from Gold Coast, Australia.
- I have pets at home that may or may not come into my room. My clothes are in a wardrobe, but be warned!
- I would appreciate PayPal fees being paid by the buyer on this occasion, thank you!
- I will only ship internationally via registered post to avoid any complications, it's about $5AUD more expensive than airmail shipping anywhere in the world. If you'd like express shipping, please enquire - it's pretty pricey, however!
- My feedback is here.

I would prefer to trade these two dresses for things on my wishlist here. The dresses I want are in alphabetical order for your convenience!

I am trading/selling these dresses because I've found that I really want to build up my sweet wardrobe before getting into other styles of Lolita! Both have been hardly worn and are in excellent condition!

1.) Vampire Requiem short JSK in navy - trade or $400USD before shipping and PayPal fees.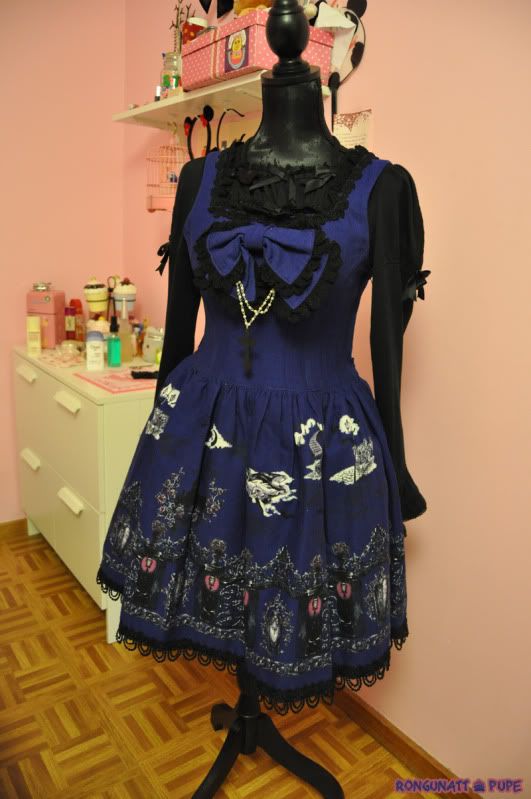 I haven't worn this JSK due to it not fitting me. I had the sole intention of losing weight in order to wear it, but since have lost interest in this print and have wanted to pursue sweet prints!

Measurements:

Bust: ~94cm
Waist: ~79cm. TRADED, THANK YOU! <3

2.) Vampire Forrest JSK in navy - trade or $270USD (price is negotiable slightly) before shipping and PayPal fees.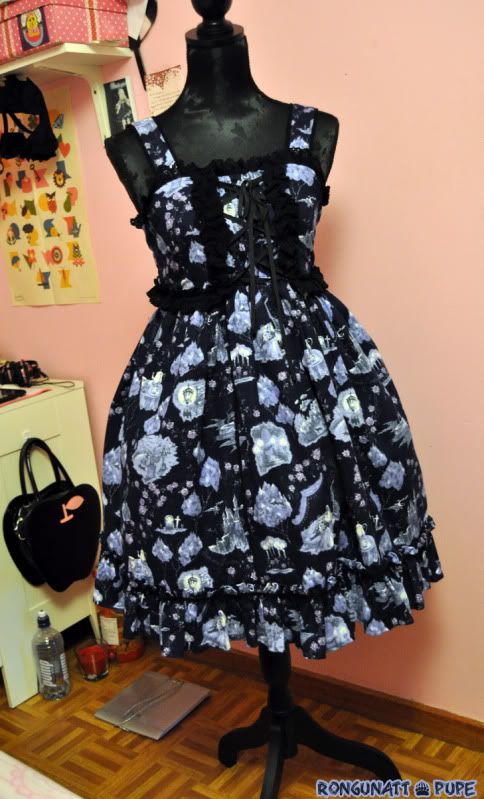 Partially selling this because it just doesn't sit on me right. I have pretty broad shoulders, so I think this makes me look silly. I'd love to trade this for the OP version in either black, navy or red if I can't find any buyers/traders!

Measurements:

Though it has two panels of shirring, it's pretty limited. I'm a 38/39" bust and 33" waist and I would say that would be max before it starts to look really silly.
Minimum measurements are pretty small since you can lace up the front with ribbon cosetting.

If you have any questions, or don't know if I'd be willing to trade for your item; don't hesitate to ask, I don't bite! :D Just please be aware that I'm not interested in Bodyline, offbrand, skirts or other things not clearly stated on my WTB/trade list, thank you!