(over) 4-week re-post
re-posted due to non-paying buyer in the BtSSB community

feedback

A Few Rules: (Please Read)


Shipping:
I ship from the US.
Buyers within the US get priority.
I ship PRIORITY FLAT RATE. These prices are fixed by the US post office and I do not have the ability to change them.
Small box and thick envelope:
*~USA = $5.20
*~Canada and Mexico = $11.95
*~All other countries = $13.95
Medium box:
*~USA = $10.95
*~Canada and Mexico = $27.95
*~All other countries = $45.50
Large box:
*~USA = $14.20
*~Canada and Mexico = $35.50
*~All other countries = $58.50
Please let me know your location when you post (just the country is fine).
Items will not be shipped out until one week from payment date.


Buying / Trading:
All items are OBO, and prices are in USD. I only accept Paypal.
They all have been used unless otherwise stated. They have all been washed. Any flaws I found have been photographed, and many have a penny for size reference. I wear lolita clothing everyday, so please don't expect fresh-from-the-store clothing. I am not the kind of person whose clothes are in a glass-case; clothing is meant to be worn and seen by the world.
If anything I'm selling is a wishlist item, pm me and let me know; I'll give you a discount or free gift or priority. I know how good finding a wishlist item feels, so let me know (please show me your wtb or posted wishlist as well)~! ♥
First to confirm to buy (with paypal) gets priority, not first to ask question etc. After confirming, you have 3 days to pay before it goes to next person.
My wishlists are on my Livejournal (under construction). If you have something on the wishlists that I would like, I will do a full trade with you or partial. I am too poor right now to straight up buy something; I would prefer a full trade. Also, please note that my wishlists contain both what I have (bottom) and what I want (top), so please read carefully. I am generally not willing to do international trades.


Sizing / Proof:
I do not have a way of properly measuring clothing, so all sizing is my best estimate, or, if available, I have listed the Hello Lace measurements.
When I describe colour, it is as I see it on my computer. If you have questions, I will do my best to answer them, but please be aware that there might be a slight difference between what I see on my computer and what you see on yours.
Extra photos, including proof, are listed as links below the primary item photo.
My proof is Ghostie (for some items, my proof photo has my octopus plushies. I can repost another proof picture if anyone has any doubt... I used to use the octopi as my proof, and I forgot that I decided to use my ghostie plush this time. ><;;)



Baby, The Stars Shine Bright Snow Dot JSK in Yellow
Price: $140 + shipping in medium flat-rate box
Worn maybe five times or less, no flaws I could find
Condition: like new, worn 4-5 times
Measurements: 90cm length, 85~94cm bust, 74~84cm waist




Baby, The Stars Shine Bright Tweed Sherbert Coat and Skirt in Lavender
Price: $395 $250 for the set or best offer (if the set is to be split, $150 for each) + shipping in medium flat rate box
Originally I paid $275 for the coat and $250 for the skirt, totaling to $525. The only flaw is a small mark, and I have worn it a few times, so I think the price is well set. I will give priority to those willing to buy the full set
Waist ties for the skirt are included. There is no shirring on the coat, but the skirt has shirring. The coat has two pockets, and an additional non-removable bow on the top left. The skirt has a detectable bow
Measurments: Coat = 54cm length, 87cm bust, 58cm sleeve length. Skirt = 49cm length, 61~66cm waist


Coat Bow Pocket Skirt stain Penny (size comparison) Detachable Bow Skirt Waist tie

Bodyline Highwaist Rose Skirt in White+Blue set w/ tie
Price: $20 + shipping in medium flat rate box
Great condition. Ordered new from Bodyline's site and only worn twice. There are a two minor flaws photographed in the links below: a small stain, and circular marks that were there when I got it from Bodyline. I also sewed hanger straps to the inside so it could be hung on a hanger. They can not be seen from the outside. Shirring and Side Zipper
Sizing: Standard Bodyline Medium. Skirt Length = 24in. Skirt Waist = 24in to 30in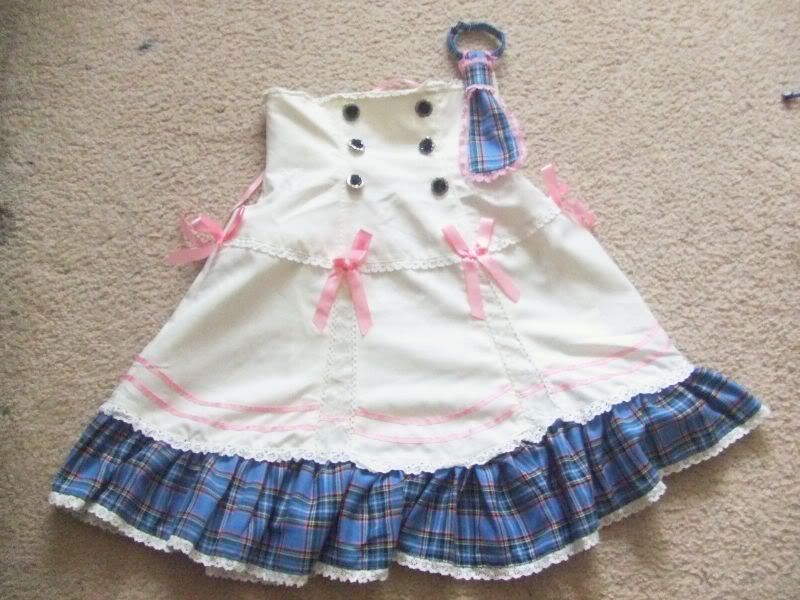 Bow Lace Tartan close-up Tie Zipper Buttons Tie Clasp Tiny Stain Circular Marks Penny (size comparison) HangerStrap Proof

Proof for above items:



Peace Now Oil Wipes
$10 + shipping in a small flat rate box or envelop
Novelty item. New, in plastic wrap. Colour ins a bright dark pink (more magenta than hot pink)



YesStyle Dot Cutsew in Mint
Price: $15 + shipping in a small flat rate box or envelop
can be worn with a skirt or under a jsk. I have worn it three times with my Usakumiya skirt. minor dirty shown in photo links.


collar minor dirtying

Bear Scarf
Price: $20 $15 $10 + shipping in medium flat rate box
A very cute off brand scarf. There is a small tear in the tail photographed below

tear
Gothic and Lolita Bible Vol. #22
SOLD
$10 + shipping in a flat rate envelop
Like-new condition, comes with the patterns insert