Greetings!
My feedback is
here
.
These items are posted on my etsy shop. Their prices and details can be found by clicking on them.
Classic Lolita - Pink Rose Stripe Skirt $49.99



Classic Lolita - Fruit Blossom Skirt $49.99




Sweet Lolita - Pink Cherry Skirt $44.99

Megan Maude Bunny Hoodie $39.99 OBO (Shipping not included)
This is an entirely custom made bunny eared hoodie that Megan Maude made for me years ago. While I've worn it a few times, I feel like someone else who would wear it more should own it. It is made with a medium weight cotton jersy, with hand-cut eyelet lace on the exposed edges, and beautiful eyelet trim as well. The later lace has always reminded me of orange blossoms.
The front features a bib section, with adorable white buttons that match the lace trims wonderfully. For me, the hoodie has been long enough to wear a belt just above the hem ruffle.

This article has some light staining, partially do to blue hair. A great cleaning should be able to return this to its natural white glory, but in case someone would like this by Halloween I've dropped the price in exchange for the new owner being ok with the discoloration.

Measurements
Bust: ~37"
Waist: ~33"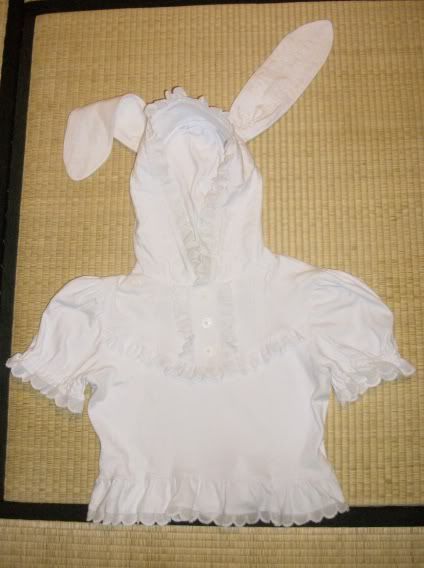 Back, Detail


* Unless elastic or jersy is mentioned, the items with rounded measurements have a little bit of give.

Please feel free to ask any questions!
~ Novalis