Hey everyone! Thanks for clicking on my sales post.

Rules/info:
-Paypal ONLY
-Prices are in US dollars
-Shipping is from Canada, if you need something urgently or by a certain date please let me know so we can work something out
-To calculate shipping, please provide me with your Canadian or US postal code, or international country
-I have a DOG who SHEDS LIKE YOU DON'T EVEN KNOW, so if you are allergic to pet hair/dander, please use caution. Most of my clothes do have traces of dog hair on them even if I wash and use a lint roller on them
-Measurements are amateur and approximate. If you'd like the professional and official measurements, please check hellolace.net
-Priority goes to highest offer, followed by whoever can pay first, then to a first-come-first-served basis
-All prices are negotiable!

please see my feedback here: http://eglfeedback.livejournal.com/264878.html

1. Angelic Pretty Melody Doll JSK in pink
Please note this is the JSK, not the OP, so there are no long sleeves and there is no capelet!
I bought this second hand and have never worn it. I was a bit overzealous when I was doing up the zipper and the zipper ended up splitting below the zip. I took it in to a seamster who fixed it professionally. I'm not sure if he replaced it entirely or fixed the existing zipper without removing it, but I couldn't find any alterations to the dress other than the zipper worked again.
It's in a generally used condition. The fabric is a soft wool so there is some rubbing here and there. The armpits have some pilling but there is no yellowing or staining I could see. The velveteen belt has pulled away from the zipper a bit, and some of the seams that hold in the pleats have been pulled a bit. I've taken pictures of all this damage.
Other than that, it's in great condition. There is no shirring or stretch in the dress except around the neckline and sleeves.
Measurements:
Bust: 36" max
Waist: 30" max
(please note, if you have a larger bust it may fit, but it pulls the waistband up to your ribs and your ribs need to be 30" or less for the waist to fit around you)
http://i6.photobucket.com/albums/y208/Chied/P1012154.jpg

Front detail: http://i6.photobucket.com/albums/y208/Chied/P1012155.jpg
Fabric wear: http://i6.photobucket.com/albums/y208/Chied/P1012156.jpg
Armpit wear: http://i6.photobucket.com/albums/y208/Chied/P1012157.jpg
The stitching at the skirt: http://i6.photobucket.com/albums/y208/Chied/P1012158.jpg
Other side: http://i6.photobucket.com/albums/y208/Chied/P1012159.jpg (these are both basically invisible but I thought I'd include this detail)
Back with separating velveteen: http://i6.photobucket.com/albums/y208/Chied/P1012160.jpg
I'd like $250 + shipping for it, or trade/partial trade. TRADED

2. Baby the Stars Shine Bright Wizard of Oz JSK in pink
I bought this used off the comm_sales and have tried it on twice, but I don't like how it looks on me. Overall it's in pretty good condition but has general rubbing and wear on the fabric, lace and embroidery just because of it's age. There are no visible stains or defects on it other than its age however. Needs a good iron, lol (I can do that before I send it, or I can send it without ironing it if you'd prefer that).
Measurements:
Bust: 37" max
Waist: 30" max



Please see Hellolace for more pictures: http://hellolace.net/wardrobe/baby-the-stars-shine-bright/type/jsk/item/52/
Proof photo: http://i6.photobucket.com/albums/y208/Chied/P1012346.jpg
I'd like to get $100 + shipping for this.


For trades I am interested in just about anything, specifically:
Sweet OPs
Baby circus tutu JSK in blackxpink ONLY
Baby's Cinderella Jewelry in blackxpink or pink
AP's French Cafe JSK or OP in red or pink
AP's Triple Tart OP in pink or red
Mermaid Symphony OP or JSK in black or pink
Holy Night Story in black or white
Black cutsews
Pink shoes with small heels (no teaparties please)
Drop-waisted dresses
Short skirted dresses
Skirts with fully-shirred waistbands
Hime and OTT style OPs and JSKs
White, pink, cream or red bonnet
Country/classic-style JSKs and OPs
NO BODYLINE

Feel free to offer other items as well!

My measurements:
Bust - 38"
Waist - 30"
Hips - 34"
Shoe size - L/24.5cm/US8-8 1/2

WTB:
I'm looking for pink or white blouses, preferably brand. I like chiffon, lots of bows, tulle lace, cute details, etc. I do not want a full shirring blouse.
Here are some examples of what I'm looking for: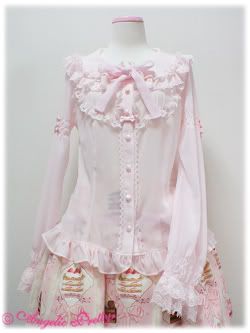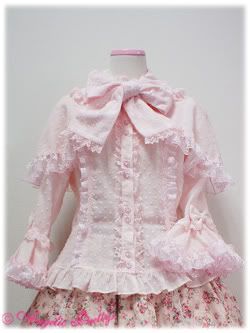 This style of cutsew: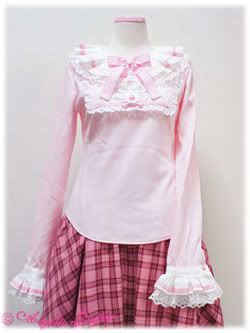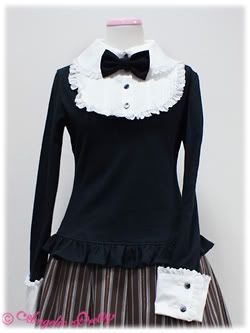 They don't have to be these specific pieces! This is just to give you a vague idea. Please leave a comment or PM with your price, and your feedback.
They need to fit my 38-39" bust and my 30" waist without gaping!

Thanks for looking! If you'd like any additional information or photos, please ask!