- I have 100% positive feedback over here
- Shipping is not included
- I am not responsible for lost packages without tracking (you'd have to pay the additional cost for tracking)
- Measurements are taken as accurately as possible, but please bear in mind I am not a professional seamstress
- I am open to trades, but would prefer to sell
- If you have any questions, just ask!


Anna House OP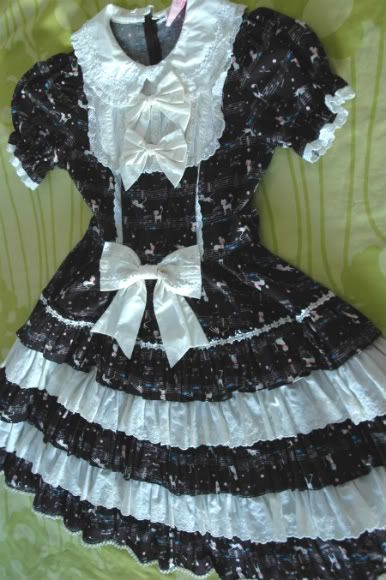 This is one of Anna House's early designs (I have never seen/found anyone else with this design), which is beautifully made. The pattern is very whimsical and features cats, music notes and dots; it is also adorned with various types of lace. I had it custom made and have worn it (and washed it) a total of three times; I have kept it in excellent condition since. All three bows (the two smaller ones above and the larger one at the waist) are detachable. The dress also has waist ties.


Measurements
Bust: 81 - 88 cm // 31.5 inches - 34.6 inches
Waist: 58cm - 71cm // 22.8 inches - 28 inches (has waist ties)

Price: $ 65


Thank you!