I really need these gone! The money will be going to my fund for one of my dream dresses. All prices are negotable and do not include shipping. Also, keep in mind domestic shipping will be cheaper than international.
Feeback: http://eglfeedback.livejournal.com/971613.html



White Bodyline Blouse: $20 plus shipping

It's a standard Bodyline size M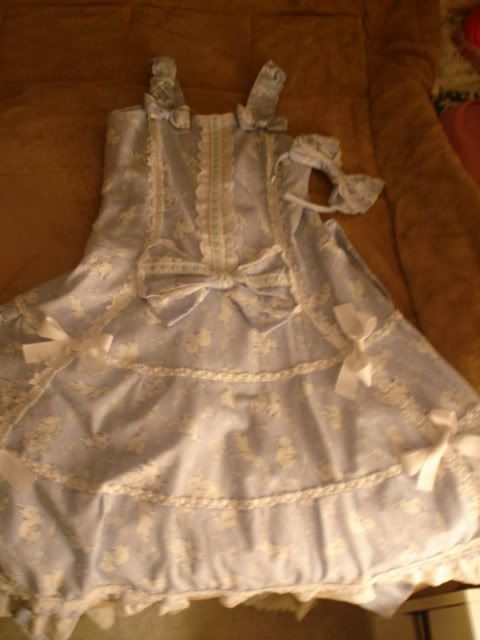 Handmade (not by me) Sax Alice JSK and Matching Headbow: $30 plus shipping

This was made by a local Lolita. It's 100% quality cotton with white, cotton rose lace and groison white ribbons. The print is or rabbits drawn in the old-school, Peter Rabbit kind of way. Fully lined and an A-line shape. Great for taller Lolitas. Has a bit of shirring in the back and non-removable waist ties

Bust: 34-38
Waist: 66-72





Red Cakes and Strawberries Anna House Dress: $40 plus shipping

This is a lightly older peice of AH. I am the 3rd owner. The very first owner lost the large white detachable and the white ribbon for the lacing in the back. The second owner could not find them but other then that it's in very good, lightly worn condition. This was my first Lolita dress ever and while it's still cute, I've moved into Classic and left super Sweet behind. It's an Anna House size M

Bust: 36-42
Waist: 66-76





Anna House Floral OP: SOLD

This is a very old peice of AH. It's very pretty and a nice creamy peach color with pale pink roses. However, the previous owner did not tell me about a rip she repaired on the bodice. It's not noticable when worn, but the damage is reflected in the price.


Thank you for looking and let me know if you have any questions or would like more pictures!