Hi there.

I want to sell my AP tartan's JSK. It's built in PETTICOAT.

It has back shirring and the max bust is around 100cm. The waist about 76cm or so, it has waist ties.
The "heart pockets" are real pockets.
It has lacing for tie around the neck or bust part (as you prefer). The "white" part on the bust isn't detachable.

I didn't see this version of the jsk before, so is rare, though.

80 EURO SHIPPED TO EUROPE (I can accept other offers aswell)

Photo: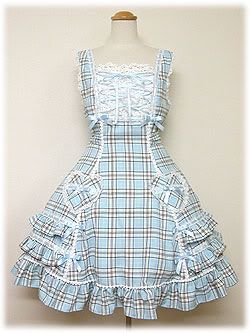 Is this version, but in RED.

More photos for details:

pupe.ameba.jp/item/UhCYQmG3mQ7a/ysURVK7uB9Gv/


I paid around 200 euro but long time ago. I'm the second owner, and it's obviously used (it has around 5 years, though).


My feedback: community.livejournal.com/eglfeedback/523208.html & feedback.ebay.com/ws/eBayISAPI.dll

Thank you~!