Please pay by Paypal. Singaporean buyers can pay by DBS bank transfer!
All prices include shipping (tracked), but Paypal surcharges still apply. For US buyers, it's an additional 4% rounded up to the nearest dollar.
Priority goes to the first person to leave their Paypal address (or to local buyers). Please pay within three days of receiving the invoice.
I take holds and will wait until the specified time, but only with a 20% nonrefundable deposit. :3
All measurements listed below are garment measurements.
I have positive feedback here.
Item 1: Angelic Pretty sweet jam skirt + headbow set SOLD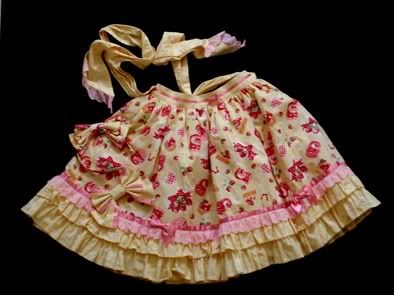 Angelic Pretty's sweet jam skirt and headbow in yellow! It was on my wishlist for the longest time but when I finally laid my hands on it, I found that it didn't suit me that well after all. ;_; I'm sending it out with all the bells and whistles – fabric swatch, waist ties, detachable bow, so come and grab! This skirt has an inbuilt petticoat and POCKETS!

*Note: I don't keep any pets but the previous owner did, and the skirt came to me absolutely covered in cat hair. I've washed it twice and obsessively lint-rolled off all the cat hair I could find but I can't guarantee that there are absolutely NO stray hairs left in it, so beware if you're allergic to kitties!

Waist: 63 – 73cm
Length: 48cm
SOLD
Item 2: Angelic Pretty little bear's café skirt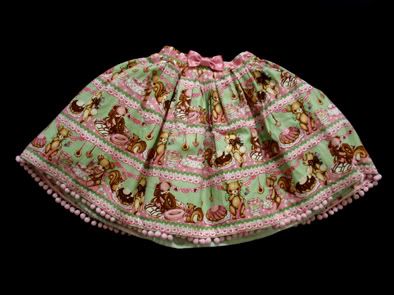 Angelic Pretty's little bear's café skirt in lime! Another wishlist item which didn't work out against the rest of my wardrobe. The skirt is made of a wonderful thick fabric and fringed with a soft pink ball trim, delightful to see and touch.

I've only worn it out once, briefly, so I'm selling it for slightly less than what I got it for. This skirt comes complete with waist ties and inbuilt petticoat, and appears in perfect condition.

Waist: 63 – 73cm
Length: 52cm (including fringe)

USD 230 (including international shipping)





Item 3: Angelic Pretty Royal Poodle OP + headbow set, sans brooch


I still love this print to death, but the cut of this dress just doesn't suit my body shape. The set came to me with the waist-ties present but the brooch missing. Otherwise, the dress has been worn very gently by its previous few owners, and to my eye it looks as good as new. The dress is ¼ shirred and there is corset lacing at the back, meaning that the dress can be adjusted to fit a variety of measurements. In the print are all the colours of snow and ice, with accents in glittering silver.

Bust: 90cm (+10cm from back shirring)
Waist: 70cm (+10cm from back shirring)
Length: 90cm

USD 280 (including international shipping)