PLEASE READ THE FOLLOWING
-Feedback: http://community.livejournal.com/eglfeedback/183713.html

-***IMPORTANT*** THIS AUCTION WORKS BY PUTTING UP OFFERS. This means that there is no set price. The price I stated is the suggested price but you may put up an offer that you consider is reasonable or the amount you are comfortable with paying -- the price can be higher or lower than the suggested price. Most likely I'll take the offer that is the highest when it comes to multiple people interested in the item. NEVER PUT AN OFFER THAT COMBINES SHIPPING AND MONEY HANDLING FEES. If I consider your offer too low, I will let you know by the end of the auction.

-***IMPORTANT*** When putting up your offer, PLEASE PUT YOUR BID UNDER THE COMMENT THAT HAS THE TITLE OF THE ITEM. If you want to raise or lower your offer, comment under your original comment. My post may be moderated so please refrain from commenting with your offers until you see my comments.

-I WILL TAKE OFFERS UNTIL OCTOBER 4, 3:00 PST. After the time has passed, please do not put any more offers. I might not be able to get to the computer at that time in case of an emergency so know that the auction ends at the specified time. I will trust you, the bidder, to not bid after the ending time.

-IF YOU PUT UP AN OFFER, PLEASE BE READY TO PAY. If, for whatever reason, the person who's offer I accept backs down, the item automatically goes to the second highest bidder and so forth. If you made an offer and cannot pay, PLEASE KNOW THAT I WILL LEAVE NEUTRAL/NEGATIVE feedback. I CANNOT EMPHASIZE THIS ENOUGH. Please do not complain to me about feedback because I have made it very clear that you are free to ask questions and that if you bid, it means that you are committed to go through with the sale.

-I EXPECT PAYMENT WITHIN 24 HOURS. NO EXCUSES. If you have questions to ask, please ask them before the auction ends rather than asking them after the auction is over. Failure to do so will lead to neutral feedback from me.

-I AM NOT INTERESTED IN TRADES UNLESS I STATE SO.

-UNLESS STATED, ALL OF MY ITEMS ARE IN VERY GOOD CONDITION. Any large stains, rips, alterations, other damages, etc that I think should be noted will be stated on my post. Most of my clothes have been worn and washed unless it is stated that it is new so it might have small signs of wear.

-I do not have transportation means that are reliable so I cannot guarantee an exact date as to when I can ship out your item but I will try my best to ship them out ASAP. I will never take more than 2 weeks to ship out your item. If you need your items to be shipped out as fast as possible, I will try my best to ship it out the next day after I received your payment.

-If you want to bid privately, please create a sock account and PM me using the account you usually use for transactions on egl_comm_sales telling me your sock account. Please PM me your feedback page as well. DO NOT PM ME BIDS OR BIN RELATED MESSAGES.

-All prices are in USD.

-Feel free to ask questions (click "reply" to the comment that says "Questions, comments, etc") PLEASE DO NOT COMMENT OR ASK QUESTIONS IF YOU ARE NOT SERIOUS ABOUT BUYING. Please do not PM me questions as well because the question you may ask might be helpful for other buyers as well :)

-No refunds and returns.

-Payment plans are accepted and I will hold onto items for some time. In order for me to hold items, I expect non-refundable deposits. Please ask me how much the deposit will be before bidding on an item if you are planning to ask for a hold. Every time you pay an installment, you will have to pay handling fees.

-You will have to pay handling fees. International: 6% / Domestic: 5%. I do not accept gift payments. Sometimes these handling fees won't cover all money handling fees which in that case, your shipping deposit will cover whatever amount that it needs to cover.

-I only accept Paypal unless you want to do an in person transaction.

-Minimum bid increment: 1 USD
---

IMPORTANT SHIPPING INFORMATION
I REQUIRE SHIPPING DEPOSITS. They may seem high but it is to ensure that I don't cover shipping costs out of my own pocket. Please do not ask me to lower them. IF SHIPPING ENDS UP BEING LOWER THAN THE AMOUNT OF THE DEPOSIT, I WILL REFUND YOU ONCE I COME BACK FROM THE POST OFFICE. IF SHIPPING ENDS UP BEING HIGHER, I EXPECT A REIMBURSEMENT WITHIN 24 HOURS. FAILURE TO DO SO WILL LEAD ME TO LEAVING NEUTRAL FEEDBACK.

FOR DOMESTIC BUYERS: All packages will be shipped with tracking thus tracking costs will be added towards the shipping total. The shipping deposit amount should cover the tracking costs. 99% of the time I will use flat rate boxes to ship your item out. Please do not ask me to not include tracking or use a different method of shipping.

FOR INTERNATIONAL BUYERS: If I need to buy a box to ship out your item, this will also be included in your shipping costs. I WILL ONLY SHIP YOUR ITEMS OUT USING EMS. I will not sent it via air mail because sometimes the post office doesn't let me get tracking. However, I will mark down packages for you, if you would like but please know the consequences of doing so.

I AM NOT RESPONSIBLE FOR LOST/DAMAGED ITEMS. I am sending out what you see in my post and will do my best to make sure your items get to you in the condition that they were sent in. I am not responsible for lost/damaged items if you did not pay for insurance. If you did insure your package and something happened to it, I will do my best on my side by communicating with USPS as to what should be done.

If you want to pick up the item from my place, you do not have to pay shipping costs or money handling fees. I can't meet you at a certain place to pick it up though, sorry.
---
h.NAOTO FRILL: Embroidery JSK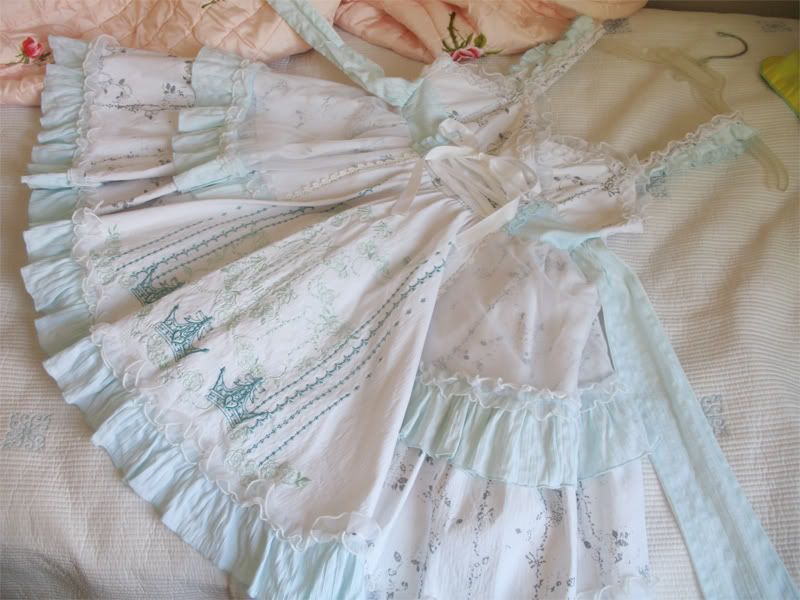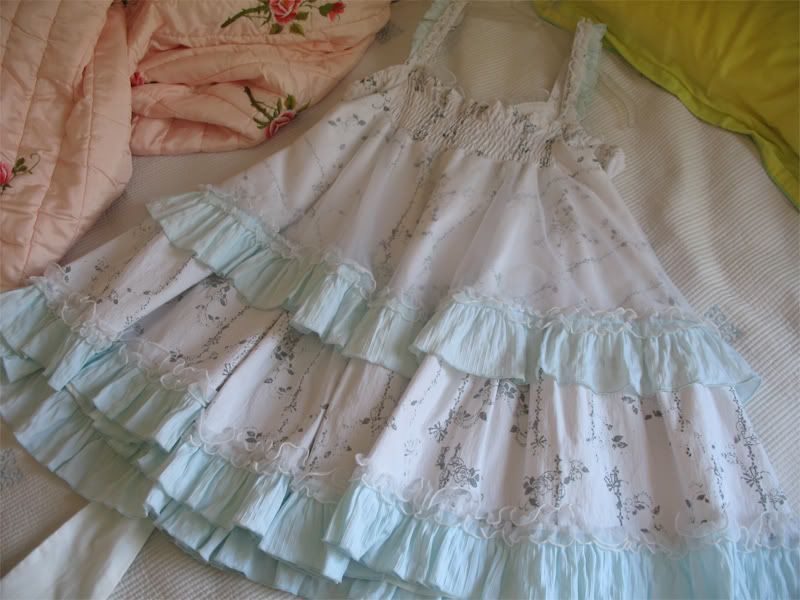 Has some shirring.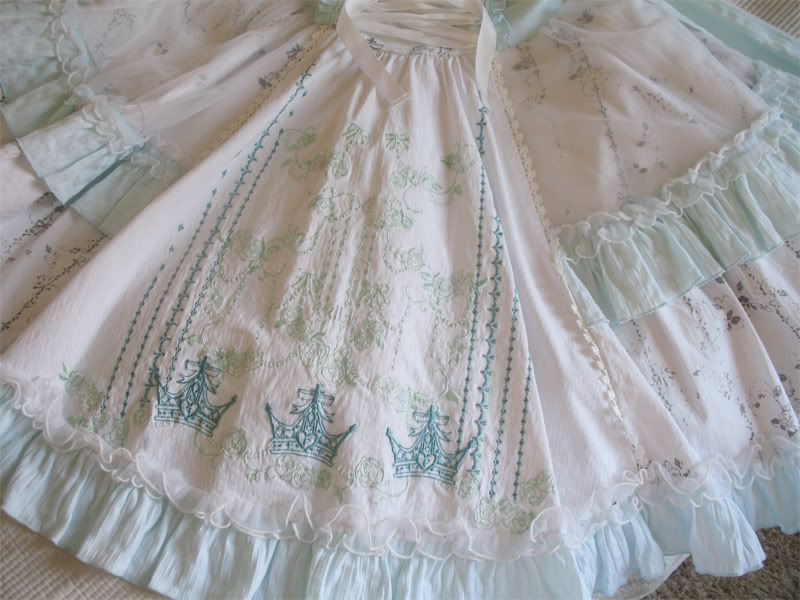 -Amateur flat measurements: length: 80 cm, high waist: 33 cm, bust: 36 cm

Suggested price: $210

Domestic shipping deposit: $11.65
International shipping deposit: $50
---
Victorian Maiden: Classical Doll dress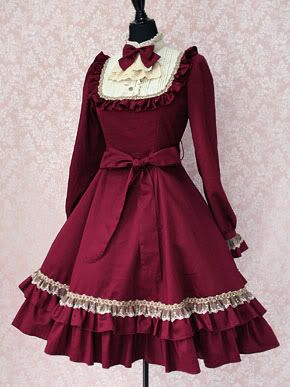 Official measurements:
-Bust: 89 cm
-Waist: 69 cm
-Length: 95.5 cm

Suggested price: I think the lowest I'll go is $220. The dress is originally 29,820 yen ($387) and I've only worn it probably five times max. I'm still open to offers though!

Domestic shipping deposit: $11.65
International shipping deposit: $50