-Here is my feedback: http://community.livejournal.com/eglfeedback/818285.html
-I ship from the US. In the case of trades, we will agree on a shipping method and pay for our own shipping.
-All prices include shipping to the US. If you are outside the US, please provide your country and request a shipping quote.
-If you want insurance or tracking, that is at your own cost.
-I live in a smoke-free, pet-free environment.
-I'll ship within 48 hours of payment clearing to my paypal, not including Sundays.


Rules:
-Serious inquiry only.
-First to leave paypal and pay invoice gets item.
-I will consider trades and partial trades.
-I reserve the right to decline any trade for any reason.
-I reserve the right to decline a sale for any reason.

Baby the Stars Shine Bright
Wizard of Oz Pink Circular JSK
$200 shipped in the US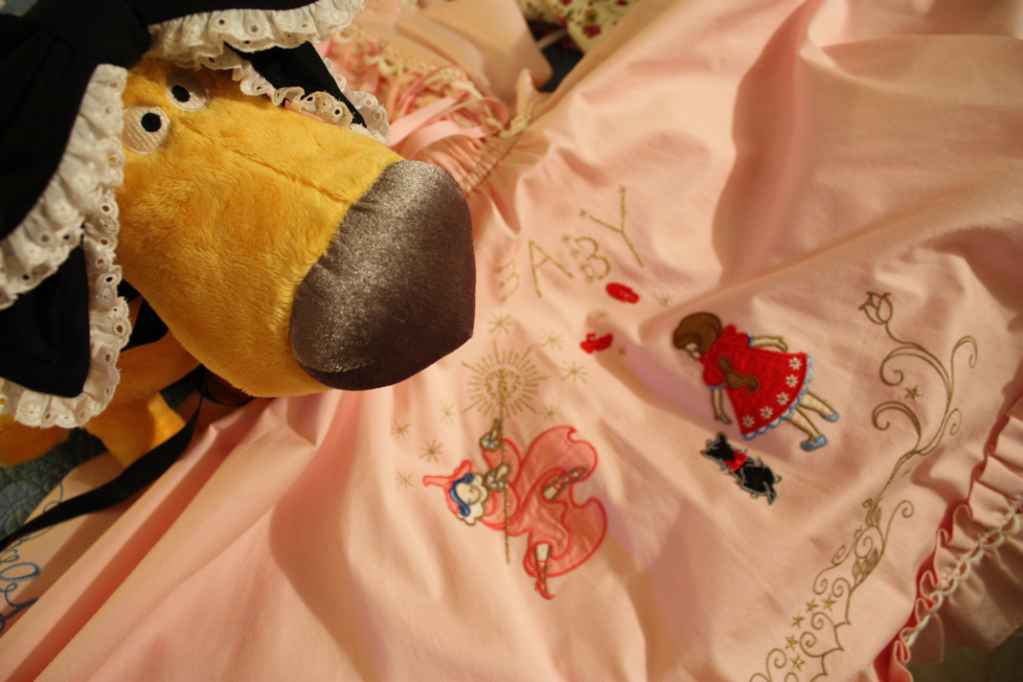 HelloLace Listing
Multiple Closeups

Okay, so I really can't even describe how much I love this dress. The embroidery and applique are simply breath-taking. However I just haven't found a place or time to wear this so I want it to go to a loving home. I also found my preferred colorway and I don't need two of the same series.
I have NOT worn this, only tried on once. I purchased it from mbok, the number of times the previous owner wore is 3-4. Comes with original waist-ties. This dress is in absolutely pristine condition.

Metamorphose Old School Head-Eating Bow Pending sale


Multiple Closeups
This headbow is seriously fierce, but I know I will never have the opportunity to wear it. I would like to trade this for any of the items shown below, preferably another headdress or accessory of equal value. Purchased from mbok, no damages I can see. The bow has wires inside to keep it's shape and adjust to suit your style..

Victorian Trading Company Hat $55 shipped in the US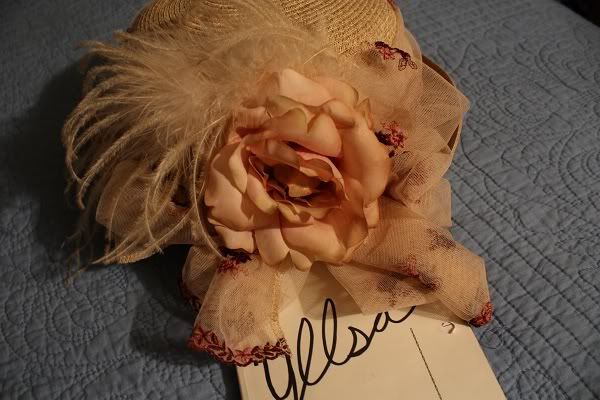 Stock photo
Only tried on by me, didn't have anything to wear it with. The brim can be folded up or worn down.
Another view
Would look lovely with...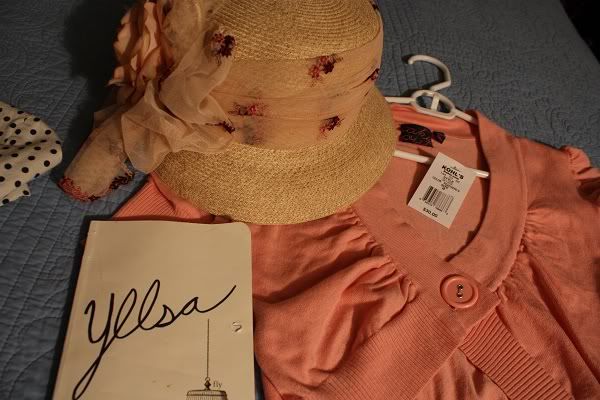 Offbrand peachy cropped bolero $20 shipped in US
It's really cute and comfy, I have it in 2 other colors but I just don't have anything to wear it with.
Another picture


Offbrand NAVY polkadot blouse MISSING 2 BUTTONS - see below for prices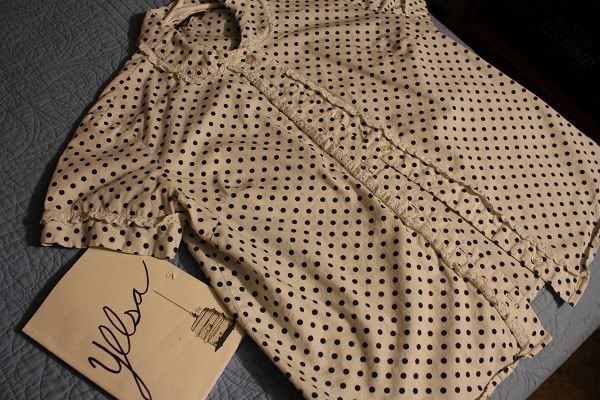 I CANNOT STRESS ENOUGH that the polka dots are NAVY. I don't have anything to wear this with now that I've lost weight. I also didn't notice until I was taking photos, but two of the buttons are missing, but I don't have any similar buttons at hand.
Location of missing buttons
So here's what the options are:
I can go to the button shop near my job (yes it's a shop that just sells buttons and it's the coolest place ever) and see if they have ones that will match (they probably will) and put them on for you. Or I can ship it as is. For these two options, here are the prices.
Shipped in the US with 2 new buttons sewn back on: $25
Shipped in the US MISSING 2 BUTTONS: $10

Off-brand gothic lace blouse Sold



Purchased from another user on the comm_sales. It's very lovely but just a little too small for me. I recommend it for people with a bust measurement of 35" or smaller. The wrists are meant to be held closed with cufflinks, there was only one "cufflink" made of two sewn-together buttons when I received it. I have photographed it in front of the light to show that it is rather sheer/see-through. Gorgeous for layering in gothic or classic coordinates.

Space for cufflinks
Holding up to the light
View of sheerness

Black Lacing Bodice Size L $30 shipped us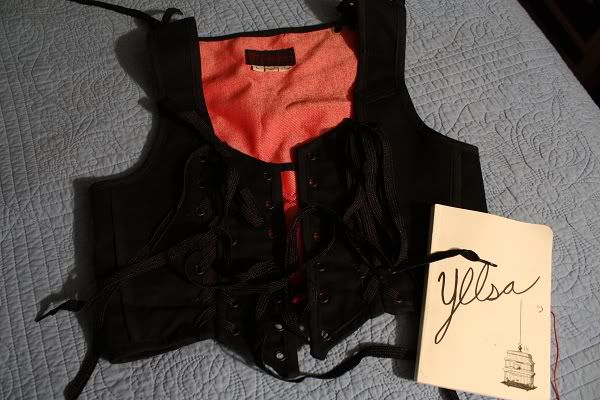 Worn maybe two times, it's too big for me now. It's very adjustable because of the lacing. It's very sturdy, made of a thick canvassy cotton. I'm not sure if the boning is plastic or steel.


Black and White Taobao ruffle shoes size 8/24.5 $38 shipped in the US each.
BLACK PAIR SOLD
Selling because they are just a bit too small for me. They both still have a little bit of that "taobao funk", if you've ever bought shoes from taobao you know they have a little bit of a chemical smell. It seems to mostly have gone though.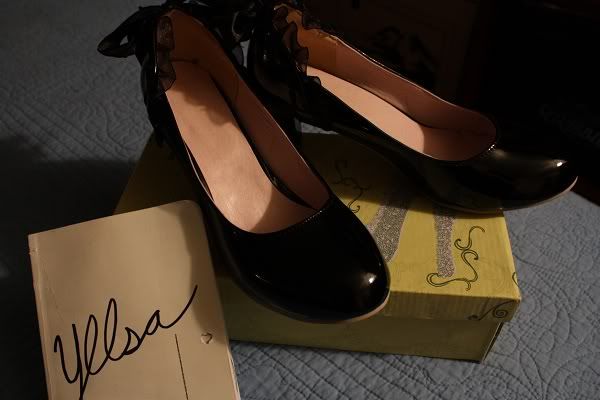 The black ones I have never worn. Because I never wore them, the ends of the ribbons are a little frayed (they come that way) and I never got around to trimming them.
Ribbons
Bottoms
Side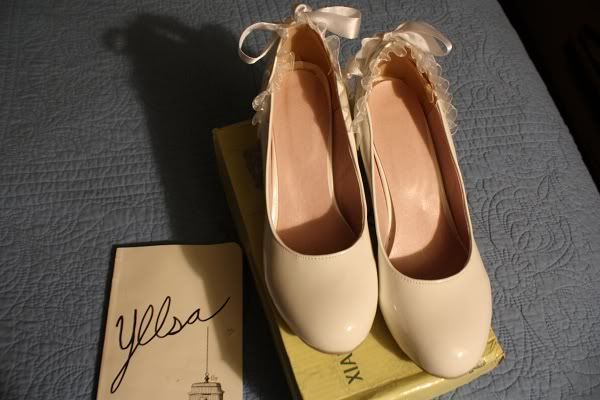 The white ones I have worn once. I tried to trim the ends of the ribbons but didn't do a very good job, still plenty of room left to fix them.
Ribbons
Bottoms
Side

Offbrand Modesty Shorts Black (x2) and White (x1) $6 shipped in the US each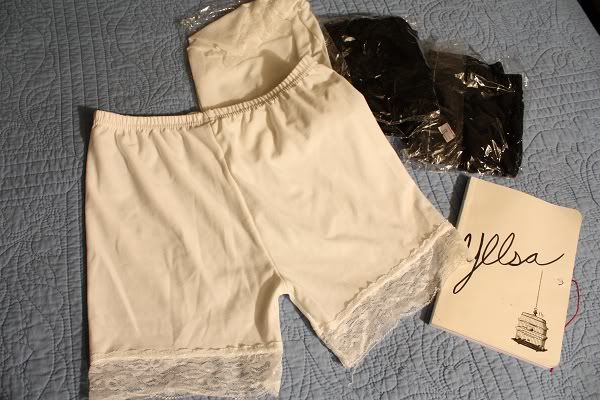 I bought these hoping they would be a good alternative to bloomers, but since I'm t-rex mode, they are too tight. I recommend them for upper thigh measurement less than 18" and hip measurement less than 38" You will receive a new, unopened, unworn pair.