- I ship from Perth, Australia.
- Prices are in AUD.
- Will ship 1-3 days after receiving payment (I've been working loads lately.. this may delay shipping a little bit).
- Bank transfer within AU preferred, otherwise PayPal for the rest of the world.
- Shipping not included in the price, please enquire for a quote depending on where you live.
- I much prefer to trade this items, and I'll note what items I'd like to trade for underneath the item. If I don't get a good offer for trade, I'll put a set price next to the item at what I see fit.
- Feedback is here.

1.) Angelic Pretty strawberry ribbon OP in blackxred colourway.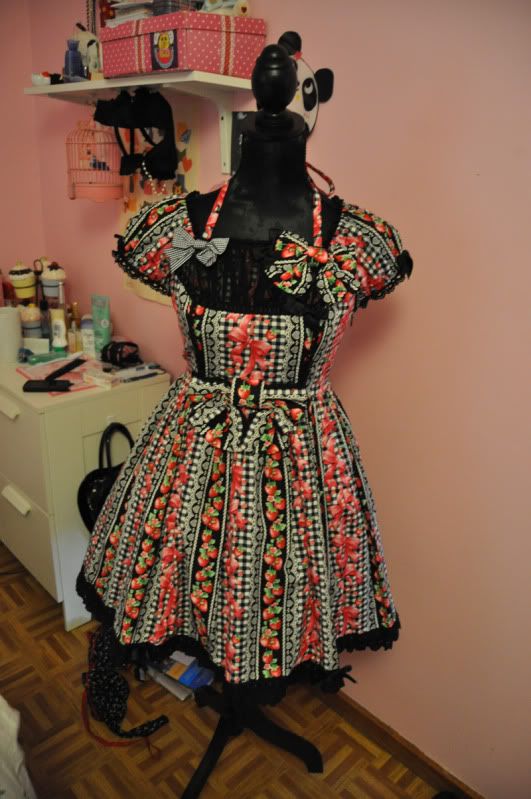 Really sad about this OP since I've been waiting for it for over a month. ): I didn't realise the sleeves wouldn't fit like I'd hoped for, so it's unfortunately got to go.

Measurements:

It is shirred in the back, but it's not as forgiving as it could be.
I'd say the max bust would be 37"-38" or smaller (since that's affects arm movement in the sleeves thereafter, like in my case).
Waist: 32" or smaller for best fit.

Trade for:

Strawberry ribbon fully shirred JSK in red or black colourways, will consider the non-fully shirred version if it'll fit a bust of 39" and a waist of 33".

Partial-trade for Wonder Story black or red collared JSK (will consider other colourways aswell).

Other AP prints (JSK preferred, no skirts) that don't have a higher value than this JSK (I'm not interested in partial-trades).

Price if no trades: $210AUD before shipping for just the OP. I may consider selling the strawberry AP headbow and cherry berry socks(please inquire for a picture) that I received with this, but I really want to keep those. I paid $260 for the whole set shipped, so you can make an offer along those lines.

2.) Metamorphose Room Print skirt (non-belted version) with hairbow.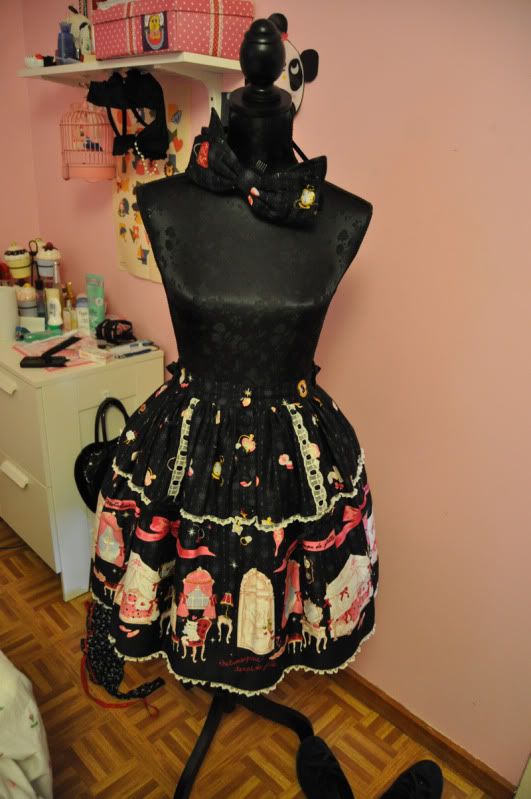 I absolutely love this print, but I thought I bought the belted version, and ended up getting without realising it, haha. So it's a little tight around the waist for me when I button it up. I'd love to partial trade this for the JSK/OP version of Room Print in black, but will settle for selling this set. Worn a couple of times, in brilliant condition. The hairbow has been worn by somebody else for a photoshoot over a wig once.

Measurements:

25" - best fits under a 32" waist.

Trade for:

Partial-trade for Room Print JSK/OP version in black.

The belted/fully shirred skirt version in black or white.

Like above, partial-trade for Wonder Story collared JSK.

Price if no trades: $75 before shipping for the set.

3.) Metamorphose Lucky Pack 2011 blackxwhite skirt.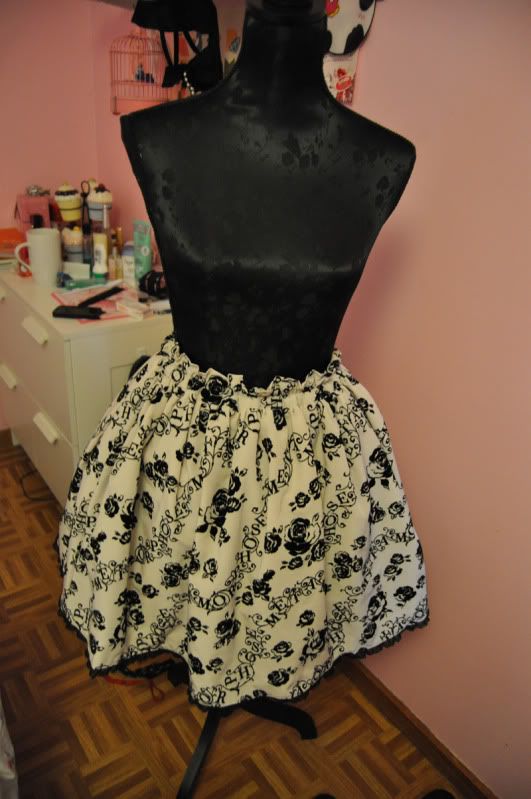 I really love this, but I just never wear it and can't see myself wearing it in the future. The print is velveteen (I'm pretty sure?), with black roses all over. :D One of the best prints I've seen from Meta, I just wish I found this in the JSK version (if they have one :P).

Measurements:
Waist: 25" - 38" (maybe a little more).

Will trade for:

Show me what you have (not skirts). I'm mostly interested in shoes at the moment that'll fit a 250JP. My wishlist is here, anything along those lines would be nice! Only trades, no partial-trades (meaning I won't pay more if your item is worth more than mine, just don't offer it!).

Price: please make me an offer, I have no idea what this is worth!

Thanks so much, please don't hesitate to ask any questions, if you need any more photos, etc!