I am in the FL, US, will ship internationally and accept paypal
feedback page: http://community.livejournal.com/eglfeedback/554611.html
NO TRADES PLEASE
I will sell items to the first person who gives me their paypal email for invoice. You can PM your information to me too.
You need to contact me if you want to layaway something. But I will sell to the person who can pay upfront first.
I reserve the right to refuse any sale for any reasons.
Shipping is not included

Please check out my other sales: JM Snow White Dress, AP, offbrand, and lolita fabric!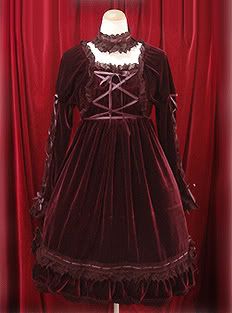 Very Rare Baby the Stars Shine Bright Shirring Velour Onepiece in Bordeaux - $385

This dress is from 2006, and is in wonderfully pristine condition. It was very hard for me to find and I bid quite a bit more than I'm asking to have gotten it in the condition its in.
The velour material is beautifully soft and incredibly plush, and has a great accommodating stretch, so it's definitely the most comfortable dress I've ever worn. It is trimmed in an amazingly nine different types of heavy cotton bordeaux lace, and entwined in satin ribbon.

Because of the front bust shirring it's possible to adjust the front ribbon or remove it completely to accommodate larger busts, about 40+ inches for chest. No waist measurement as it is empire waist. Has back ties. It comes with a lovely lace and ribbon choker that can double as a headband. Also, I have several yards of velour ribbon that match this dress's color exactly that I will include in the sale. It could be used for hair accessories or trimming socks or shoes.

The original owner never wore this dress and I have only worn it once and then carefully packed it away.
I am still on the fence about parting with it but do contact me if you will give this dress a better home :)

More photos and information on HelloLace



Pink Usakumya Mini mini - $85 - in excellent condition, first press edition. It's been long sold out from Baby's site.

Please check out my other sales: JM Snow White Dress, AP, offbrand, and lolita fabric!