Hello, I'm just trying to clean a few un-needed, and unused things out of my closet. Please make offers if you're interested. Prices can be negotiated, really hoping for some funds, so I'd prefer to sell. I'll look at most offers though.
I'm located in Minneapolis, MN, USA.
I have a smoke free apartment, however I do have a pet rabbit.
Shipping is not included, please ask for an estimate.

FEEDBACK HERE.

Now on to the sales!



--------------------------------------------------------------------------


--------------------------------------------------------------------------



First is a pair of Angelic Pretty Pink Faux Fur Gloves. They were from an LP. I've only worn the once in the house, never outside. Great Condition, has small pearl details.
$60 USD + shipping OBO




NExt is a pair of Betsey Johnson OTK. Never worn, still in packaging. They are soft stretchy black OTK socks, with a criss-crossing in the front with some small bow details up top. Similar to the illustartion on the back. Good Condition.
$10 + shipping OBO





Rumba Ruffle UnderShorts Bloomers. They have been worn only a few times, are in very good condition and have lots of stretch. They easily and comfortably fit my 39 inch hip with room still, whereas they easily and comfortbly fit smaller sizes as well. They have rows or lace.
$15 + shipping OBO




Black Off-brand sheer sleeveless blouse. I enjoyed this blouse in warmer weather with my darker skirts. It is very sheer and has a small ruffle detailing around the collar.
I could let this go for $10 including shipping within the US OBO




BTSSB white puff long sleeved blouse. I am the second owner,the blouse is in very good condition except for a tiny pinhead sized dot on the left sleeve, I think it can be removed with a good soaking. I wore it a few times out, and comfortbly fit my 36 inch bust.
$65 + shipping OBO


flaw:





A Pair of BTSSB socks, They are in average condition and have been worn once for a meet. I'm going to wash them to get them back into optimum condition, however there are so holes or horrible stains. They are OTK.
$20 USD + shipping OBO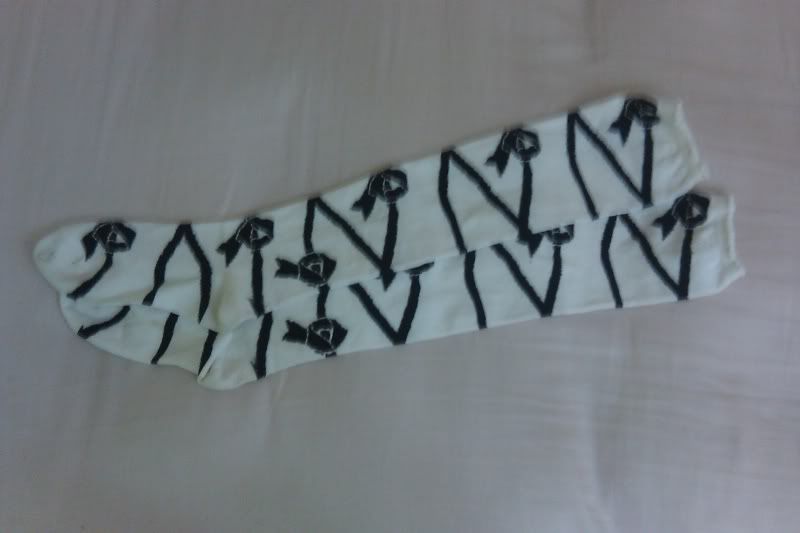 This is a pair of Forever 21 shoes. They are very Rococo Inspired and have been worn lightly a few times. Theyre in fair condition with no obvious signs of wear or stains. They would best fit a US Women's size 8.5.

$16 USD + shipping OBO






Rampage flats with ankle cuff US women's size 8.5-9, they have been worn lightly, but are still in good condition.
$9 + shipping OBO





Light Blue Ribbon Tie Montreal Shoes, size 24.5, they have been worn a few times by me. I am the second owner, the shoes seem to be in pretty fair condition. The would best fit a US women's size 8 - 8.5.
SOLD




Montreal white pearl shoes. size 24.5 I am the second owener, they were flawed when I recieved and somewhat fixed up. One strap was re-attached, and its a little tight, but im sure that could be easily solved. Some of the glue is coming off too, but I think it could be easily re-glued.
SOLD


Flaws:



Betsey Johnson, Boy-style high waisted button up pants with stretchy suspenders. These pants are in great condition, only worna few times for fun by me in the house. They are made from a cut-sew type fabric, so they are very thick but have some stretch to them so they can fit a variety of sizes. They button up the front with golden 'betsey' detailed buttons with two small front pockets.The suspenders are not detachable but are stretchy and adustable. High Waisted.
$65 + Shipping (More photos availble upon request.)




BTSSB staitionary, still in package, great condition.
$11 + shipping OBO




Pink Wig. Not sure of the brand. It's in good condition, only worn twice or so for photos. Can have bangs cut and styled into, easily.
$40 + shipping OBO




Selling my fabulous, Angelic Pretty first release Sugary Carnival SAX JSK. It's in fabulous condition, I am the second owner. I will consider payment plans.

$455 + shipping OBO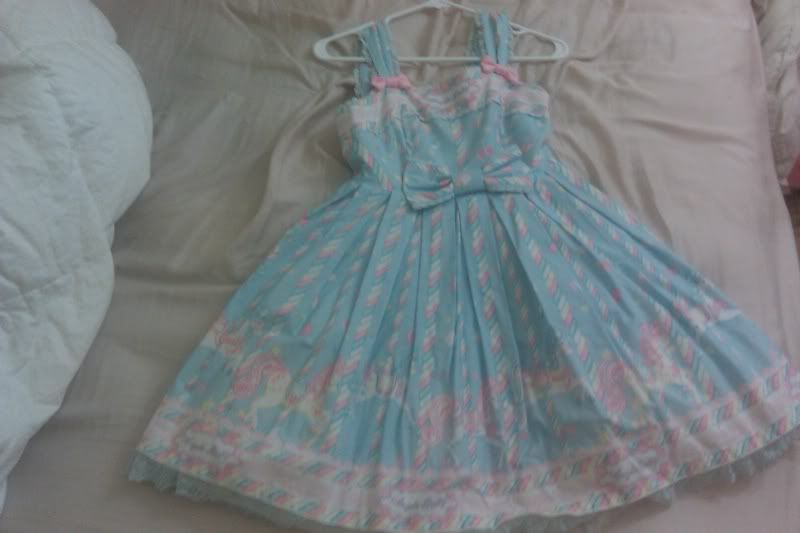 --------------------------------------------------------------------------

Thank you!