~I ship from the US, but I am open to shipping overseas. The buyer is responsible for additional shipping costs.

~Prices do not include shipping. Please inquire with your location, and I will provide a quote.

~If the buyer does not select shipping with tracking, I will not be responsible for lost packages, though I will do my absolute best to help communicate with the post office and locate your item.

~Payments accepted by Paypal only.

~Priority goes to the first person able to pay.

~I do NOT charge Paypal fees!

~No trades at this time.

~I reserve the right not to sell to buyers with negative or neutral feedback.

+55 Feedback is available HERE @
eglfeedback.



~~~~~~~~~~~~~~~~~~~~~~~~~~~~~~~~~~~~



TOPS

http://img.photobucket.com/albums/v247/Cryrin/Sale/Blouse02.jpg
Chiffon Blouse (Black) lightly worn
M Size (36in bust)
Buttons do not reach the top. Can easily be modified to add buttons and buttonholes. I frequently just wore a brooch to hold the top closed.
Made of a crinkle chiffon.
$15 + Shipping
SOLD



~~~~~~~~~~~~~~~~~~~~~~~~~~~~~~~~~~~~



WRISTCUFFS

http://img.photobucket.com/albums/v247/Cryrin/Photo/Wristcuffs71.jpg
Additional Views: 01, 02, 03
Dolce: Candy Wristcuffs (Hot Pink x Light Pink) BNWT
Custom Embroidered Organza Lace
Ruffle Edged Satin Bows
Pink Striped Satin Ribbon
Swarovski Crystal Charms
Fit with Elastic
$28 + Shipping
SOLD



~~~~~~~~~~~~~~~~~~~~~~~~~~~~~~~~~~~~



HAIR ACCESSORIES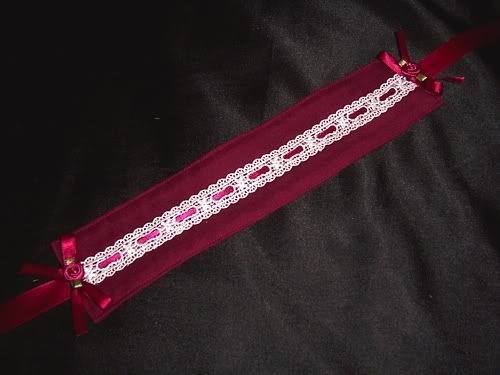 Additional Views: 01
Thin Classical Headdress (Bordeaux x Ivory) (This is an older item, which is reflected in the price. It's only been tried on, never worn out)
100% Cotton Fabric
Venise Lace
Satin Ribbon
$10 + Shipping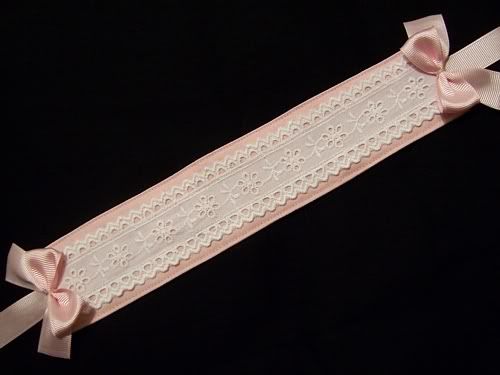 Additional Views: 01
Thin Sweet Headdress (Pink x White) (This is an older item, which is reflected in the price. It's only been tried on, never worn out)
100% Cotton Fabric
100% Cotton Eyelet Lace
Grosgrain Ribbon
$10 + Shipping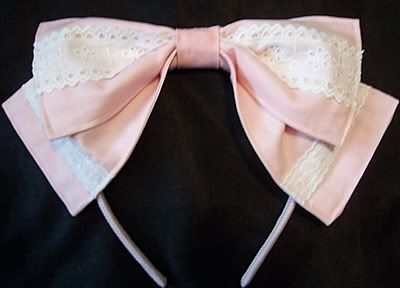 Additional Views: 01
Plain Alice Bow (Pink x White) (This is an older item, which is reflected in the price. It's only been tried on, never worn out)
100% Cotton Fabric
100% Cotton Eyelet Lace
Fabric Covered Headband
$12 + Shipping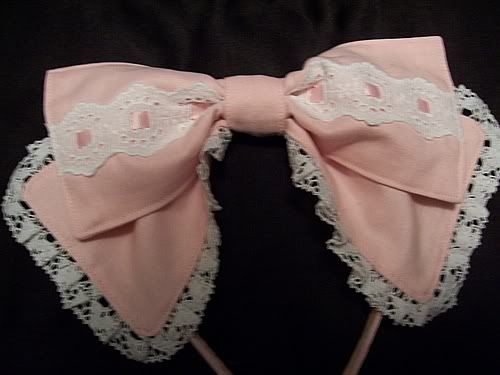 Additional Views: 01 02
Large Alice Bow (Pink x White) (This is an older item, which is reflected in the price. It has never been worn)
100% Cotton Fabric
100% Cotton Eyelet Lace
Fabric Covered Headband
$15 + Shipping



~~~~~~~~~~~~~~~~~~~~~~~~~~~~~~~~~~~~



SOCKS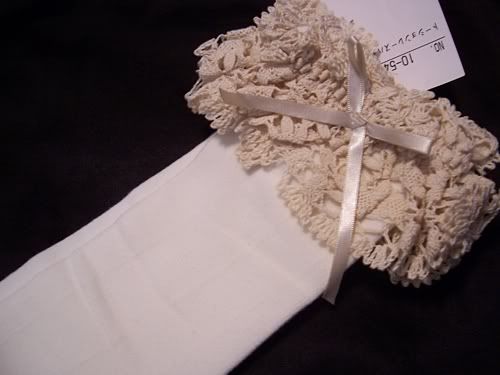 Additional Views: Stock Photo
Metamorphose Torchon Lace Knee Socks (Antique White) (Bought a few years ago, but have never been worn nor tried on, and have been very neatly stored)
$25 + Shipping (original price 2800 Yen)



~~~~~~~~~~~~~~~~~~~~~~~~~~~~~~~~~~~~



SHOES
ALL OF THE FOLLOWING SHOES HAVE BEEN USED, TO VARYING DEGREES. Please refer to the additional images for signs of wear. I have tried to photograph any damage, and describe their condition as accurately as possible.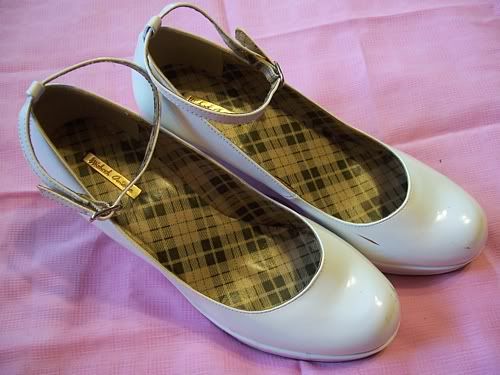 Additional Images: 01 02 03 04
Michael Antonio Wedges: White
US 7
Condition: Lightly Worn. Minimal scuffing.
$12 + shipping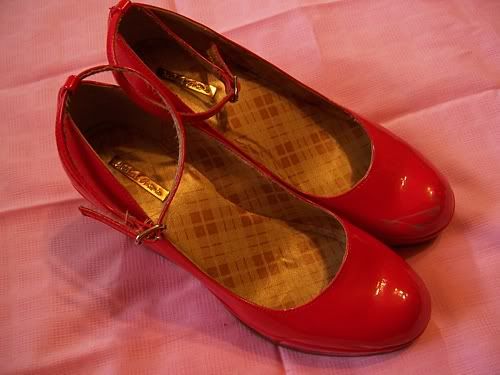 Additional Images: 01 02 03 04
Michael Antonio Wedges: Red
US 7
Condition: Lightly-moderately Worn. Scuffing on inside of both toes.
$10 + shipping



Additional Images: 01 02 03
Polkadot Espadrilles: Red x White
US 7
Condition: Like New (worn once). Bought from Macy's some years ago. Very comfy, lacing comes to ankle/mid-calf and stays up well. Adorable with country/sweet/classical.
$25 + shipping (original price ~$50)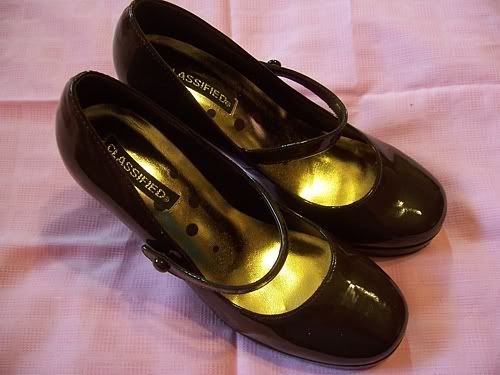 Additional Images: 01 02
Classified Mary Janes: Brown
US 7
Condition: Lightly Worn. No visible scuffing.
$12 + shipping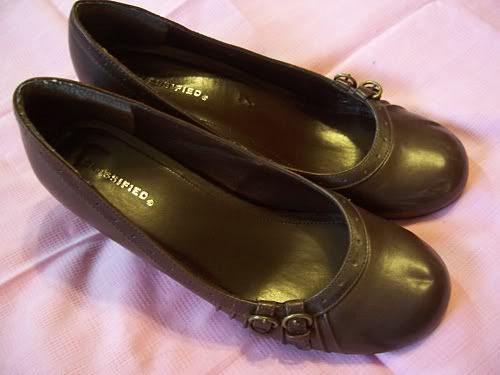 Additional Images: 01 02 03
Kitten Heels: Brown
US 7
Condition: Lightly-Moderately Worn. Small dent to one toe, small tear to one insole
$10 + shipping



Additional Images: 01 02
Bow Pumps: Black
US 6.5-7
Condition: Like New
$15 + shipping (original price ~$30)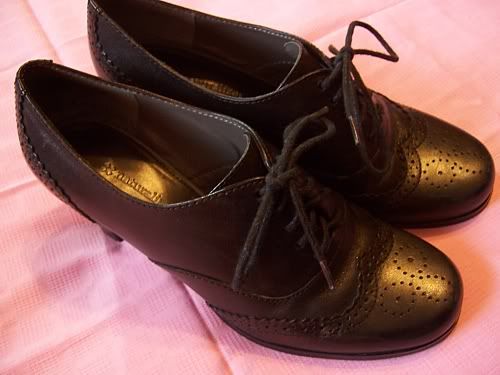 Additional Images: 01 02 03
Naturalizer Pumps: Black
US 7 (may fit a little narrow)
Condition: Lightly Worn, light damage on one heel
$25 + shipping (original price ~$70)



Additional Images: 01 02 03 04
Jante Pumps: Black
US 7
Condition: Lightly Worn, light scuffing
$15 + shipping