♠ All prices are in USD because my paypal's currency is USD. To avoid conversion fees, I will only accept payments in USD if paid through paypal.
♠ I accept paypal for international buyers, and bank transfers within Sweden.
♠ I ship worldwide. Shipping within Europe is included in the price, overseas buyers, please inquire for extra shipping costs. I do combine shipping, so buying more than one item could give you a discount. Please just ask!
♠ All sales are final. I will do my very best to package safely, but I can't be held responsible for the items after they have left my hands. Thanks for understanding.
♠ I will consider all offers and trades/partial trades, as long as it's reasonable.

Feedback: On EGL Feedback. For additional feedback, refer to this post.


Innocent World coat - SOLD!
This coat is best suited for autumn, or if you live somewhere where snow is rare. (Here in cold Sweden it's not quite thick enough to keep me warm all year around without an extra layer.) I have only used it a couple of times, it's in very good condition. The buttons have a gorgeous fleur de lis pattern, the fur collar is not removable.

Size: This fits my 98 cm bust, however I would consider that the max. Would probably fit a waist of 80 cm max.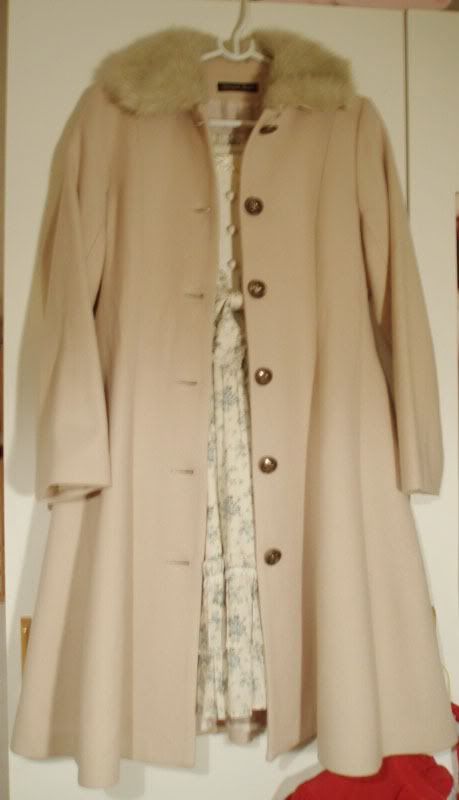 Innocent World socks - SOLD!
I bought these directly from IW. They have only been tried on, and is still in very good condition.

Size: These are knee socks. Very stretchy!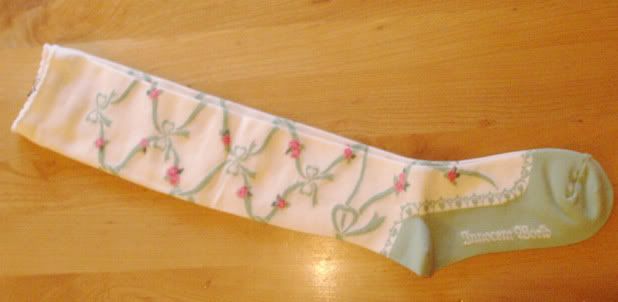 Metamorphose Music Note JSK - SOLD!
High waisted, front bow and waist ties are removable. This has been worn quite a lot. It has no stains or tears that I can find, but it is well loved. The shoulder straps have buttons, two on each strap, and one of these had fallen out when I received the dress. I have replaced the button. It's a very simple, fabric-covered button, not noticeable when worn. It's newly washed, and could do with an ironing. (I would iron it myself, but my iron recently broke, and I'm not sure when I will be getting a new one.)

The socks are Secret shop. The pink color is slightly different from the embroidery on the jsk. One of them has a stain on the sole (click for picture). They have been worn a few times and show the signs of it, but are still in relatively good condition. Newly washed.

Size: The dress has shirring in the back, but no lacing, only waist ties. I would guess at 95 cm bust max comfortably, perhaps a little more.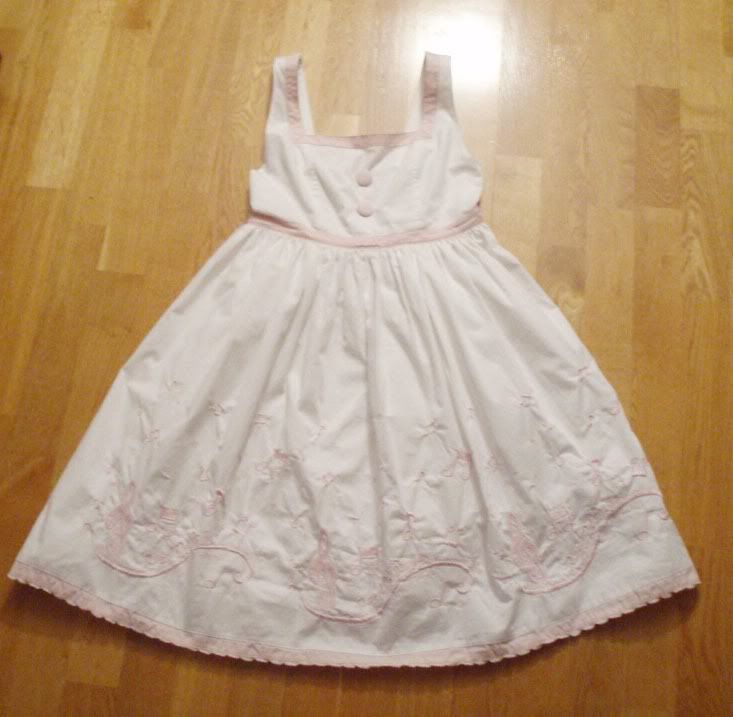 Metamorphose blouse - $65 shipped within Europe
Offwhite blouse with back shirring and removable waist ties. I have only tried this on, it's practically new. I might have the tag somewhere still, let me know if you want it included and I'll try to find it.

Size: Shirring and waist ties. I'd say this is M sized, to be safe. 95~99 cm bust would be the absolute max. I'll measure it more exactly on request.






BTSSB Classical Rose Bouquet jsk in ivory/blue - $210 shipped within Europe
This has been worn once. It's a very comfortable dress for summer, it's made out of lovely, thin fabric. It's lined, but the lining is cotton rather than synthetic, making the dress breathe. Front bow and waist ties are removable.

Size: Hello Lace page over here. It has waist ties, shirring and lacing in the back.






Offbrand red blouse - $30 shipped within Europe
This blouse is polyester, however the material is not shiny. Looks like cotton, and the plus is that it wrinkles much less. I couldn't get a good picture of the color, it's not quite a bright red, it's a little darker than the picture. Seems to have been worn and washed a few times (not by me) but is still in good condition.

Size: No shirring or waist ties, seems to be L sized. Please ask for more exact measurements.






Offbrand blue pinstripe blouse - $25 shipped within Europe
Very comfortable cotton blouse. This suits classic coords especially, I wore it with the BTSSB dress above. The ruffles on this blouse are finished, but still has a raw cut feeling to them. The blouse is newly washed, may need an ironing. (Again, my iron is broken, otherwise I'd do it for you.)

Size: Labeled L, no shirring or waist ties.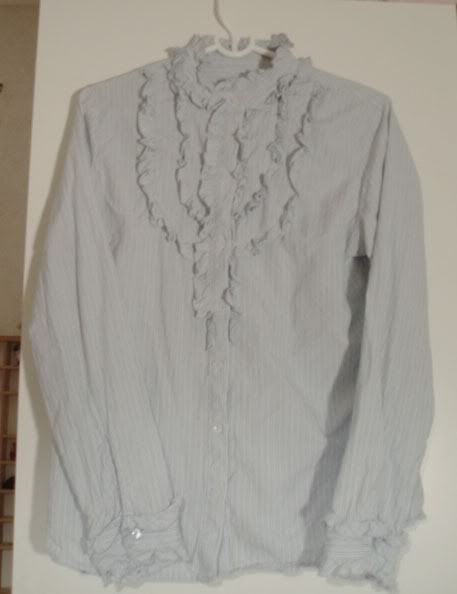 ITS Secret Garden skirt - $15 shipped within Europe
Bought new. This skirt is quite old, still I have never worn it outside, as it is a tad too big.

Size: Would fit an 82 cm waist best. Recommended for taller girls.


Thanks for looking!
If you have any questions, please don't hesitate to ask! More exact measurements and additional photos upon request. My camera can be rather temperamental, but I will do my best. XD

If I don't reply immediately I'm either studying or asleep. I will get back to everyone as soon as I can. ♥