First, please note:

* I only accept PayPal, and my item prices include PayPal fees. CC PayPal and payment from PayPal balance is preferred – no echecks, please (unless an echeck is your only means of payment, in which case I'm happy to discuss that with you).
* I accept payment in $AUD (Australian Dollars).
*My feedback can be found on the dbs here: http://eglfeedback.livejournal.com/273114.html
and I also have a feedback entry in my personal journal, here: http://living-revision.livejournal.com/3848.html
* At present I am not interested in trading.

* I ship from Melbourne, Australia, and will ship items world wide. Shipping is not included in the item prices and will be calculated on an individual basis. Insured shipping will cost extra, but delivery confirmation is included (sign on receipt).
*Pick-up is available if you live in Melbourne.
* Priority goes to whoever can pay first. Likewise, priority goes to whoever meets my asking price, or failing that, to whoever makes the next best offer.
* Items are cleaned prior to sending out and come from a smoke free and pet free home.
* Items are shipped the next business day after payment clears where possible, and I will inform the buyer after the package has shipped and provide proof of shipment.
*I reserve the right to refuse a sale, and please note that I am not responsible for lost packages/postal loss.

*Please feel free to ask questions or make offers/haggle – I will consider reasonable offers, and am happy to discuss payment plans! I also am happy to respond to inquires made via the Livejournal PM system.




Item One:

Moi Meme Moitie Catherdral OP, Black x Silver.

This is MmM's Cathedral print JSK, released in 2007. I received the OP new with tags and in perfect unworn condition, and have only worn it myself a few times. I have inspected the OP thoroughly, and it is in as new condition.
Because of the elestic at the waist and bust, the op can fit from 86cm to at least 100cm in the bust and from 65cm to at least 80cm in the waist. Please note that these are amateur flat measurements, and allow a margin for error.


Sold, thank you!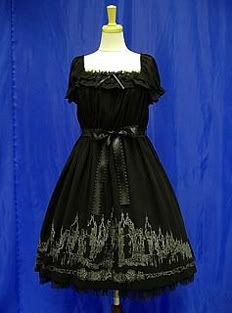 HelloLace Page:

http://hellolace.net/wardrobe/moi-meme-moitie/type/op/item/15/


Item Two:

Moi Meme Moitie Candelabra Skirt and Capelet set.

This skirt and capelet set is from MmM's candelabra series, released a number of years ago and now very hard to come by. My shopping service was able to find this set for me, and after having the items professionally cleaned the set is in excellent, as new condition. The capelet is freesize, and the skirt is a wrap style, with a waist measurement of 66cm. The skirt closes with a button, which may be moved a few centimeters either way to adjust the fit.


Sold, thank you!




Please note the I am selling the skirt and capelet set, not the JSK - the JSK was the only stock photo I could find of this print.



Item Three:

BtSSB Paris Windows JSK in Black.

This JSK was purchased from Mbok some time ago. The previous owner said that she had worn it once or twice, and I have worn it once myself. It is in excellent, as new condition. The sizing is typical quarter shirred BtSSB, with a max waist of approx 65-74 cms and a max bust of approx 88-95cms or so – please note that these are amateur flat measurements, and allow a margin for error.


$290 AUD OBO




HelloLace Link:

http://hellolace.net/wardrobe/baby-the-stars-shine-bright/type/jsk/item/19/

Thank you!