Hello!


I ship from Pullman, WA in the US.
Prices do not include shipping.
I prefer to ship priority in the US which is $5 for a small box *very cramped for a shirt but they will fit*, $10 for medium (fits skirts).
Prices are in US dollars- please pay with Paypal!

Please feel free to make offers! :)

Feedback: http://eglfeedback.livejournal.com/345839.html

Metamorphose Windows Skirt in RED $100
I could only find a white stock photo-



Condition: Very good! I don't fit into this very well, so I haven't really worn it.
Measurements: Waist- 27" MAX , Length- 19". I'm 5'6" and it's a little longer than mid-thigh length on me.
Waist ties are included, I just forgot to photograph them! The shirring picture is not true to color (too yellow)!


Angelic Pretty Blouse in white with WINE ribbons $70
I think this is the same shirt's stock photo, but I'm not certain. . .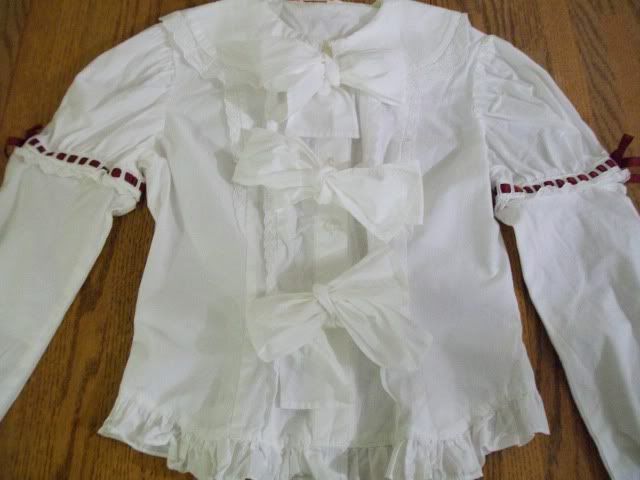 Condition: Good. Previous owner got a smidge of makeup on the inside of the collar (shown in closeup pic of top bow, but hardly visible since it's little). I haven't worn it because it doesn't fit.
Measurements: Bust-31" unstretched , Waist- 29" unstretched
This would fit someone under 33" bust (mine is 33" and although it buttons closed, it gaps terribly!)
Waist ties are included, I just forgot to photograph them! Yes, the sleeves are detachable.

Bodyline Blouse in Black Polka Dots $15-- Paid
Condition: Good, just not my style. :) New with tags!
Measurements: Bust- 30" unstretched? , Waist- 26" unstretched?
This is very stretchy, and has some lacing, so maybe it could fit many sizes. The stretchiness makes it hard to measure. I stuffed a towel up my shirt while wearing it (shhhh xD) to see how big it would stretch well and it seems to fit fine at a fake 35" bust.

Thanks for looking!