I'm located in Minneapolis, MN, USA.
I can pay in paypal.
Please give me prices, and feel free to include shipping for me..

FEEDBACK HERE.


Looking to purchase some Cherry Berry Bunny Items. I like the yellow OP and skirt, the most, but also have intrest in the other colorways. I also like the cut-sew and socks.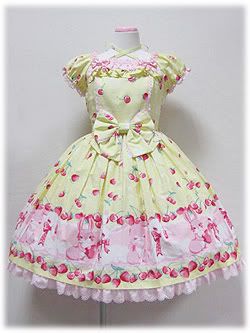 I am looking for a sailor-style cut-sew. I like colors, white, pink, blue, red, and black, the most, but will look at any colors and styles. I've seen some cut-sews from Angelic Pretty and BTSSB that I enjoy, but will look at any brands or offbrands.





Last but still very important, I am looking to purchase some cute loli-able keychains, phone charms, accesories, ect..
I am maddly in love with the alpaca keychains, and like other keychains that are cute and plush but I am considering all styles, sizes and types, any brand... ect





Thank you all!