hello Lovely Community!

To get things started here is my feedback:

http://community.livejournal.com/eglfeedback/975199.html



Payment Info


Prices are in US dollars.
I accept PAYPAL ONLY.
NO PP FEES.
I accept holds for a NON REFUNDABLE %20 payment. I will hold your item for 3 weeks, unless we discuss otherwise.
I accept payment plans. I ask that you are able to pay for at least %30 on the first payment, which will be non-refundable. If you backout after committing to a payment plan, then I will leave negative feedback :( I have had bad experiences with payment plans before, so please don't take it personally.



Shipping Info


I live in California, US.
Once I ship an item it is no longer in my control, therefore, I am not responsible for lost or damaged packages. However, if damage was due to poor packaging, then something can be arranged.
Please understand as a busy college student I ship out either MONDAY or WEDNESDAY evenings. Thank you!

PROOF:
This Tokidoki Planner will be my proof.




DS ONLY (PLEASE NO TRADES AT THIS TIME)




1. AATP Masquerade Theater OP in BLACK with BONNET


Asking: $400 SHIPPED US or $420 SHIPPED Int. SOLD VIA PAYMENT PLAN TO
alyssiumbaby
PAYMENT PLAN INITIATED: 09/05/11
Total Needed: $420
First payment: $120 09/05/11
------------------------------------
Total Remaining: $300

Next payment due in two weeks.
Payment plan will also be documented below in comments.
Or best offer! Please do not hesitate to negotiate reasonably :)
I WILL NOT SEPARATE, PLEASE DO NOT ASK

Pictures cannot do this beautiful piece justice. This was once my dream dress but I recently got the JSK version, so I'd like to let this lovely piece go to a loving home. The detailing and print are just wonderful! The sleeves and front bustle sparkle in the light, and its really very elegant. It will come with the waist-ties and the bonnet. This dress was bought used and I wore it three times but it is in otherwise great condition except for one waist-tie button.

Please take note that when I received this dress it had a loose waist-tie button, and when i was taking pictures, it came off. This should be easily fixed but I am not going to attempt to fix it, unless you would like me to. I will include the button. Pictures of the damage are included below. I did take this into consideration when naming the price, this dress is in otherwise great condition, is a bit heavier so shipping is more costly, and is a set with the bonnet, which is rare to find.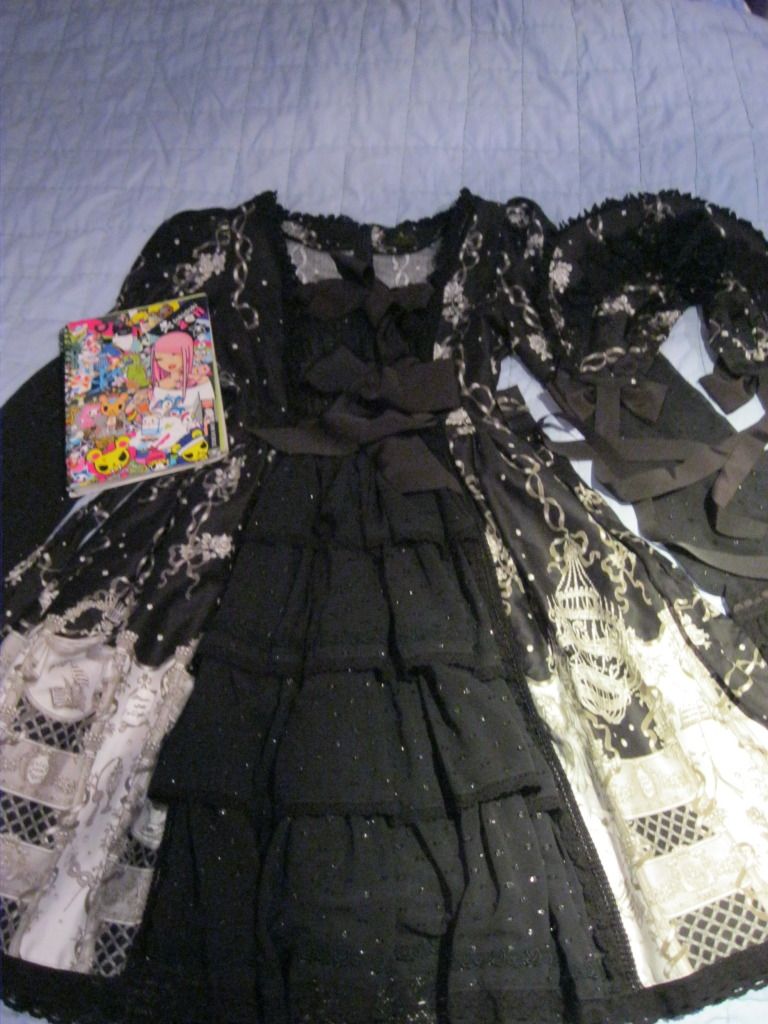 PRINT DETAIL: http://i1096.photobucket.com/albums/g339/Pakiren/IMG_0354.jpg
BACK: http://i1096.photobucket.com/albums/g339/Pakiren/IMG_0353.jpg
BONNET: http://i1096.photobucket.com/albums/g339/Pakiren/IMG_0350.jpg
DAMAGE: http://i1096.photobucket.com/albums/g339/Pakiren/IMG_0352.jpg

Measurements (according to hello lace)
93cm length
87~100cm bust
67.5~80cm waist
I have a 86cm (34in) bust and it looks good. I don't know about it actually reaching 100cm. From previous postings of this dress it seems like it would be pushing it to be around 98cm if your bust area is more in the breasts than the ribs. Since I'm on the smaller end of the dress I'm afraid that I can't really be of much help, but the shirring is quite giving in the front. There is no back shirring.



2. PUTUMAYO Rabbit Ear Coat in BLACK x WHITE (FAKE FUR)


Asking: $210 shipped US or $235 shipped INT (HEAVY!)
I paid wayyy more to get this coat, but I realize I'm not going to get that back lol. Winter is coming up and this coat is accommodating to the fluffiest of petticoats! It's NOT meant for extreme cold but layered upon a blouse and JSK/OP it will keep you warm. It's got a huge hood with adorable ears. Cute pom poms tie in the front!

Here is Putumayo's link for worn pictures:
http://www.putumayo-home.com/ap-coat/t204.html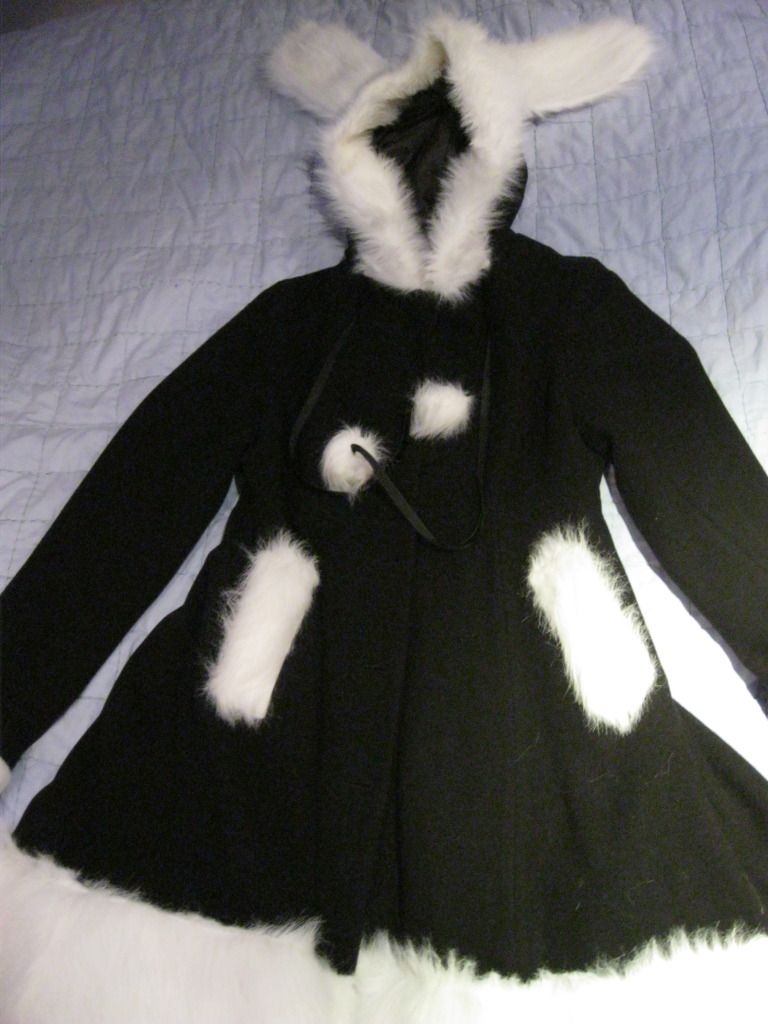 TAG + TOKIDOKI PROOF: http://i1096.photobucket.com/albums/g339/Pakiren/IMG_0357.jpg

Amateur Measurements:
It's hard to measure this but I have a 34in bust and a 30in waist. It fit me with a 35in bust and a 33in waist when I had those measurements.
I would guess a max of 36in BUST and maybe around 34-35in WAIST.



3. BABY THE STARS SHINE BRIGHT HEADBOW BLACK


Asking: $25 Shipped US or $30 Shipped INT Bought from another user here, its quite large but adorable. Its wired for freedom of shape and style. Its been worn maybe twice, but otherwise in great condition.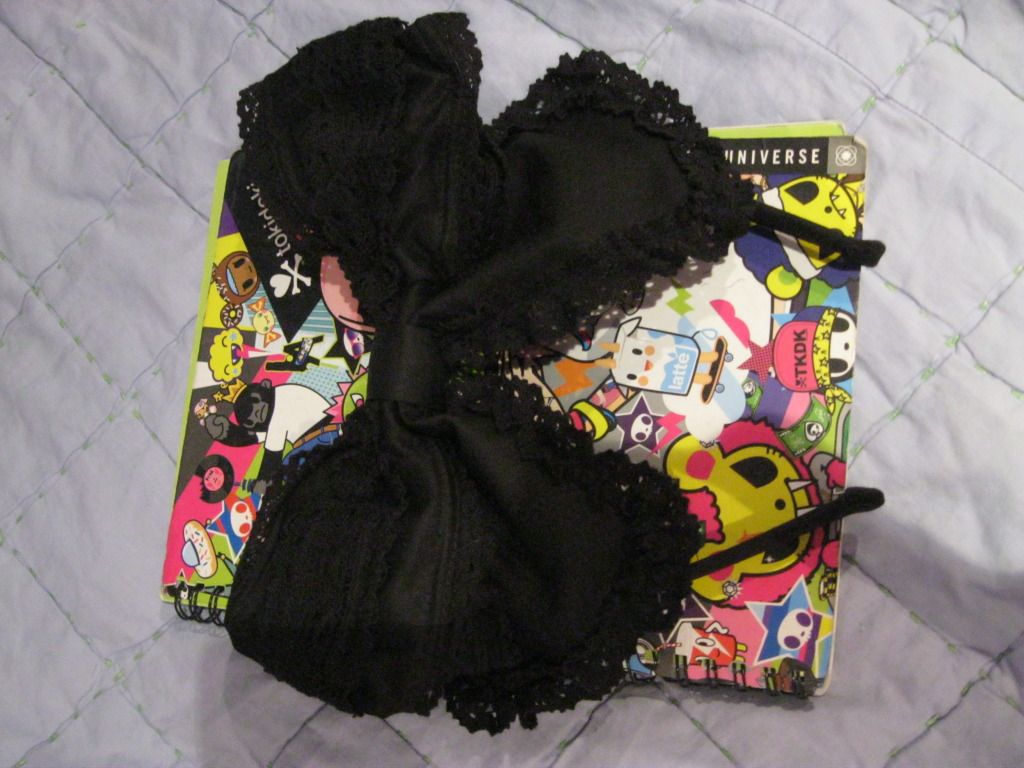 TAG: http://i1096.photobucket.com/albums/g339/Pakiren/IMG_0362.jpg
LACE DETAIL: http://i1096.photobucket.com/albums/g339/Pakiren/IMG_0361.jpg



4. OFFBRAND HEADDRESS


Asking: $10 shipped US or $15 Shipped INT
I don't remember where I got this and there's no marking of a brand. It has OK lace, and ribbon, but it'd be a cute piece for someone starting perhaps. I've never worn it, I got it as a gift many years ago.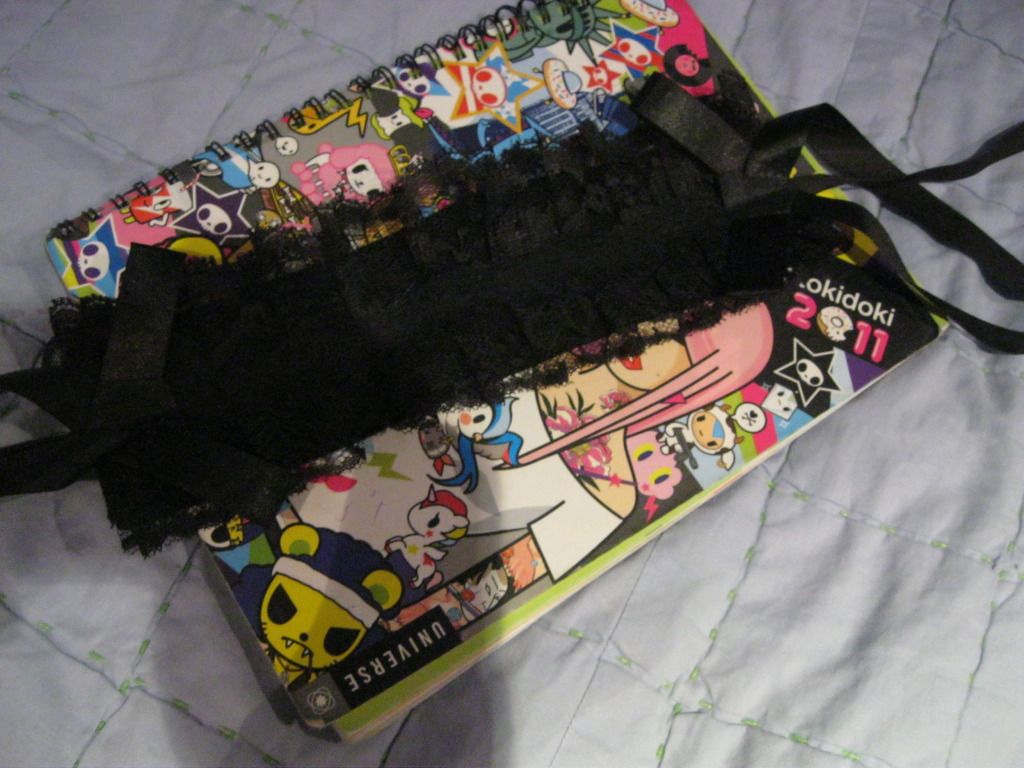 LACE CLOSE UP: http://i1096.photobucket.com/albums/g339/Pakiren/IMG_0359.jpg


Please feel free to ask any questions! Thanks!