Hello everyone! I am looking for a good home for this beautiful JSK, which remains unworn and hangs in my closet. Please check it out! My feedback page is here

RULES

- I'm only selling to US buyers.
- All items are in USD.
- Delivery confirmation/tracking & paypal fee is all ready included in the price.
- I reserve the right to refuse to sell to someone with no feedback or negative feedback.
- First person to leave their paypal address + feedback in a comment or in a message gets the item.
- Please allow for a full week for me to ship things. If you need something sooner, let me know.
- I ship by priority mail.
- No holds/trades/returns. No layaway/multiple payments.
- If you feel the price is too high, please make an offer within reason.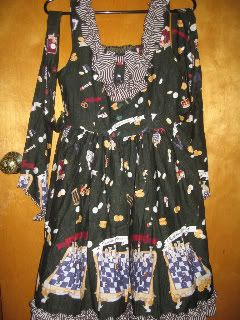 Metamorphose Temps de Fille Chess Party/Nostalgic Chess
larger pic
bodice detail
print detail
$200 + $10.95 shipping
$180.00 + $10.95 shipping

Description: Beautiful JSK in a rare, bottle-green color. It has a forest green lining, partial back shirring and a ribbon to lace-up the back. Features a detachable yoke for a second look. I recently bought this on the sales comm but of no fault by the seller, didn't fit me as I had wanted. Hopefully someone else will appreciate this gorgeous dress!
Measurements: Waist: 25-28" MAX, Bust: 25-30" MAX, Length: 35" from the strap to the hem of the ruffles.