♥ Paypal preferred; inquire for other methods of payment(INCLUDING e-checks).
♥ Whoever is able to pay for the item first (full price) gets the item.
♥ Shipping and fees are included in the prices, all packages will be sent first class/parcel post (cheapest) with tracking, but without insurance. Please inquire if you would like to get your packages faster.
--- >I am NOT responsible for lost items unless insurance is bought.
♥ I am open to offers! Items go to the highest bidder. Feel free to ask any questions :)
FEEDBACK: I have a page here but no feedback since the new system was implemented, however I have ebay feedback here.

If interested in purchasing an item please leave your zipcode/country & paypal address so that I may quickly invoice you. Thankyou!


Angelic Pretty Red Strawberry Bolero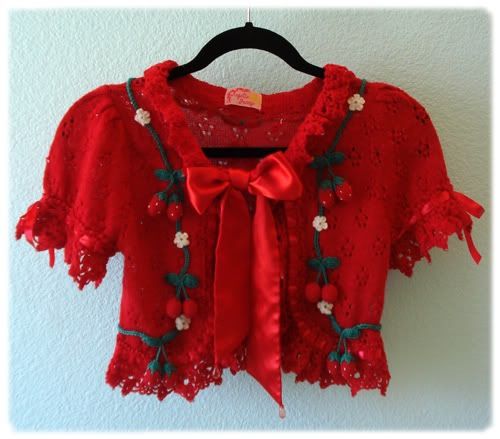 Condition: Great, minimal pilling.
Price: $70 shipped
$80 shipped internationally

~~~~~~~~~~~~~~~~~~~~~~~~~~~~~~~~~~~~~~~~~~~~~~~~~~~~~

Forever 21 Mint Dot Cardigan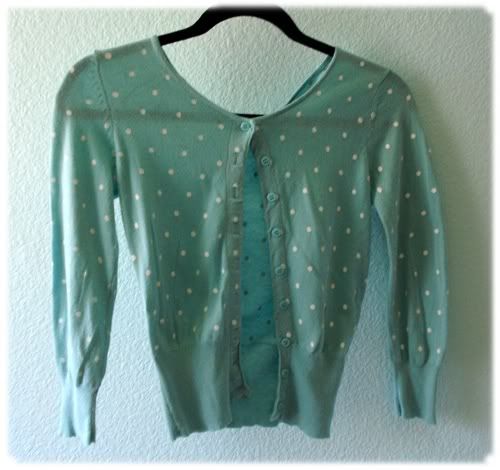 Condition: Excellent, worn twice.
Price: $15 shipped
$20 internationally

~~~~~~~~~~~~~~~~~~~~~~~~~~~~~~~~~~~~~~~~~~~~~~~~~~~~~

Chocomint Mint Fluffy 2 Way Star and Mint Bracelet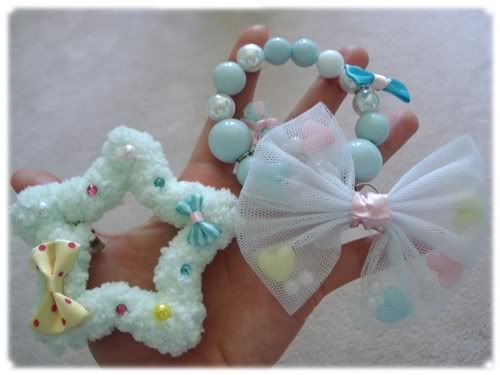 Condition: Excellent, worn a few times each.
Price: $12 for Star, $10 for bracelet
$15 for Star, $12 for bracelet internationally


~~~~~~~~~~~~~~~~~~~~~~~~~~~~~~~~~~~~~~~~~~~~~~~~~~~~~


Metamorphose Red Lace Up Boots Size M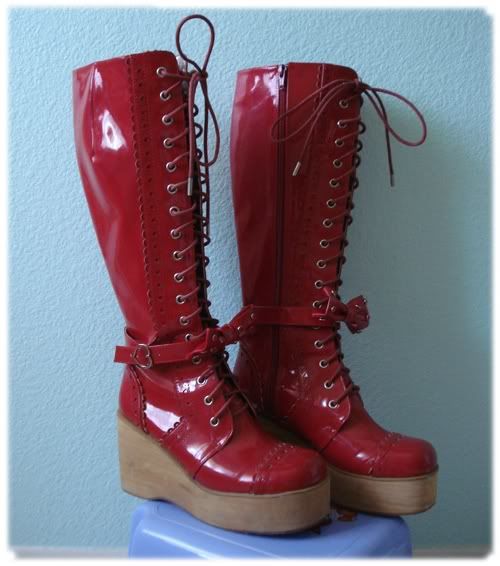 Condition: Good , worn a few times, signs of wear due to nature of material seen here and here Buckles and bows are removable!

Pictures of boots worn: Here and here

Price: $105 shipped
$130 internationally

~~~~~~~~~~~~~~~~~~~~~~~~~~~~~~~~~~~~~~~~~~~~~~~~~~~~~

Socks
** Meta Crown socks are no longer for sale. Shipping is included in prices. Please add $3 for international shipping.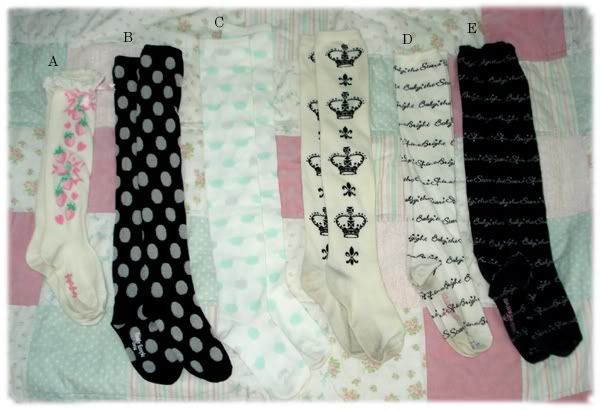 A: Angelic Pretty knee high strawberry lace top socks
Condition: Good, however there is a small tear on the right calf on the sock.. Pilling only on bottom, worn a couple times.
Price: $18
B: Emily Temple Cute Over the Knee (OTK) black & white dot socks
Condition: Tried on but never worn outside
Price: $20
C: Angelic Pretty OTK mint dot socks
Condition: Excellent, worn once
Price: $30
D: BTSSB OTK white socks
Condition: Great, slight wear only on bottom
Price: $20
E: BTSSB OTK black socks
Condition: Good, slight wear only on bottom as well as small hole on tip of one sock
Price: $15


Thankyou for looking!