FEEDBACK
*Prices not including shipping.
*If you have alergies, please by with caution. I have cats, and though they're not allowed in my room, there may be stray hairs. Though, I'll try to remove any I find to the best of my ability.
BABY Myania Onepiece $80 OBO
my picture
Lightly used condition. I adore the casualness of this onepiece, but I'm a bit small for it.
Yoke Lace Jumperskirt/ ヨークレースジャンパースカート, $100 OBO
my picture
Hello lace
Used condition. It's really gorgeous, but I don't think I pull it off as well as somebody else might. There's a very small stain in the front and on the underside of the bow.
Simple Pullover/シンプルプルオーバー, $80 OBO


my picture
Hello lace
Used condition. I really love this pullover, but it sadly doesn't go with anything I have.

Black Angelic Pretty Special Set (Onepiece and Headbow, without apron) $100 OBO


my picture
Hello lace
Lightly used condition. This is the black version, I purchased seperately from the apron. Only onepiece and headbow included!



Meta 2005 Lucky Pack Blue Gingham Jumperskirt $85
Closeup
Used conditon. This has been sitting in my closet for quite some time and deserves a new home.
In The Starlight Maxicimam JSK Replica $60 OBO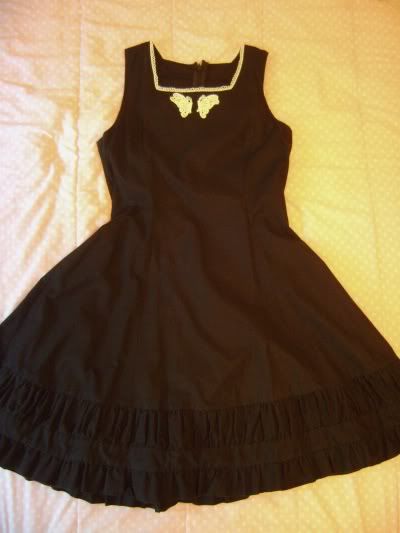 Used condition. A replica of
this
jumperskirt from MAXICIMAM, I commissioned from In the Starlight ages ago. Made to my measurements B31 & W26, and would probably fit up to a 33" bust?
The left applique has a yellow-ish stain on it.