Please read everything carefully before commenting! :D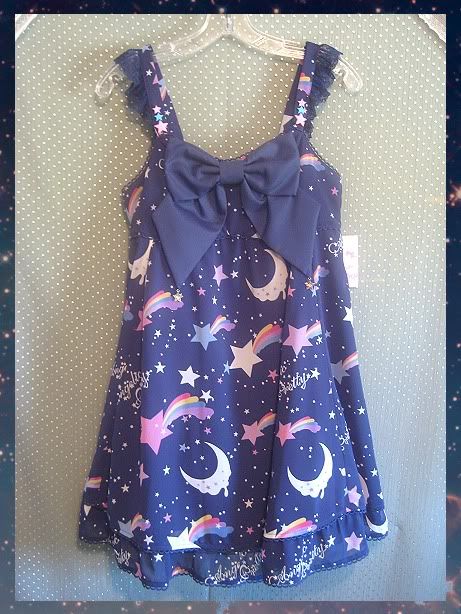 On AP's website

Angelic Pretty Dream Sky JSK [Navy]
Details: I am almost positive I will regret this tomorrow so let's get this over with quickly! I am the first owner of this JSK and it is just as dreamy as the name suggests! I found it to be very flattering even with the high-waisted cut, and it is super comfortable as well. Please note that the color of the JSK and shininess of the bow at the bust are much truer in my photo than in AP's stock photos. The dress zips up at the side and ties with thin removable waist ties at the waist. The shoulder straps can be detached at the back so you can wear the JSK halter style.
Condition: Brand new with original tag
Measurements: Bust: 32-36", Waist: Free-ish, Length: 33.5"
Price: $420 SOLD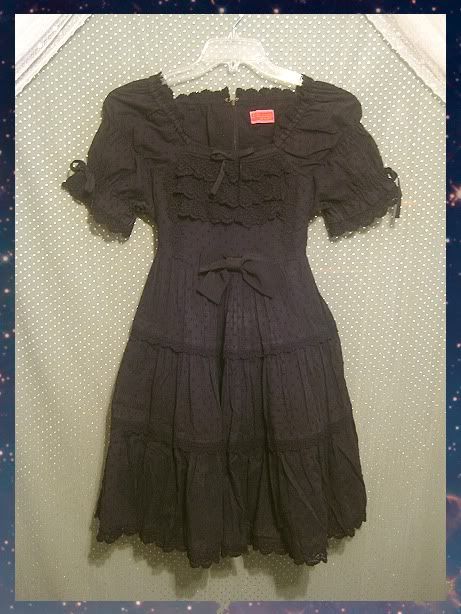 Bodice close- up ♥ Fading on skirt ♥ Left sleeve fading ♥ Right sleeve fading

Baby, the Stars Shine Bright Dessert OP [DAMAGED]
Details: This OP is super cute and flattering and it has lots of gorgeous details! The dress is made from a cotton with raised "dots" and there's lace at the sleeves, the neckline, the bust, the bottom hem, and along the edges of the tiers of the skirt. There's shirring at the sleeves and neckline, but there is none at the back; the dress is adjustable with thin (attached) waist ties at the back. I purchased this OP a while ago from Mbok knowing it was faded, but the seller's pictures definitely didn't show the extent of the damage. The fading is most noticebale on the front of the skirt (underneath the waist bow) and the underarm areas. I believe this dress can be salvaged if re-dyed, but I cannot say for sure as I (obviously) haven't attempted it.
Condition: Worn and faded (please read the details)
Measurements: Bust: 32-36", Waist: 32" max (adjustable with waist ties), Length: 35", Sleeve length: 9", Sleeve width: 11-16"
Price: $110 SOLD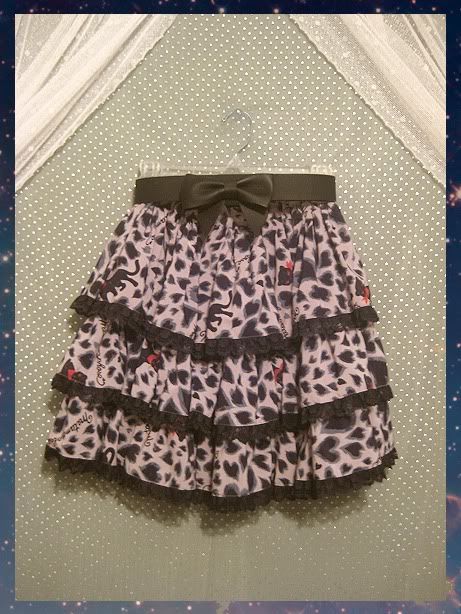 Skirt without belt ♥ Belt detail ♥ Print detail

Metamorphose Tiered Heart Leopard Print Skirt
Details: I purchased this skirt about two years ago and it took me forever to find! The fabric is printed with heart-shaped leopard spots and black panthers wearing red scarves! I purchased this skirt without the black sash it was originally sold with, but I am including an adjustable faux leather belt adorned with a bow!
Condition: Worn several times by the previous owner, 2x by me, still in like-new condition
Measurements: Waist: 26-38", Length: 18", Belt: 28-32"
Price: $120 SOLD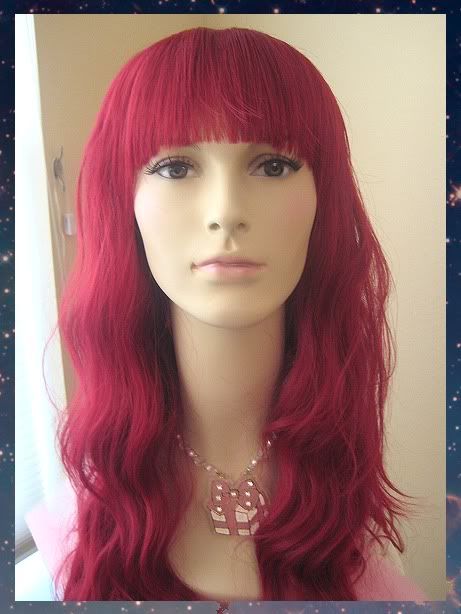 On GLW's website

Gothic Lolita Wigs Classic Burgundy Wig
Details: I pre-ordered this wig before GLW released pictures of it and while it is a gorgeous wig, it's not really the color I was expecting. You can find this wig on GLW's site here.
Condition: New, only tried on by me and my wig head
Price: $35 shipped [+ incl. First Class shipping in the US]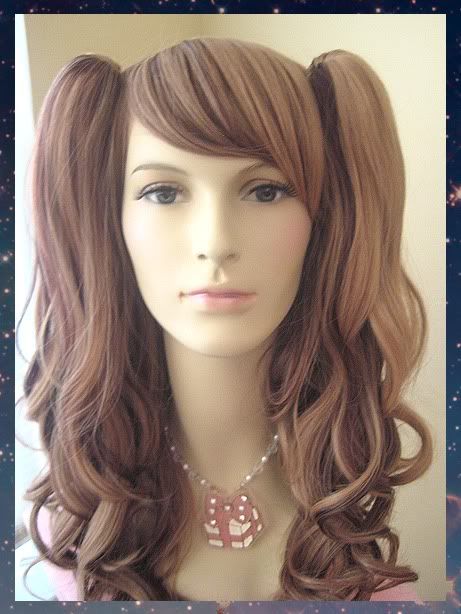 Close-up of hair "tangles" ♥ "Tangles" covered up ♥ On GLW's website

Gothic Lolita Wigs Blended Choco-Latte Wig
Details: This wig is SO gorgeous and fluffy, but again, not really the color i'm looking for. It comes with two detachable pigtails. You can find this wig on GLW's site here. [Please note that this wig has a couple of imperfections where the hair fibers do not lay flat, but none of these spots are noticeable when worn.]
Condition: New, only tried on by my wig head
Price: $55 SOLD




PLEASE READ THE FOLLOWING BEFORE COMMENTING...
♥ Hoping to make this a quick sale so priority will go to those who leave their Paypal address first. Please note that I reserve the right to accept higher offers.
♥ NO HOLDS or TRADES!
♥ I do not accept gift payments since they're risky and I get charged for them anyway.
♥ I accept Paypal - CC or non-CC is fine, but NO E- CHECKS. I expect (cleared) payment within 24 hours after I send an invoice.
♥ All items have shipping prices listed to the US. If you would like to add insurance, there will be an added cost and you must let me know before I invoice you. If an item has first class shipping listed, you may request that the item be shipped Priority for $5-13 (depending on size). For international buyers: I will ship internationally, but you must cover the shipping cost. Please also note that because the cheaper international shipping options do not come with tracking, you are buying at your own risk. I will only ship Priority/Express for items valued over $300. Once I drop the package off at the post office, I am no longer responsible for what happens to it.
♥ You can see my feedback here.
♥ When you comment, please let me know which item you're interested in, your Paypal address, and your country.