Payment Method:
Paypal & Paypal CC
Prices and payment in USD

PLEASE READ:
-Please keep on top of communication. If others are in line for something and you don't respond in a timely manner (36 hours from when my last message was), I'm going to move on to the next person.
-Shipping is whatever is the cheapest. For items over 13oz, this means Priority. For items under 13oz, this means First Class Mail USPS, typically takes 5-10 business days (so that's like anywhere from a week to two and a half weeks).
-International buyers welcome, but please be aware of higher shipping costs.
-If you live within the USA, Delivery Confirmation is automatically added to the cost of shipping (it's $0.80). If you live outside the USA, I understand tracking is very expensive, so it will be optional with the implicit agreement that I am not responsible if your package gets lost without tracking. I ship these out, but what the postal system does with it is not up to me.

I have +5 feedback at the comm: here; two are from the previous comm and are not shown (http://community.livejournal.com/eglfeedback/317335.html if the link refuses to work)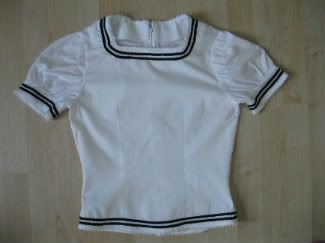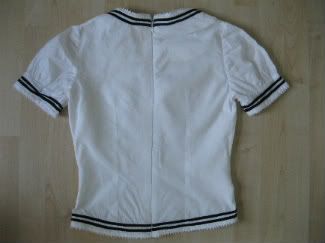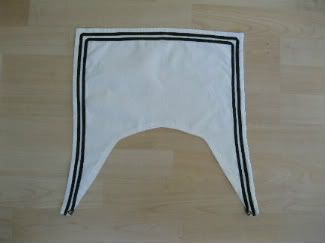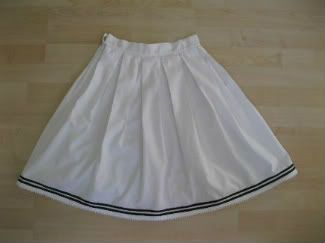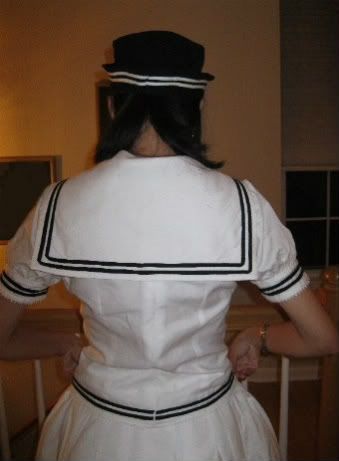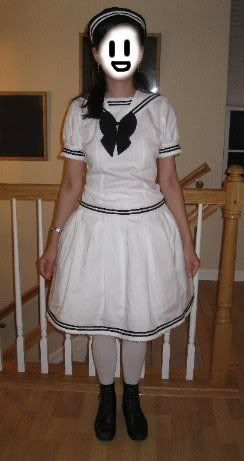 More Blouse details: collar, zipper in back, sleeve detailng, bottom hem
More Sailor Collar details: collar snaps, bow snaps and fastening pin
More Skirt details: non-stretchable waistband, zipper and side closure, bottom hem
Handmade Sailor Blouse + Sailor Skirt Set
These two items come as a set - I will NOT split them up. I originally started making this for myself and then forgot about it. It's not my style anymore but it is a lovely set, inspired by some of the Metamorphose sailor items. It's never been worn except for the model pictures. The inside seams are fully serged except for one seam on the skirt which is zigzagged. The skirt has a side invisible zipper and the blouse has a center back invisible zipper. As you can tell in the pictures, the sailor collar and the front bow are fully detachable for three different looks: sailor collar with bow, just the bow, and without either. You can also wear the collar and the bow with any t-shirt of your choice, as seen here.
Blouse size: S, bust: 31 in. - 34 in. (MAX)/ 80cm - 87 in. (MAX)
Skirt size: S, waist: 25 in/64 cm Unfortunately, these are the MAX measurements.
Price: $72 + shipping

***If you're interested in just a detachable sailor collar with bow (or even just the bow), let me know in the comments - I'd be glad to take a commission from you. I'd sell them for $17+shipping (just the bow would be $5+shipping)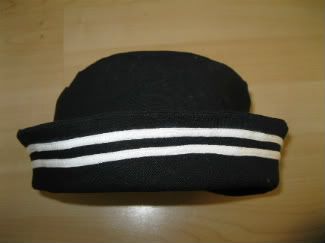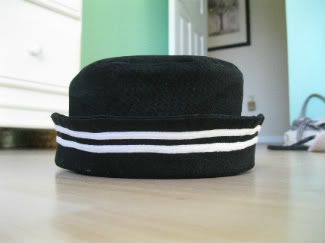 Handmade Sailor Hat
Very reminiscent of the Metamorphose sailor hat seen here. It's not shown, but the brim flips down so you can wear it as a bucket hat in a non-lolita setting. Inside seams are zigzag stitched.
Size: 21.5in/55cm circumference at the top, 22in./56cm circumference at the base. The hat is made of fabric with some stretch to it, so it will accommodate a slightly larger head (up to 2 inches/5cm)
Price: $15 + shipping

*** If there's enough interest, I was thinking of taking commissions for these hats. I'd probably sell them for $20 + shipping (I consider this one a prototype because the top is not as sturdy as I'd like it and the seams are zigzagged, not serged). If you're interested commissioning one, leave a comment. I'll notify you when I open a commission post.

*~*Order the Sailor Blouse+Skirt Set with the Sailor Hat and shipping is free within the US (discounted shipping internationally)*~*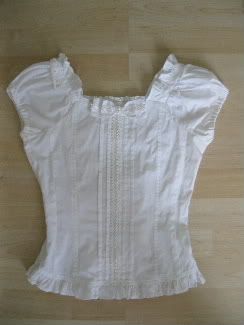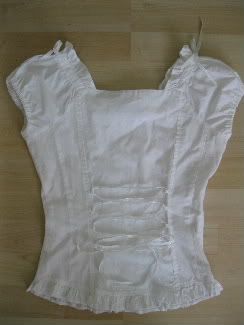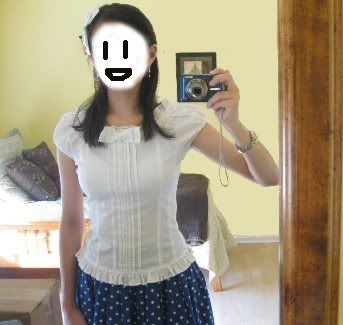 Additional photos: collar detailing, back lacing, yellow stains (right arm) (left arm), blue ink (close up) (farther away)
69th Dept - Sweetheart Neckline Short Sleeved Blouse
Gently used. From a Chinese maker called 69th Dept. Really versatile blouse - goes with everything from your lolita coord to blue jeans (literally). It was not marketed as such but I bought it because it looked like a replica (or close enough design) of this Victorian Maiden blouse.
There are some yellow stains around the armpits, and some blue marks on the lace in front (they're very hard to see - I didn't notice them until my third look over). These defects are reflected in the price - the original blouse was $40 PLUS $20 shipping from China.
Size: XS, Bust: 31.5 inches/80cm - this is my bust and it fits snugly; I would say this is the absolute maximum possible
Price: $25 + shipping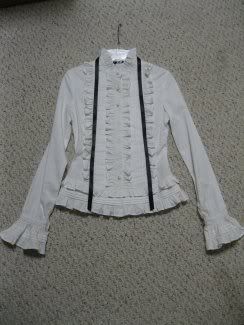 Additional photos: pintuck and ruffle detailing with faux pearl buttons, sleeve ruffles and pintucks, worn
69th Dept - Long Sleeve High Neck Blouse
Never worn, only tried on once for pictures. From a Chinese maker called 69th Dept. Has some really gorgeous pintuck and ruffle detailing. The black ribbon comes out. It's a shame I never got around to wearing it because it's such a lovely blouse. The original was $40 PLUS $20 shipping and I'd like to make back the price of the blouse.
Size: XS, Bust: 31.5 inches/80cm - this is my bust and it fits snugly; I would say this is the absolute maximum possible
Price: $40 + shipping



Silver Mary Jane Flats
Very cute flats, worn maybe once, I don't even remember wearing them.
Size: Fits a US women's size 6, or a US kid's size 3 ½ or equivalent: UK women's size 3 ½, European women's size 36, Australia women's size 4 1/2, or Japan women's size 22.
Price: $11 + shipping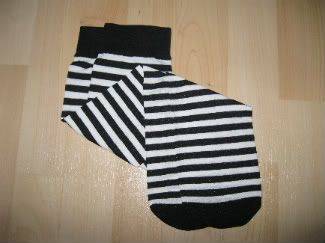 Striped Knee-high socks
Made of polyester, rather thin I would say. Price reflects quality.
Price: $3 + Shipping

Image1
Black Rose Ring
Size: 2 inch CIRCUMFERENCE measured on the inside of the ring. I'm a small ring size 6 (sometimes size 6 can be too large, sometimes just right). This ring is a little small, even for me.
Price: $1 + shipping
SOLD! Thank you!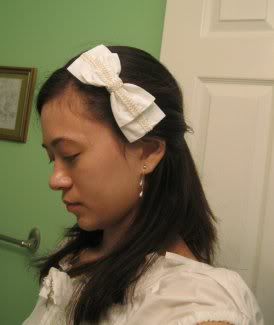 White Alice Bow Hair Comb
Price: $4
Gorgeous white hair bow with braiding detail attached to a metal hair comb. Brand New.

Image1Image2
Single Tea Rose Hair Corsage
Price: $4 + shipping
Dusty pink color, made with fake silk flowers, like the kind found at craft stores. Brand New.
SOLD! Thank you!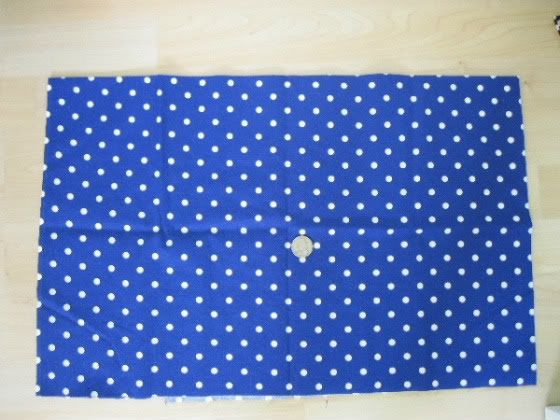 Additional photos:
here
here, too
Blue Polka Dot Fabric
The fabric is a little darker in color than either of the pictures show. A really nice cotton fabric. Not enough for a skirt but definitely enough for some nice accessories!
39" wide x 28" length
$2.50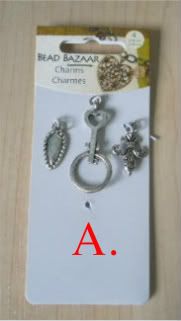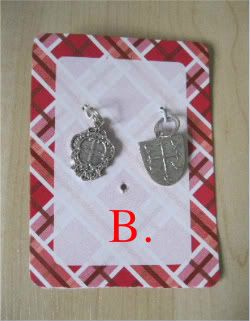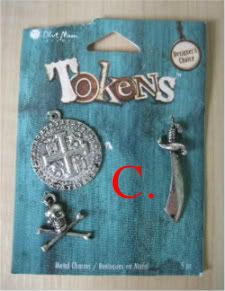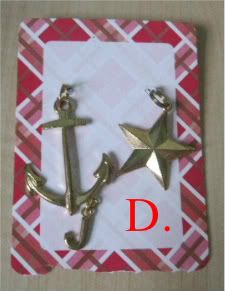 A. Key, Fleur de Lis, teardrop charms, silvery color
Price: $0.75 + shipping
B. Heraldry charms, silvery color
Price: $1 + shipping
C. Pirate themed charms, silvery color
Price: $1 + shipping
D. Nautical themed charms, gold color
Price: $1.75 + shipping

Questions? Please don't hesitate to ask. Thanks for looking!