Welcome!


I accept Paypal only.
I ship within the United States or international, however, keep in mind that I will ship using a flat rate priority box, which costs $15 to anywhere in the USA, $26.55 for Mexico/Canada and $43.23 to the rest of the world.
Prices does not include shipping.
Priority goes to whoever can pay first.
Ask for tracking and/or insurance with shipping.
I am not responsible for lost parcels.
Buyers who back out from a sale will be blacklisted from my sales.
Measurements are measured out flat.
I am currently not looking at trades.
Feel free to ask questions.
Feedback:
eglfeedback.livejournal.com/1179534.html
ANGELIC PRETTY DRESS: $180 OBO Shipping: $15
(ORIGINAL $260)
SOLD IN PERSON

.
I am the first owner, it was worn a couple of times, the dress will come to you dry-cleaned. I am getting rid of it, because I am moving internationally and it's too heavy and takes too much space in my luggage.
Detachable front bow, waist ties and it has side pockets.
Measurements: Bust 16.5 in, Waist 16 in, Length (from shoulder to hem) 34 in.
Back:
i94.photobucket.com/albums/l93/heroandflor/100_4344.jpg
Proof:
i94.photobucket.com/albums/l93/heroandflor/100_4342.jpg
Worn Front:
i94.photobucket.com/albums/l93/heroandflor/100_4351.jpg
Worn Back:
i94.photobucket.com/albums/l93/heroandflor/100_4350.jpg
Worn Full Length:
i94.photobucket.com/albums/l93/heroandflor/100_4345.jpg
For reference, my measurements are: Bust 29.5 in, Waist 25 in, and my height is 5.4'



SECRET SHOP TEA PARTY SHOES: $40
OBO Shipping: $15
(ORIGINAL PRICE $80)
[Sold to jinjin_tcg]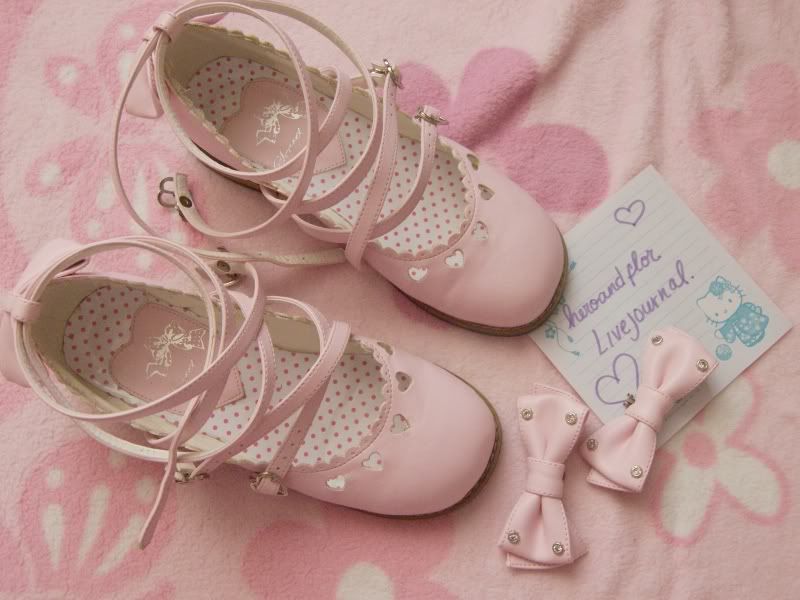 Worn 4-5 times. Size S. (I am a size 7US/5UK and they were quite small.)
Heels:
Bottom:
i94.photobucket.com/albums/l93/heroandflor/100_4366.jpg
Detail:
i94.photobucket.com/albums/l93/heroandflor/100_4359.jpg
Bows:
i94.photobucket.com/albums/l93/heroandflor/100_4361.jpg
HELLO KITTY QUILTED PURSE: $20
OBO Shipping: $15
(ORIGINAL PRICE $60)



SOLD TO: danidynamo

It has faint scratches near the snap (I put more contras on the detail picture so they show better) and a little knick at the bottom.
Dimensions are: Width: 11 in, Height 7 in Thickness almost 4 in.
Inside:
i94.photobucket.com/albums/l93/heroandflor/100_4356.jpg
Bottom:
i94.photobucket.com/albums/l93/heroandflor/100_4354.jpg
Scratch Detail:
i94.photobucket.com/albums/l93/heroandflor/100_4353.jpg
Knick Detail:
i94.photobucket.com/albums/l93/heroandflor/100_4355.jpg