The prices do not include shipping and are in Euros.
- Paypal only, no extra fees :)
- I'm not responsible for lost, stolen or damaged packages.
- The one that can pay first, or highest offer will get priority.
- I've got feedback here and for GO here
- I have cats and a dog, so allergic buyers beware.
They aren't allowed in my room, where I keep the items I sell, but sometimes one manages to sneak in.
- To convert currency, use XE
- Shipping includes the price of the packaging



Long heat resistant wig, chestnut: €30
Sorry that the first picture looks so tangled I just took it out of storage, but I already brushed it out, put a spray in it and braided it, so you
won't receive it so frizzy, it will look like the second picture! This wig is very long and full, it's also heat resistant! Never worn because it's too long and I don't feel like cutting it :)



Baby pink shoulder length wig: €30
This wig is made of really high quality fibers, it's not shiny at all! I thought it would be a different color, but when I received it I noticed it's a very soft baby pink (I was looking for purple), and the color is difficult to capture. It would be great for sweet. I only brushed it through a little, but the tight curls spring back easily, especially if you wash it a bit in cold water.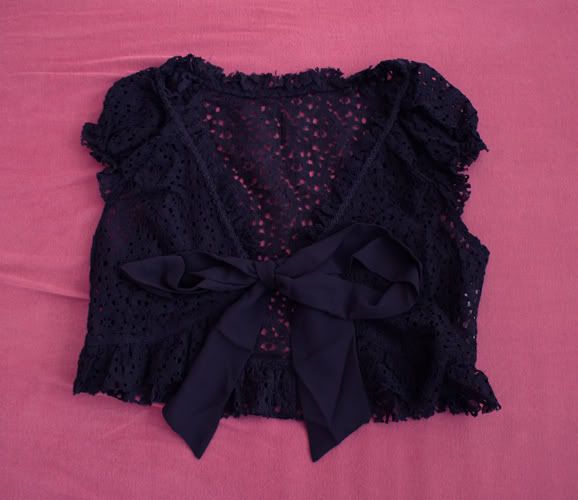 Westmend black bolero: €20
New, never worn. I just have too many black boleros.



Surface Spell Cream Blouse (left): €18
Baby the Stars Shine Bright Cutsew (right): €28
I tea dyed the surface spell blouse, and it has a couple small spots wich aren't very noticable (reflects the price though).
Selling because the sleeves were made too short.

The Baby cutsew has some (make-up?) stains inside the collar (reflects the price), it came to me like that from the previous owner.
Other than that it's still in great quality, selling because the sleeves are too short.

Previous sales:
Still selling 1 IW jsk and 2 wigs here