-Paypal only please, no payment plans, no trades
- Everything is OBO, if no one has offered for a day or so I most likely will be willing to lower the price, so let me know your offer!

I have 100% positive feedback here: http://eglfeedback.livejournal.com/249675.html

PENDING with payment planAngelic Pretty Fantastic Dolly high waist JSK in black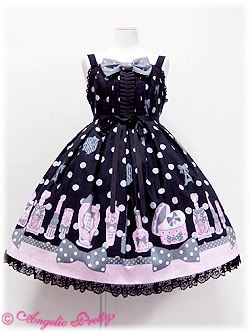 PROOF PHOTO: http://i297.photobucket.com/albums/mm201/lollerskater233/IMG_0300-1.jpg
The JSK is in excellent condition, I purchased it second hand but have only worn it once myself. There are no tares, stains, or issues with the dress. c: The back has full shirring so it can fit a really wide range of sizes
Length= 34in
Bust= 34-36in (I had trouble measuring the max but you can fit into full-shirred AP it'll fit you)
Waist= 25-28in
PRICE: $330+shipping
Shipping for priority mail w/ tracking is $11, insurance will be extra

Thanks for looking, if you have any questions feel free to ask!