Terms of Sale

-I ship from NYC, Monday – Friday via USPS First Class. Sometimes I stay over my boyfriend's house, so I may not ship it out for a day or two after payment is made. However, I do notify immediately once item has been shipped.
-Smoke free home, family has two cats. I keep them out of my room but things do get tracked in. My clothes are kept in a closet away from them but I will look over items to make sure there is no dust or hair on them regardless.
-Paypal only please.
-Paypal and shipping fees are included. The price you see is the price you pay. This reflects shipping to USA customers only. I would prefer to ship to US but please inquire about overseas shipping if you are truly interested.
-Tracking is not included, but you may request it. This will, of course, adjust the price you are paying.
-All sales final. There are NO refunds.
-I am not responsible for any loss or damage. I will package your item carefully and in a proper box but I cannot control how the Post Office handles it once it is out of my hands.
-First come, first serve.
-I am interested in trades, please see below the items I am selling.
-Ask me any questions you have on these items before committing.

My feedback is here

Proof will be my Den Liner Pass: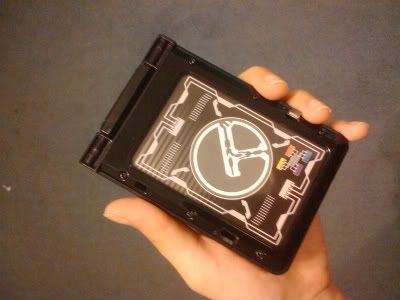 I am selling Bodyline's Carousel skirt. Size 2L in the sax colorway.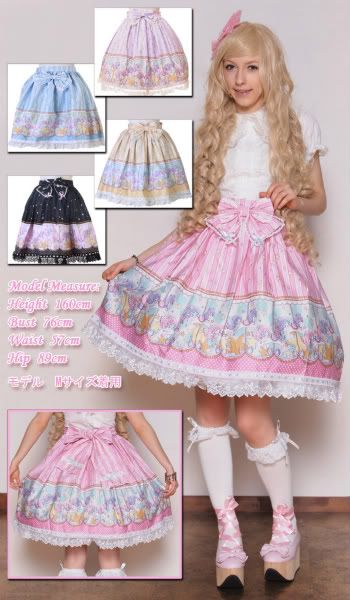 http://www.bodyline.co.jp/bodyline/frame01.asp?id=4599

Measurements as given on Bodyline's Website:
Length 63cm
Waist 72-78cm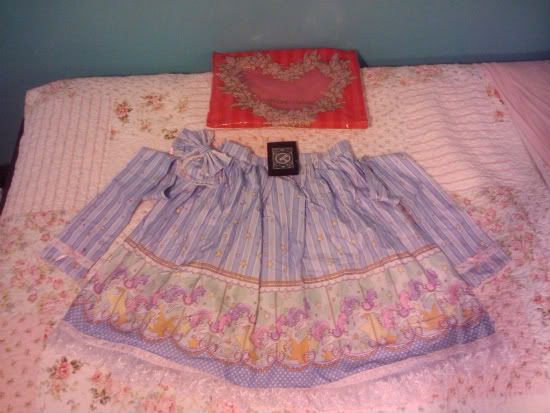 I am the second owner. First owner was a friend who bought it brand new and wore only once out of the package. I purchased it from her, I wore it for about 3 seconds until I realized it was too big for me. Has been kept in the packaging since so there is absolutely no damage to this item.

I'm looking for $28 for this item. As stated, this includes paypal and shipping fees within the US.

If you'd offering to trade (even partial), I'm really looking for Little Bear's Cafe skirt replica + bow, in pink or brown. I am also looking for Miracle Candy accessories. Particularly, the bow clips from the special set, the headbow or jewelry.

Thank you for looking!