x. I ship from Madrid, Spain
x. I accept payment by PayPal or bank transfer in you are in Europe.
x. PayPal fees are included. Shipping fees are NOT.
x. All prices are negotiable, so feel free to offer!
x. Feedback here http://eglfeedback.livejournal.com/944281.html
x. I'll be glad to provide any other proof of ownership that you require.


x. Prices are in EURO.
x. First person to post PayPal address gets priority!
x. All measurement are completely amateur, so I could be wrong by a few centimetres.
x. I do NOT accept trade under otherwise stated in the garment.

And please don't send me PMs since I don't always receive them.

And now... on to the sales!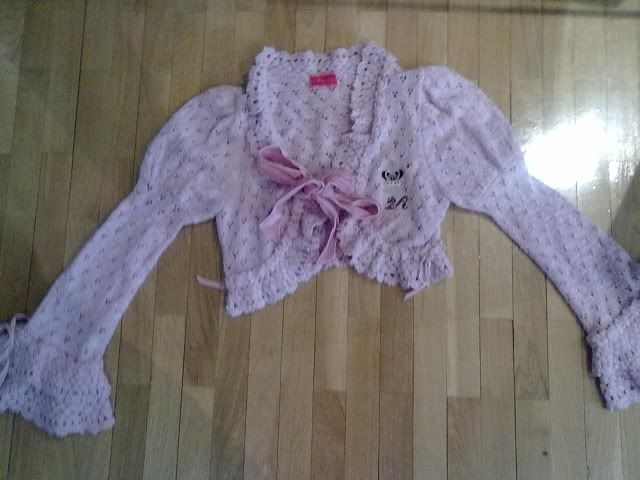 I bought this bolero secondhand but, after wearing it once, I just found out it didn't really fit me. It's very princess-like, with princess sleeves and decorated with pearls and velveteen ribbons. It also has a little embroidery on the front, featuring the Baby logo and one chrystal cinderella shoe. It's used but in good condition.

Detail pictures:
Embroidery detail.

Sleeve detail.

Measurements:
For me, this is pretty free-sized. It's tied with a velveteen ribbon at the front, which gives room for a big variety of bust sizes.

Price:
48€ 35€

And that's all, girls. Thanks for your attention!