FEEDBACK: http://eglfeedback.livejournal.com/249675.html

-Hey everyone, I know the title is a little confusing. But I am currently looking to trade my Fantastic Dolly black high-waisted JSK for the regular version in any color. The black one is my favorite but if I can't find it I will totally trade for another color. My least favorite being the white version. If you have one you are looking to trade please let me know and leave a link to your feedback! I will only trade with someone in the US at the moment.

-If I can not find a trade I am also willing to buy the regular waist version in any color. So if you have one for sale please list your price and leave a feedback link!

So...trading this in black: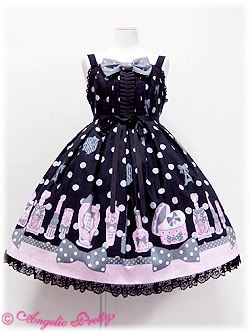 PROOF PHOTO: http://i297.photobucket.com/albums/mm201/lollerskater233/IMG_0300-1.jpg
My dress is in excellent condition, I bought it second hand and it's only be worn once by me. There are no stains or flaws. If you need more pictures just ask!

for this (ANY COLOR VERSION)



Thanks for looking! c: I'd love to find this dress so I can twin with my friend!