♫My feedback page is here
♫All my prices are in USD
♫Shipping is not included in prices, please ask for a quote
♫Also, if you want tracking, let me know, it will cost a bit extra
♫I AM OPEN TO TRADES!
♫If you feel a price is too high, feel free to negotiate!
♫I do combine shipping! PLEASE ASK BEFOREHAND!
♫Any questions? Ask! <3
*Proof is the doughnut plush*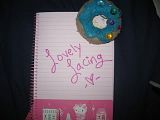 Tip-Top Caplet- $30
There are a few dirt marks, I will do my best to remove them before shipping out.