Prices are in SGD.

Shipping:
Shipping from Singapore.
I will ship to anywhere in the world. All items will be ship out by airmail unless requested. (additional 3usd for tracking/registered articles) I will try my best to send out on the day of payment.

Payment:
I accept Paypal,E-checks(please inform first),bank transfer(Singapore only) registered concealed cash (at buyer's own risk)Holding /Layaway of item is possible with a deposit. Item will go to the person who is able to pay first in full amount.
Please make your payment within 3 days once you have agree to purchase an item.
All non-CC and CC will be charge with paypal fee of 3.9% + $0.50 SGD .

EGL feedbacks:community.livejournal.com/eglfeedback/929713.html

Selling away my Tarot Cards Red Jsk 2 from alice and the pirates.
The item is in perfect condition and its worn only twice before.
There is a little thread coming lose (about 2cm) at the back lace near the shirring, can be easily fixed by a seamstress or yourself- please refer to picture shown below.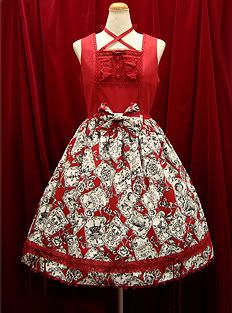 Selling it for 250usd = 300sgd (Price negotiable)

Loose Thread:img.photobucket.com/albums/v461/stellalrh/lace-1.jpg

Proof:img.photobucket.com/albums/v461/stellalrh/proof.jpg

For measurement etc : http://hellolace.net/wardrobe/alice-and-the-pirates/type/jsk/item/73/


Thanks for looking !~


Old Sales: ( all on 10% off price shown are before reduce)
Metamophose jsk,mam hd
H.naoto shirt,Btssb Jsk,Metamorphose bolero,Btssb jacket