These are all direct sale items.
The prices listed include shipping from the USA. Insurance is optional, at the buyer's request/expense.
Payment is in USD.
Payment can be made via PayPal, or if you are within the USA and willing to wait, then Money Order is also fine. I prefer non-CC PayPal payments if possible.
I am listed positively on the new egl feedback forum, as well as on eBay (as pg-chan). eBay feedback, EGL feedback
Please comment or message me with any questions. Links to additional photos are under the descriptions.
The mannequin on which these are pictured has a 36in (91/92cm) bust.


*****
Alice and the Pirates pink OP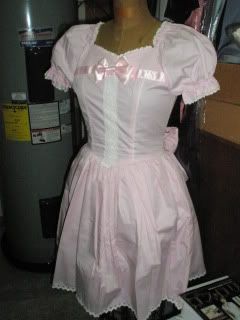 This is a very cute but simple pink OP from AatP. Never worn, in excellent condition. It zips up the back, with a back bow also. The back-style is a tiered bustle type skirt. I would say the bust is 36in, with a waist of about 30-31in. It's awful cute, not over the top for a sweet style, but my measurements were just a tad too much for it. ^^;
bustle back style

Shipped w/i US: $100
Shipped outside US: $110

*****
Angelic Pretty red heart-pocket jsk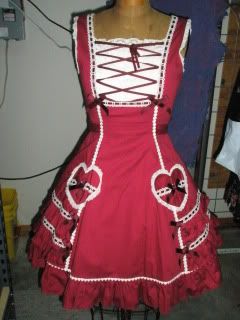 This is a fantastic red jsk from AP. Used, well cared for, dry cleaned only, in excellent condition. It zips up the back, with a back bow as well. There is heart-shaped lace embellishment throughout, with deeper red ribbons. The max for this jsk is probably 36 bust, 31 waist - these were my measurements when I wore it and it wasn't too tight but there was no slack. Measured flat: armpit to armpit = 17in, waist 15in, 36in long. It is fully lined; the bottom of the lining has a stiff layer of taffeta to help the skirt fan out in a proper shape over a petti. I bought this in 2006, but it's possibly from 2005? AP puts out a variation on the heart pocket jsk every other year, but they're always a little different, and I've never seen a design exactly like this one. I loved this jsk, and it was one of my first big loli purchases, but I have gained weight and it's the only thing in my closet that's not black, so it has to go ._.
back style
back bow style
laid flat

Shipped anywhere: $200

*****
Alice and the Pirates LP: kodona coordinate - SOLD

This is a 4 piece LP from Alice and the Pirates. A friend of mine in Japan got this for me at an event, and while some of the LPs were random, some had coordinates. This one is a full kodona style coordinate, which unfortunately is not my style at all! In LP style, I am not posting FULL detailed information on the contents, but am posting SOME information so that this at least ends up in kodona-loving hands. There is a blouse, short pants, vest (with tails), and headpiece. All of it new, never worn.

Shipped anywhere: $200
SOLD! Thank you!

*****
BtSSB black tank cutsew - SOLD



This is a black cutsew tank from BtSSB. I got this at an in-store special sale event in the heat of the moment, then put it away and actually forgot about it. New, never worn. It's adorable, but I'm not really about tanks. Probably 36in bust is the reasonable limit. Measured flat: 20in long, armpit-to-armpit 14in. There is a 2in slit on each side, bottom hem. The front panel has shirring, with a ribbon tie decoration.
on hanger

Shipped w/i US: $20
Shipped outside US: $23
SOLD! Thank you!

*****
GothLoli magazine, vol 1 - SOLD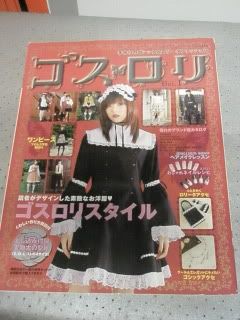 This is vol 1 of the Japanese magazine GothLoli (GosuRori). It is in great condition, with sewing patterns printed in the back. The magazine not only has lovely photospreads for several brand designs, but also short step-by-step tutorials on making accessories, sewing, and make-up featured in different photos. There seem to be several patterns included, for a blouse, skirt, and one piece. While later issues would have detachable patterns, this issue has an elaborate sewing guide with printed pattern details and instructions. Each sewing guide section refers to the page with the picture of a model wearing the finished product. If you're a crafty loli, then this is definitely an interesting resource for making different kinds of accessories and hints on how to construct your own wardrobe pieces.
pattern/guide

Shipped w/i the US: $10
Shipped outside US: $15
SOLD! Thank you!

*****
Miho Matsuda gothic set



This is a limited set from Miho Matsuda, a matching top and skirt. The top has straps, with a side zipper closure, and adjustable laces in the back. There is velvety front seam piping, with minor lace embellishment, and the frilled hem segways nicely into the skirt design. The skirt is tiered, with an elastic waist. The max bust is 36 in. Measured flat, the elastic waist is 12.5-17.5 in. The fabric has a lovely ivy design.
back

Shipped w/i US: $80
Shipped outside US: $88

*****
h.Naoto vest - SOLD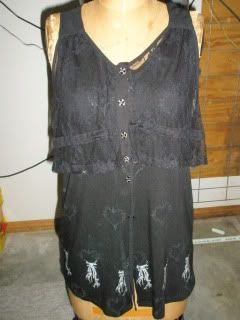 This is a vest/cutsew top from h.Naoto. I list it as a vest because of the wide armholes. It is approximately 27in long, with a lace overlay that ends under the bust. There is also a 7in lace frill that can attach to the overlay via buttons on the inside hem; that inner-hem is missing 2 buttons but they can be replaced without issue. (This came out of the LP missing a button there, and since I never use the added frill, I never sought to replace them.) Image of the cutsew with attached frill is below. The underbust hem of the lace overlay has a drawstring, so it can cinched tight to the figure, or left loose over the bust. Worn once, hand washed, in great condition. This is very loose and great for a casual coordinate. (I wore it over a t-shirt to DisneyLand X3 It's light and breezy!)
with frill
close-up of frill and hem print

Shipped w/i US: $15
Shipped outside US: $22
SOLD! Thank you!

*****
Hello Kitty lolita mascot charm - SOLD



This is an adorable Hello Kitty ball-chain mascot of Kitty in lolita! It's from a limited blind box set that was sold in Sanrio stores. (I got the whole set, but now I know there's no way I can use 7 HK charms XD;;; ) This one has Kitty in white and gold, with cute shoes, a headdress and bow, and a sassy wink! The body and limbs dangle from her head, like a reverse bobble-head doll. There is a short ball chain at the top so you can attach her anywhere (I have the grey version of this one attached to a bag X3). Hello Kitty in lolita seems like such a great collab - I'm surprised they don't do it more often! Since this was from a blind box, it was hit-or-miss on what you got, and all designs were limited.

Shipped anywhere: $10
SOLD! Thank you!

*****
BtSSB usakuma mascot charm - SOLD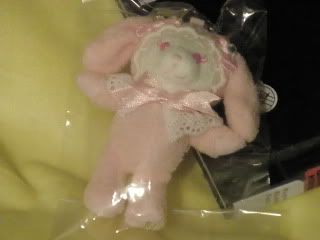 This is the infamous usakuma charm from this past year's LPs. Pink and adorable, this bunnybear can be used as a phone strap or a bag charm - there is both a ball chain and a strap attachment. There is gold logo embroidery on the bottom of one foot, and it has an adorable lace collar. This is literally cuteness on a chain, but it's a bit large for me, and I would never use it (I'd always be afraid of getting it dirty! XD; ). Please give usakuma a home!

Shipping w/i US: $20
Shipping outside US: $23
SOLD! Thank you!

*****
BtSSB white headbow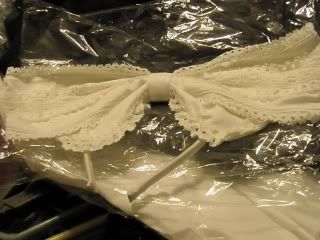 This is a white headbow from Baby. It's rather large, but the edges of the bow have wire inside, so you can style the look however you like. There is white lace around the edges and down the middle of the bow design. I love that there's wire inside so you can play around with the bow, but my closet is black! Due to the headband, the bow has to be shipped in a box to help prevent breaking.

Shipping anywhere: $20

*****
Black Peace Now skirt w/charm - SOLD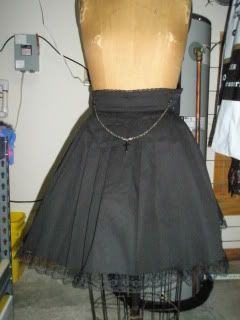 This is black BPN skirt with a detachable chain/charm. Used, dry cleaned, great condition. There is a side zipper, and two buttons on the waistband. The chain with charm is hooked to small metal loops that are still discreet when the chain is taken off. Both the loops and chain/charm are that lovely dark metal that BPN loves to use that helps it blend into black so well. The skirt is lined, with lace edging at the hem. Measured flat, the waist is 14in at the most, 21in long.
close up of waist w/charm

Shipping w/i US: $40
Shipping outside US: $45
SOLD! Thank you!

*****

Thank you for checking out my items!