SHOPPING GUIDELINES
* Trades only please
* All my measurements have been taken flat and doubled, they are by no means professional.
* I take paypal, or if you live in Australia I'm happy to do bank transfer too.
* No pick-ups available sorry.
* Here is my feedback page.
* Don't use centimeters? Try this handy dandy converter

Looking to trade this OP from Baby in a sweet yellow hue.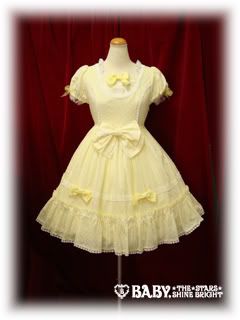 Proof of Ownership
Worn Photo
Worn Photo 2
Measurements:
Bust: 80cm
Length: 84cm
Waist: 68cm
It has shirring and lacing in the back so it would probably be able to stretch to a bigger bust.

Looking for: Another OP or JSK of the same value; preferably brand (or a beautifully designed hand-made dress). I like sweet and classic prints but I'll look at anything!

Feel free to ask any questions ♥