Terms of Service
Payment:

I accept paypal only, sorry!

Priority

:

For guaranteed priority, you must (1) be the first to leave your paypal for the item, (2) pay full price, and (3) pay within 24 hours of invoice. All three conditions must be met for your spot to be guaranteed.



Otherwise, the item moves down the line to the first person who fulfills all three criteria. For example, if you leave your paypal first and can pay within 24 hours, but you offer a price lower than the asking price, then the buyer who left their paypal after you and will pay full price within 24 hours gets the item instead. If no one fulfills all three criteria, then highest priority goes to conditions 1 and 2.

If no one offers full price, it goes to the buyer offering the highest price. I will wait 24 hours after receiving the highest offer, to give the other buyers a chance to counter-offer.


Holds

:

I am willing to hold items for a non-refundable 20% deposit, unless stated otherwise. This may be negotiable, let me know i

f you want to work something out

.

Please leave your paypal address to hold your place in line

. I will not invoice until you give me the go-ahead. Paypal addresses will be screened for the buyer's protection.

Shipping

:

I ship by default using recycled packaging and first class, un-tracked and uninsured. For international shipping, I automatically mark packages as "gift" and mark the price down. Please let me know if you would like something different!

I am not responsible for the item(s) once it has left my hands. If the package is lost and no insurance was purchased, I will certainly descend upon the post office on your behalf, but I do not refund.




Offers are welcome, but please keep in mind that due to my priority policies listed above, you may forfeit your spot in line in the process.

Loss of communication after 24 hours will be interpreted as a loss of interest, and the item will pass on to the next buyer in line.

My household is non-smoking and (unfortunately D: ) pet-free.

All prices are in USD, and all measurements are amateur because I am armed with only a straight ruler and a flat mattress.


I reserve the right to refuse to sell to a user due to their feedback record, or due to poor transaction experiences I have had with them in the past.

If you are more comfortable purchasing through PMs, feel free to do so. However, please leave a comment here stating which item you are interested in and that you have PMed me, as a courtesy to other buyers.

My feedback is

here

.



Navy and White Offbrand Checkered Skirt

I bought this skirt secondhand, tried it on, and decided that it was just too tight at the waist D: My waist is 28", so I would recommend this for someone smaller unless you're ok with a tight fit. The waistband is VERY stretchy, and can technically accommodate up to a 36.5" waist (although again, this is not recommended).

Due to the way the skirt is constructed, I would also highly recommend this to be paired with a cupcake petti, instead of an A-line petti. The back of the skirt looks the same as the front, and it is in wonderful condition! The only flaw I can find is that the elastic in the waistband has a tendency to twist.

Measurements:
Waist: max 26" (recommended, see description above)
Length: 20" from the top of the waistband to the bottom of the hem

Price: $12 + shipping (pp fees are covered by me)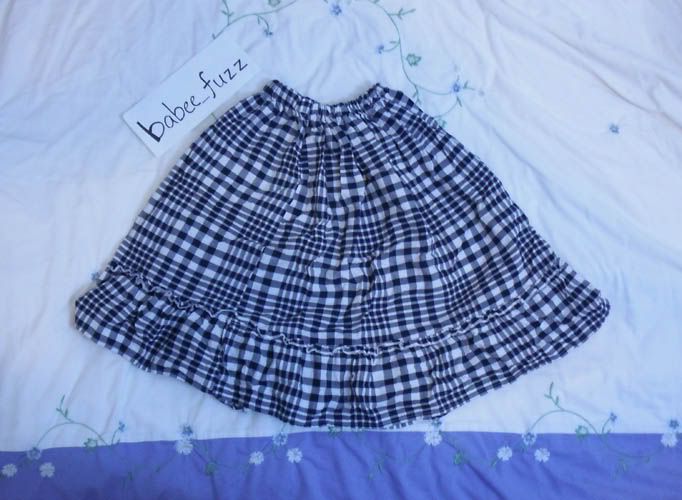 Red and Black Offbrand Corset (steel-boned!)

Purchased NWOT a while back, only tried on by me! The corset comes with a modesty panel, detachable garters, a longer ribbon to lace up the back with (should you need it), and has twelve bones to help hold your shape!

EDIT: I recently purchased another corset that was clearly marked to have plastic boning, and after comparing with this one, I have to agree with the original seller that this one is a steel-boned corset (spiral steel boning, two solid panels in the front). The shop of origin also advertises these as suitable for tight-lacing, although I personally haven't tried. Shipping quotes for this item will be delayed until I can get to the post office and ask what the safest and most efficient method of shipping for it will be!

Measurements
Bust: (fully laced) 26.5 inches
(modesty panel fully extended) 31.5 inches
Waist: (fully laced) 24.5 inches
(modesty panel fully extended) 28.5 inches
Length from cleavage dip to bottom: 15.6 inches
Garters: 8 inches

If you retract the modesty panel, the corset is pretty much free size, provided that you have a long enough ribbon!

Price: $16 + shipping and pp fees


Stock picture: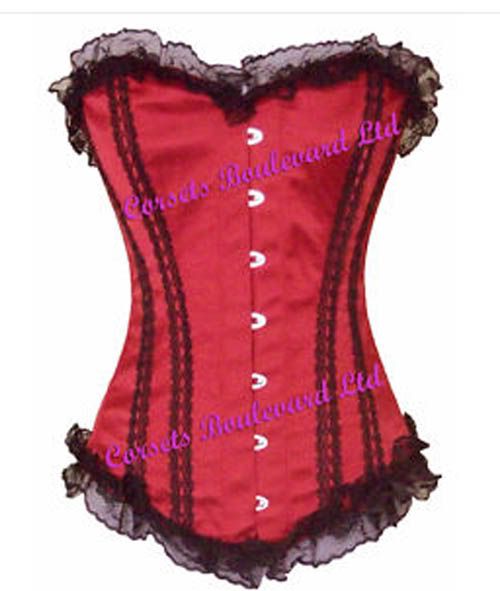 Proofs (sorry for the poor lighting, stock photo is true to color!):

Front Back Link to store





------------------------------------------------------------------------------------------------------------------------------


!WTB: Black OTK's

I'm slowly convincing myself that I may actually like OTKs, so please show me what you have! I'm looking for OTKs only (no knee socks, please!). Designs and logos and such are A-OK, but the predominant color should be black. Lace-topped pairs are even better :D I like my socks to be in new condition, although it's ok if they've been tried on!


Thanks for looking! <3


Update: currently awake, and checking periodically!