Hi everyone, I am having a slight closet cleaning before Otakon.

Rules are as follows:

Feedback: eglfeedback.livejournal.com/366389.html


Domestic USA only, sorry


Payment: Paypal only.
NO TRADES AT THIS TIME.
Item goes to first person that pays.
Prices include shipping by USPS priority mail and will ship from North Carolina, USA.
Items will be shipped within 48 hours after payment clears.
ALL SALES ARE FINAL
I will be attending Otakon next weekend, if you purchase an item and would like to pick it up there that can be arranged.
1. Angelic Pretty Pink Jumperskirt: $120.00 USD


I received this jumperskirt in a trade and sadly it is too small for me. Please give it a good home. I have never worn it so there are no worn pictures.
Does have some partial shirring in the back but that is it.

2. Metamorphose Royal Emblem Mini Length Skirt: $100.00 USD




This skirt is fully shirred. I purchased it from Closet Child last year and have only worn it once. Since it is fully shirred it is plus size friendly. Fits comfortably at a 33 inch waist. I do love the print of the skirt but am not in love with the pinky/peach color.

3. Metamorphose White LP Skirt: $70.00 USD




This is one of the lucky pack skirts from a couple years ago. I am the first owner and have only tried it on and it has been hanging in my closet since. It is a good base piece. Also note it is not pure white. It is plus size friendly due to the shirred waist.

4. Metamorphose Cream LP Skirt: $70.00 USD SOLD




This is from the same lucky pack series as the white one. I am the first owner, have only tried the skirt on and like the white one, it has been in the closet ever since. Just couldn't ever decide what to do with it. Fully shirred so it is plus size friendly.

5. Bodyline Striped Teddy Bear OP with matching socks: $80.00 USD




I am the first owner of this OP. I bought it barely a month ago with big plans for it but sadly the measurements listed on Bodyline are pretty true and it didn't fit. This is an adorable piece and will come with the matching bear socks in black.

6. Bodyline Cat and Cage OP in Black: $40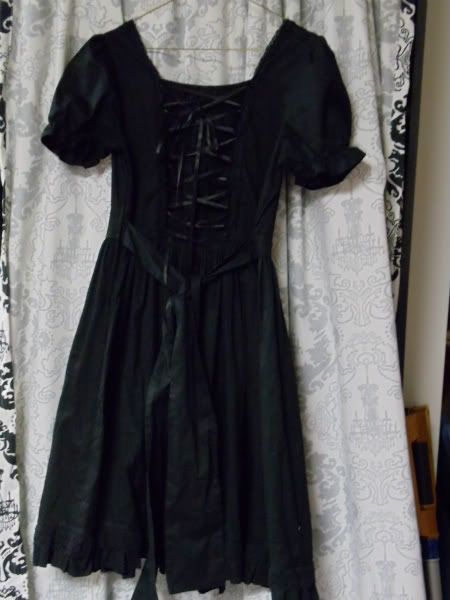 Size 2L I am the first owner. This dress has been worn once and hung in the closet since. It is a cute dress but sadly I just don't wear it and would like to find it a new home.

Thank you for looking.