First things first, feedback:
http://eglfeedback.livejournal.com/593169.html

Hello! I'm looking for my number-one dream dress: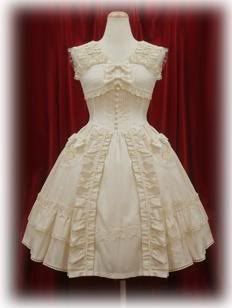 Oh the pretty. That's the first edition JSK, with Marie Antoinette's initials on the pockets, as opposed to the BABY crest. I might consider the second edition in ivory, though I'm not really interested in the third. I have a VM Fairy Doll JSK and many other nice things available, so let me know what you're looking for if you'd like to trade.

Besides BtSSB's fairy tale prints, I'm also usually interested in Mary Magdalene, VM, Innocent World, BETH, JetJ, and so forth. If these are brands you're hawking, do come forth. Especially if you're selling BETH. I love me some BETH.