I am in the FL, US, will ship internationally and accept paypal
feedback page: http://community.livejournal.com/eglfeedback/554611.html
NO TRADES PLEASE
I will sell items to the first person who gives me their paypal email for invoice. You can PM your information to me too.
You need to contact me if you want to layaway something. But I will sell to the person who can pay upfront first.
I reserve the right to refuse any sale for any reasons.



Angelic Pretty blk x pink knee socks Brand new and unworn! $26
Asking less than I originally paid.



Super Rare Jane Marple Snow White dress $300
My Holy Grail Dress, but it is too small :( Please someone gift this beautiful dress justice!
Bodice is black velvet, skirt is a full four layer of tulle, silky black underskirt, chiffon print skirt, and another print skirt overlay done in a shimmery, gauzy fabric.. It's hard to describe, but it's utterly beautiful. The drawings are so charming and sweet!
Adjustable shoulder straps, removable satin ribbon sash, fully shirred back
Max Waist 28 inches Max Bust 34-35 inches
Pristine brand new condition, only tried on once



Rare Emily Temple Cute Jumper skirt $185
excellent condition, worn once by me. it's a really beautiful embroidered dress, but a little too small for me.
Asking less than I originally paid.
Embroidery is a rose dress on a dress form with chandeliers, ribbon border and scalloped trim
bust max: 34-35 inches

extra pics:


LipService Black Corset Size L. $18
Looks really cute over a skirt and blouse for a goth or punkloli look.
Minimum 28 inch waist and 35 bust at the smallest closing. The corset could be expanded to fit pretty much any size above that. Condition is good, but used. Some tears in the net polka dot net lace trim, but not really noticable and kinda adds to the distressed look.


Metamorphose Skirt Liner Pink only - FREE if you purchase an item
Condition: Good, used condition. Pink liner available only. Elastic may need replacing.

- fabrics (all are new, unused fabrics) -



3 1/8 yard Stripe cherry bunny border fabric $22
The bunnies are only on the bottom border of the fabric, so the top of the skirt/dress you would make is all striped :)



Brown old-fashioned Teddies border polka dot fabric 2 yards $17
The bears are only on the bottom border of the fabric, so the top of the skirt/dress you make would be all polka dots :)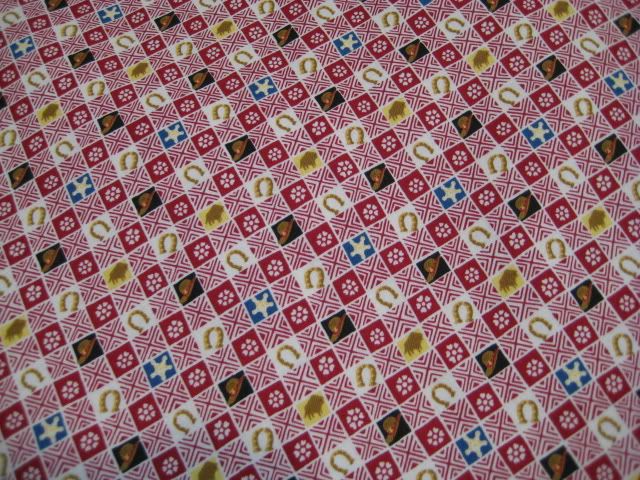 Western Fabric for some cowgirl lolita, over 3 yards -- FREE with any fabric purchase
Close-up picture


http://i1020.photobucket.com/albums/af330/yukisas/loli/036.jpg
Bright Mint green parasols fabric 3 yards (fabric quality is excellent!) $25 sold
http://i1198.photobucket.com/albums/aa442/quemalcriada/v011.jpg sold
Pretty Floral Fabric, over 3 yards -- FREE with any fabric purchase


http://i1198.photobucket.com/albums/aa442/quemalcriada/v006.jpg
Little Retro Girls Border Fabric - $18 sold 121 inches, over 3 yards vintage fabric I purchased from an estate sale. This would be wonderful with red rickrack trim :D
http://i1198.photobucket.com/albums/aa442/quemalcriada/v003.jpg

Baby the Stars Shine Bright Purse - $85 sold Very roomy yet a very comfortable size. Has inside zipper pocket and 2 side pockets for your phone or ipod, etc. Condition is USED, not perfect, but very good condition. I purchased it used originally for $165. Wonderful Crown design on front. (Note: There are no pink gemstones missing fron the design, that's how the design comes)
http://i1198.photobucket.com/albums/aa442/quemalcriada/k017.jpg
http://i1198.photobucket.com/albums/aa442/quemalcriada/k021.jpg
http://i1198.photobucket.com/albums/aa442/quemalcriada/k015.jpg

Jane Marple Button-Down - sold
This shirt has the most awesome collar, but doesn't fit me very well sadly. The collar has wires and you can roll the collar or twist them or pull them straight! I did a few examples below. It would look nice under a jumperskirt or corset, or really awesome for punk/kodona. I bought it used and only tried it on, it's in good condition.
Max Bust 34-36 inch
From shoulder to bottom of shirt 20.5 inches, shoulder to wrist is about 19.5 inches
http://i1198.photobucket.com/albums/aa442/quemalcriada/l043.jpg
http://i1198.photobucket.com/albums/aa442/quemalcriada/l045.jpg

http://i1020.photobucket.com/albums/af330/yukisas/loli/rroris582.jpg
Baby/Aatp Pink Chiffon Lace Dress sold!
Max bust - 42 inches! free waist, adjustable shoulder straps. Asking less than I originally paid.
Good, but in used condition. The lace is a little dingy at parts, could use a hand wash or dry clean.

extra pics:
http://i1020.photobucket.com/albums/af330/yukisas/loli/rroris585.jpg
http://i1020.photobucket.com/albums/af330/yukisas/loli/rroris586.jpg