Please read!
-I accept Paypal only, non-cc preferred. I do not charge pp fees.
-I have a cat,dog, and rabbit. I will lint brush everything before it gets shipped out, but I cannot guarantee against a hair or two! If you're extremely allergic, we can arrange dry cleaning.
-Shipment will take place within 3 days of me receiving payment.
-Payment plans/holds will be allowed for 2 weeks. If I am not payed in full by then, your money will be refunded and nothing will be shipped.
-If you ask a question about an item, I will assume you're interested and give you 24 hours to decide if you wish to buy. If not, the item goes to the next poster.
-I tend to overcharge for international shipping, but once I've shipped your item, I will refund you the difference if there is any.
-I am interested in trades! I like dark, old school (sweet, gothic) things, as well as classic, natural-kei, and ETC/Jane Marple. In particular I am looking for a pair of red, pink, or black BtSSB shoes or sandals and a black BtSSB frilled parasol (pagoda style highly desired!). (I'm also really jonesing for a BtSSB black heart apron or black small-frill bonnet.) Socks are cool too, as is anything with strawberries or Totoro-related.
My feedback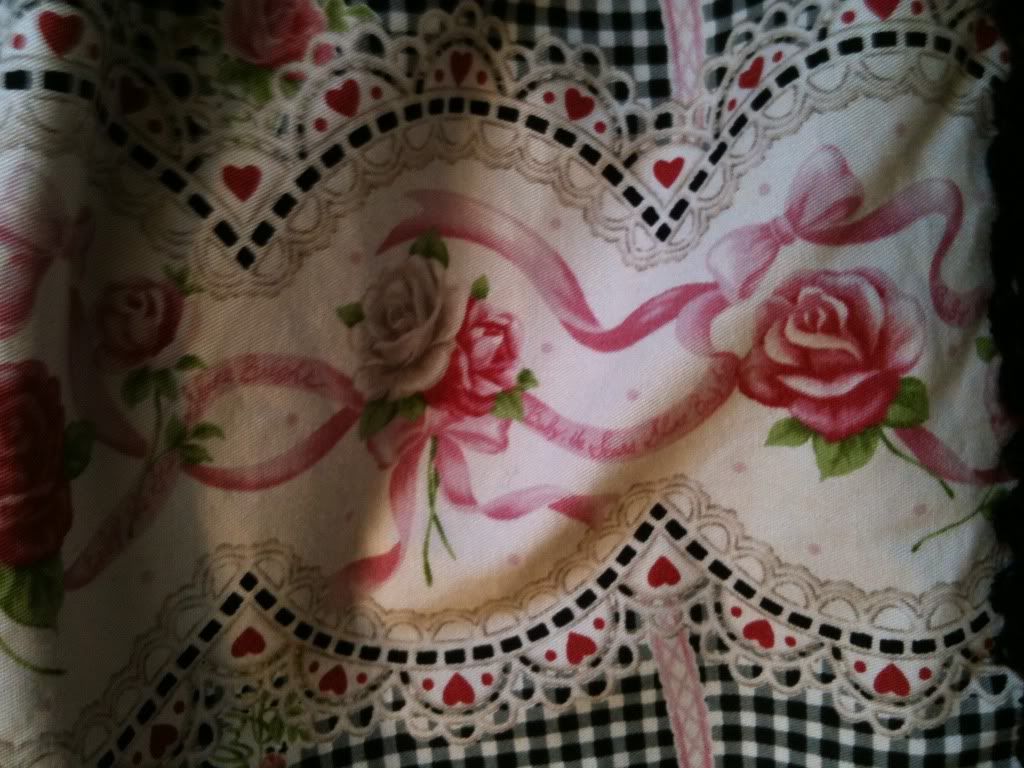 BtSSB Gingham Rose Ribbon OP in black (stock image and measurements from
Hello Lace
)
$150 + $10 shipping US, $30 international
NWOT
Bought NWOT from previous owner, only tried on by me. It's a little too decadent for my style! The fabric is really thick and nice-feeling, but not so warm that you couldn't wear it on a cooler summer day. The sleeves are detachable and have a row of black lace down them that is difficult to see in the pictures. The skirt is lined.
Measurements: 87cm length, 82cm bust, 76cm waist, 65cm sleeve length (short sleeves: 26cm)


Pink cutsew
$20 + $3 shipping US, $7 shipping international
Size small. Worn a couple of times, but too sweet for me. The neck has a chiffon-y ruffle. The material is a t-shirt knit, but of nicer quality than I normally find on offbrand cutsews. It doesn't wrinkle very much and layers perfectly with brand.




Montreal RHS, black, size 37
$35 + $10 shipping us, $30 international (I'm charging a lot, but I want to be on the safe side since they're bulky. See above for my note on shipping refunds!)
Worn a couple times, slightly scuffed on the toes. I think I really prefer brand heels to RHS, they make me too tall! Otherwise, they are very comfortable and lightweight with foam soles. I've had both wood and foam sole RHS and I actually really prefer the foam.

Thanks for checking out my sales! Don't be afraid to offer trades! :)