- My feedback can be found here (+46)
- I ship from Hungary, EU
- I ship with registered priority mail, wich has a general fee for all European Union countries, and a slightly higher fees too all other countries. I refuse to ship without tracking, it's for my safety as well.
- I make photo proof of shipping and tracking, so if you do not choose the EMS option wich is insured I'm not responsible if the package is lost.
- first paypal address comes first
- if you posted your paypal address, you have to pay within 3 days
- I'm open to reasonable offers
- EU buyers should pay in Euro, Overseas buyers can pay in USD. EU buyers preferred, since I had some problems with US shipping in the past few months - customs sitting on a package for weeks, etc..
- paypal fees are included!


Proof of new items: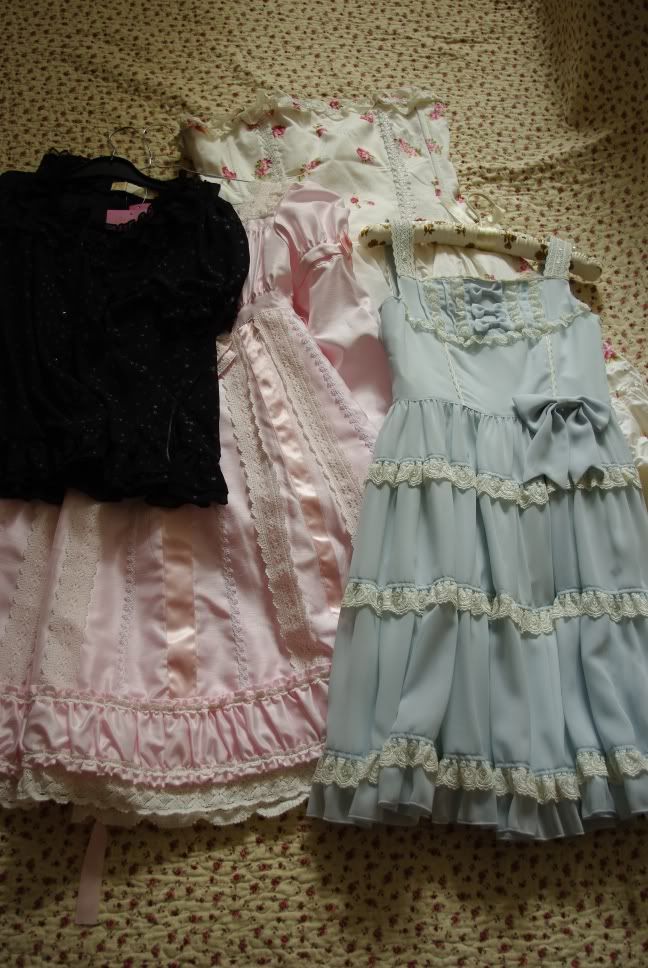 1. DS/DT/WTB: Queen Crowning Ceremony OP from Baby.
RESERVED!

I have the PINK version, and I'm looking for the CREAM colorway for trade, partial trade or to buy.


Original listing and official photos on HelloLace.


I have this gorgeous dress since 2009 - I bought it second hand, in great condition. Never worn, it's just sitting in my closet for a long time. The reason I'm selling (or trading) this: I want to get married in the cream version, and when I bought it in 2009 I thought it's quite rare, so better to have the pink for sure than not having this dress at all. Recently I realized that I probably can't get the cream version if I have the same dress in my closet.

Now, up to the dress. Sorry if it's too TL,DR, but this dress deserves some explanation. It was made in 2007, and it was inspired by the Marie Antoinette movie (the coronation scene). The fabric is "silk doupini", with at least seven or six different kind of cotton lace, and satin bows. It comes with a detachable trail, and detachable princess sleeves. As far as I examined it, I couldn't find any stains or damages - it's been kept safe :) Altough keep in mind that this is a vintage dress, so it might have some discolorations from the original state (not that I've seen the original).

The consturction is wonderful, especially compared to some of my newer Baby dresses...
Now, some photo details: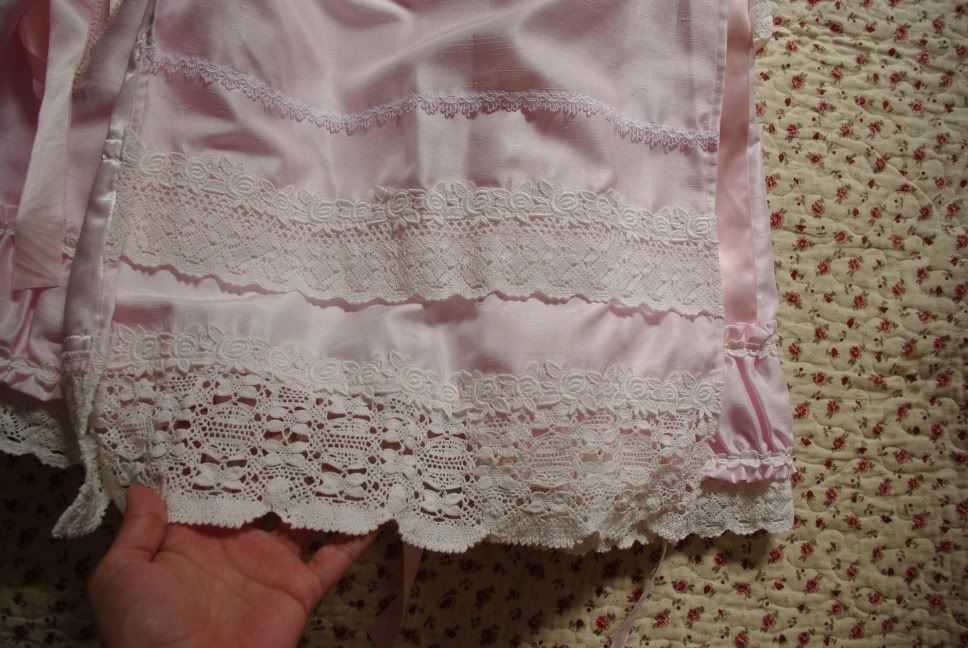 It's really hard for me to part from this dress, but I believe I can find the cream version soon :)

Measurments:
Lenght: 96-97 cm
Underbust size: 80 cm (maximum 81)
Bust: because the fabric is gathered, it suits about 88-93 cm. (About B 75 cups.)
Arms: 27 cm max!

Price:
140 Euro + 8 Euro shipping (within EU countries)
Overseas: please comment your location.
2. Innocent World Linderhof JSK - Brand new with tags!
RESERVED!

Still available on the homepage, it's from the 2011 spring collection, in Sax and the Short version (altough the short version is 93 cm long).
Link to original listing and official photos.


I bought this dress to have a lightweight summer JSK - the fabric is chiffon, very smooth and cool, a great feeling to wear during hot summer days. Meanwhile I bought another blue summer dress so I decided to part from this one.

Measurments:
Bust: 86-99 cm
Waist: 64-82 cm
Great for taller lolitas, since the buttons can be sewn lower on the shoulder straps, or removing them you can turn this dress to a halterneck style.

Price:
140 Euro + 7 Euro shipping (within EU countries)
Overseas: please comment your location.
3. Fan plus friend classic rose and chiffon dress


See original listing and official photos here.

I bought this dress just out of curiosity - I love chiffon, and the dress semmed to be a good alternative for hot summer days, since it's off-shoulder and has a built-in corset. I think even if not with lolita, it's a wonderful summer dress for a romantic date or a garden party.

I was suprsired myself, since the cotton fabric is very good quality, the chiffon skirt part is even softer than Innocent World's chiffon fabric, and the construction is great! It's fully steel-boned, gives you a great shape, the back lacing is strong and sturdy - not some decorative satin lace, it can be pulled really tight and stays like that all afternoon! I removed the jabot, the front ribbon bow, and the neck lace to make it look more mature, but of cause I'll include that in the package.

Worn once, here is a photo how it looks not photographed on a dummy (without petticoat):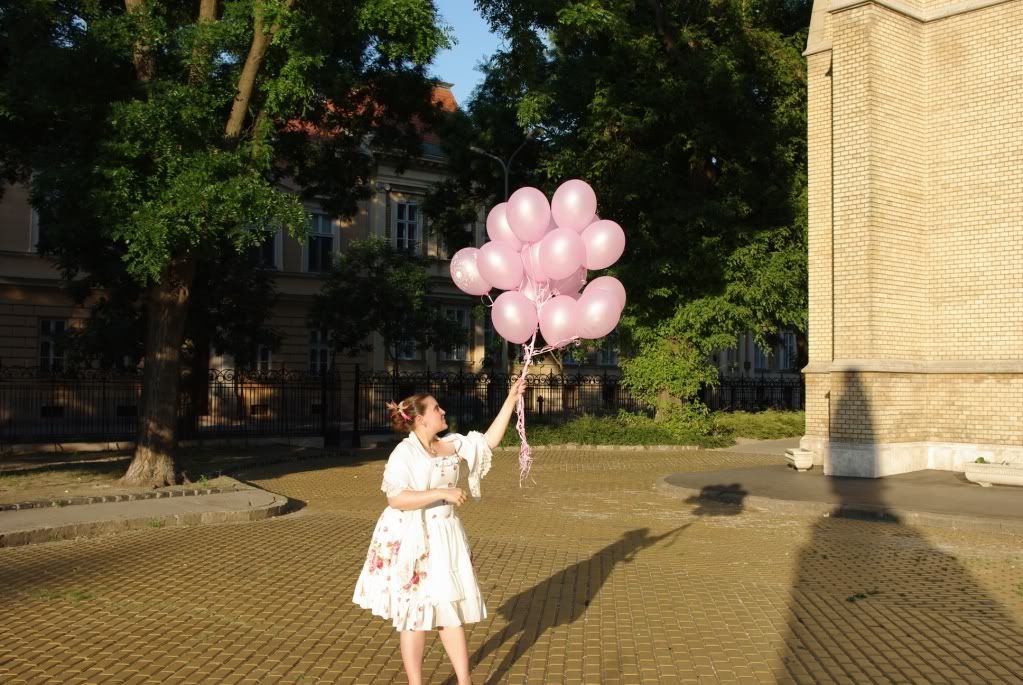 The reason I'm selling it: I'm only 160 cm tall, and the waist part is too long for me - I prefer dresses with higher waist. I believe it would suilt someone taller better.

Measurments:
Lenght: 90 cm (since it's without straps, measure it from the top of your bust)
Bust: 98 - 108 cm, maybe bigger
Waist: 92 cm max (82 is the minimum)

Price:
56 EUR + 12 EUR shipping (it's quite heavy because of the steel boning)
Overseas: please comment your location.



4. Dear Celine Star Chiffon blouse - Size L, brand new with tags! SOLD!

Original listing and official photos here.


It's a very cute and comfortable blouse - can be worn under a JSK, or over a spaghetti-strap top with a blouse. The fabric is lightweight black chiffon with small silver stars printed on it. In my opinion, is far-far better quality than the recent Meta lucky pack blouses. The construction, the lace, and the cute little details make it especially sweet!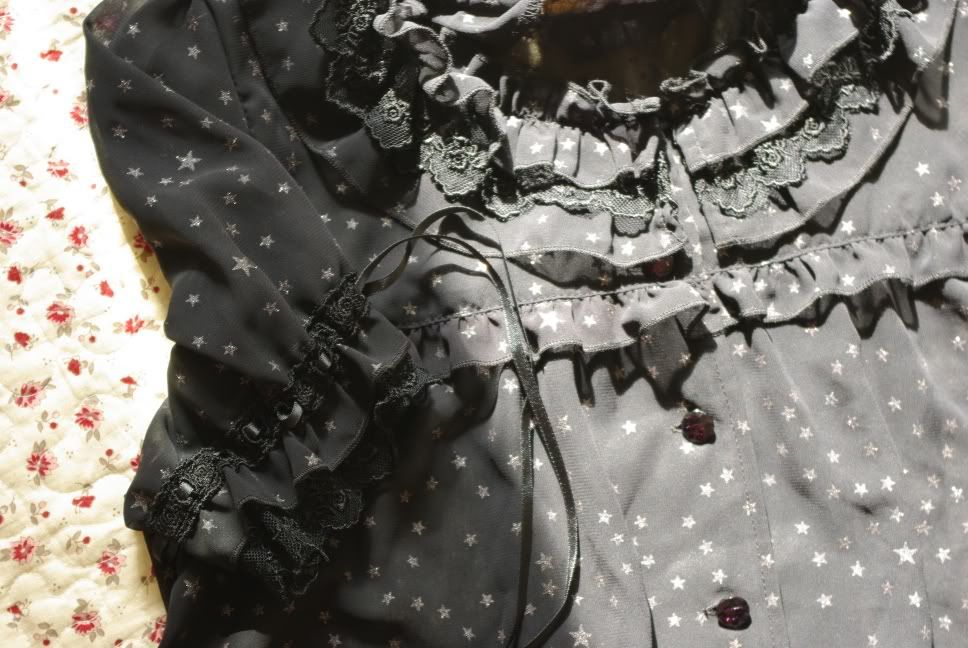 Measurments:
Bust: 102-106 cm
Waist: free
Lenght: 56 cm

Price:
25 EUR + 5 EUR shipping
Overseas: please comment your location.


Items from previous sales (these belong to a friend of mine):


5. Bodyline separate


A beautiful and very practical Bodyline separate, contains the following:
- white off-shoulder asymmetric JSK
- bordeaux asymmetric overskirt with steel boning corset (see picture)
- matching chocker
- mini hat
- cameo brooch
Both the skirt and the dress have back shirring. The maxumum bust is about 90-93 cm, and waist is about 70 cm. Can be worn separately, great for a beginner lolita too!

Price:
42 EUR + 8 EUR shipping within EU countries
Overseas: please comment your location.


6. Black Mary Janes EU size 39 (Japanese size 24,5)


Sligthly used, worn twice, still in great condition - lovely for classic lolita!

Price:
8 EUR + 8 EUR shipping within EU countries
Overseas: please comment your location.


All prices are negotiable. Please comment if you have any questions.