I take Paypal.
I'm in actually in Tijuana, Mexico, but my mom go to USA every Friday and send the items from San Diego (Zip: 92129)
If you need to recieve items quickly, please let me know on time.
I always ship packages with TRACKING NUMBER.
Once I drop off the package at the post office I don't take responsability. Want insurance? Ask! <3





My feedback

Yesterday I got into a car accident for trying not to run a kitty, right now my car front is pure junk, so... I need bills to pay.

I can make shipping discounts if you buy more than one item.

Please consider that my princes at are the lowest since I want to make money ASAP. I also will ship ASAP!

Innocent World knit bolero $40 usd.
on SOLD for
karin_ringo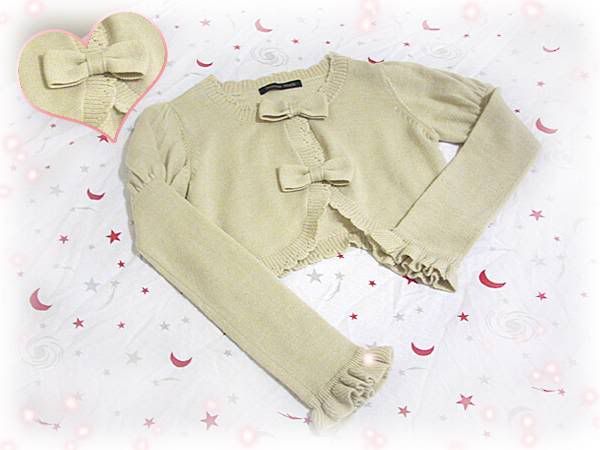 Measurements:
Bust: 90 cm. MAX
Sleeve length: 61 cm.

Description: Bought from a friend who got it in a lucky pack, brand new for $60 usd, it had a small part unstitched at the neckline but I fix it. Worn once for 3 hours since I notice I'm allergic to wool it makes me itch. Perfect condition.



Bodyline blouse $30 usd.

on SOLD for
sandvich24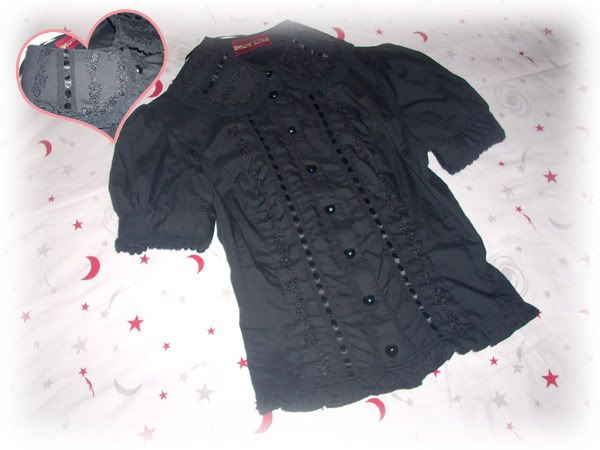 Description: Bought directly from bodyline webpage, worn twice, perfect condition, I brighten up the picture to see the details but the black is intact, no washed out. The back is corset style with shirring.

Deorat punk tank top $30 usd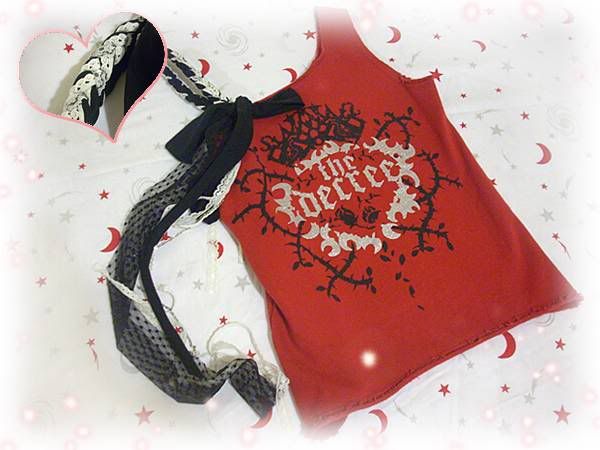 Measurements:
Bust 90 cm MAX
Waist 86 cm. MAX

Description: I bought this tank top second hand, but in excellent condition, I worn it once. There is a cute chain also where the lace and ribbon on the shoulder are.


Angelic Pretty blouse, detachable sleeves $40 usd.
SOLD TO
chiichick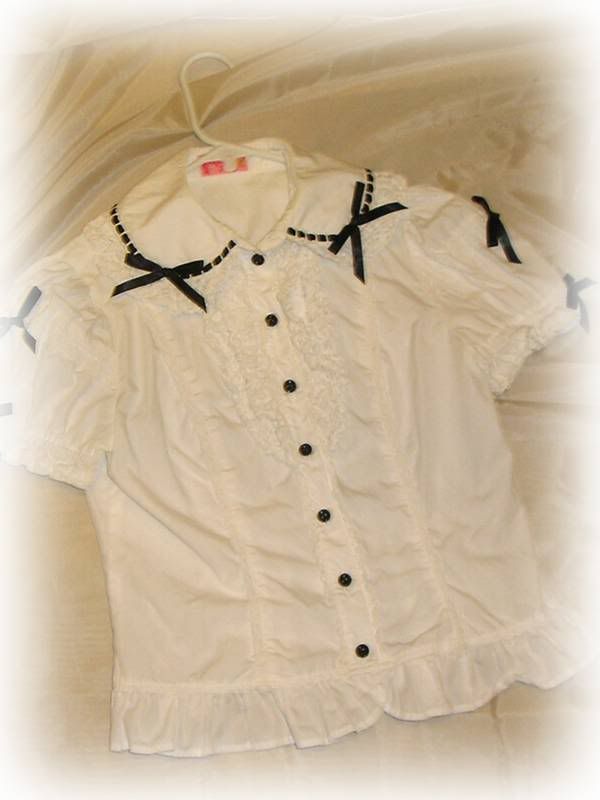 Measurements:
Bust 90 cm MAX
Waist 76 cm. MAX
It has a small amount of shirring at the back.
Description:
Worn several times, it has a slightly worn feeling. No mayor stains, only one super small brown stain inside the blouse at the back, is not noticeable at all. It was detachable sleeves that I'll include, you can see them here:
http://img.pupe.ameba.jp/image/item/l/MOFr3p7dZ8ba.jpg

Angelic Pretty Lucky pack 2010 blouse $55 usd.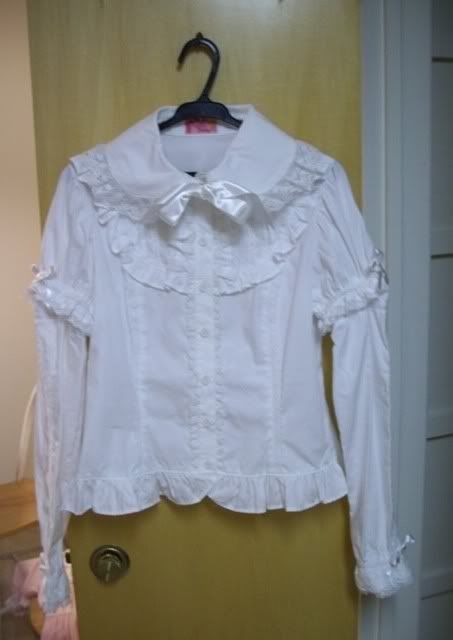 (this is NOT my picture, but the blouse is the same, right now I don't have the camera and I'm in a rush, if you want original pictures, please ask only if you are interested<3 )
Measurements:
Bust 90 cm.
Waist 75 cm.

Description: I bough it new from a friend who got it in a lucky pack, is a super detailed blouse and because of that I worn it only once (I'm kinda lazy for iron thing @0@). Perfect condition, is a bit wrinkle but is a superb blouse with detachable sleeves.


BTSSB Gothic SET $145 usd. (VEST + SKIRT)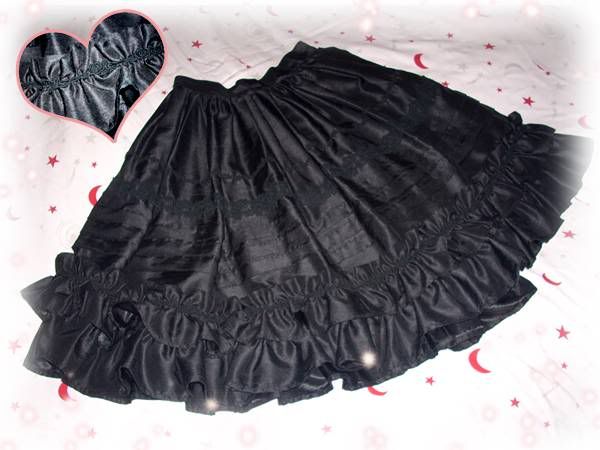 Measurements:
Bust 88 cm MAX
Waist 70 cm MAX
Description: My first set, I bought it from Alice Fururun for 20,000 yen. I used 7/8 times, only for special events. It is gorgeous, but it has some flaws. The skirt button came with a small part chipped off, is still usable this way and I didn't bother to change the button since it works, the vest lace is a bit washed out, not noticeable until you put attention.

This is a pic being worn in one week ago into a fashion show: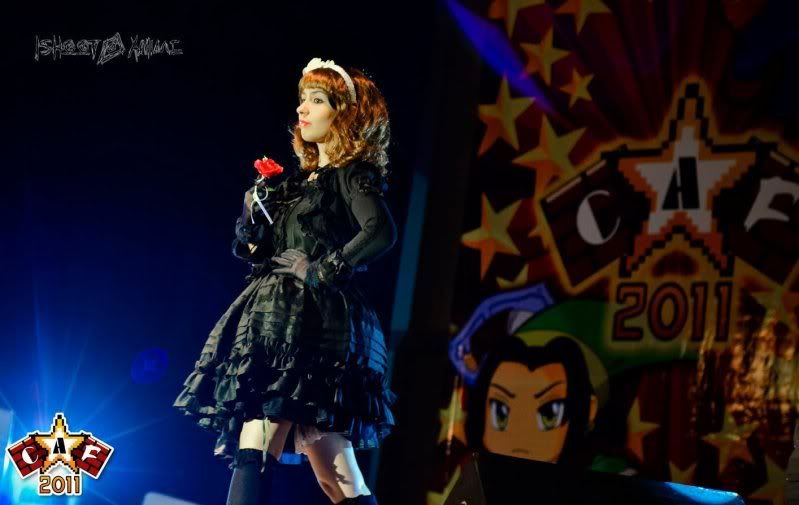 Angelic Pretty Rose Toilette $230 usd.
Measurements:
Waist 70 cm.
Length: 55 cm.
Description: I bought this skirt from Mbok, it was my dream skirt and I paid for it 26,000 yen without all the shipping and fee stuff. It was super expensive, I know I'll never get back what I paid for it, but now I'm in need ;_;
Condition is flawless, is being worn 3 times and extreme careful about this skirt. Detachable bow and waist ties are included.

Handmade Berret - Make me an Offert -
Description: I ask a friend to make this for me custom made, worn once, sit on my closet since then.