Thanks for looking!!

- Feedback -
- my LJ
- http://community.livejournal.com/eglfeedback/284978.html
- Shipping -
- Shipping is roughly $5-$8 for most items here in the USA. Lighter items will be less, of course :)
- I do ship overseas, please ask for an estimate.
- Insurance is optional, but always recommended. If you don't get insurance, I am Not responsible for your item once it leaves my hands!

- Other Stuff -
- I have a Premier Paypal account. The fees will be split in half with the buyer.
- Please pay in a timely manner. Please don't disappear after you agree to buy something! If there is an issue, please let me know in advance and we can likely work something out.
- Everything comes from a smoke-free and pet-free home.



If you have any questions/need more pictures, please feel free to ask! :3

** I'm also open to haggling, but please be reasonable. **

If more than one person is interested in an item, I will look at the highest offer (but will give the other person a chance to respond).









: : : First, a quick WTB : : :
- Metamorphose window print skirt (longer length preferred)
- longer length skirts!
- Yay for IW, ETC, and JM
- no fluffy bunnies/kitties/puppies/etc please. :)




--------------------



Emily Temple Cute tart skirt (I have no clue what the actual name is, sorry!)
Asking Price: $65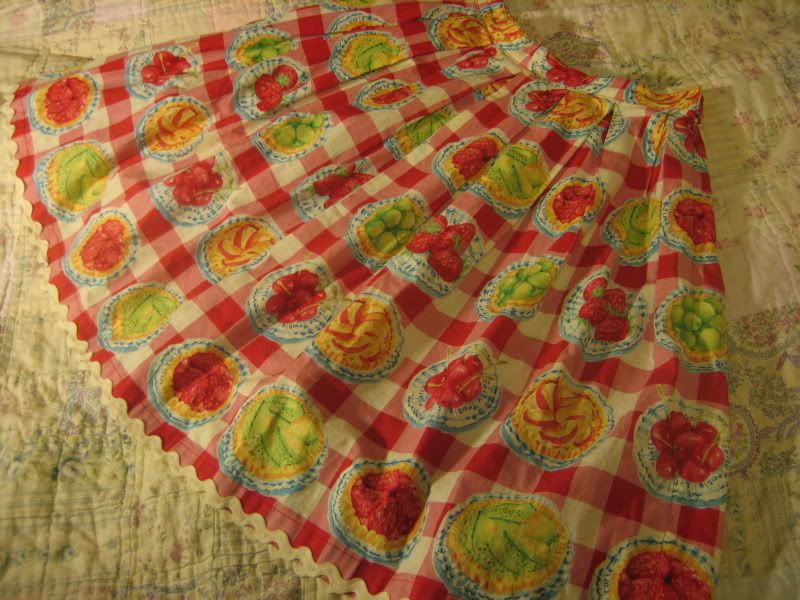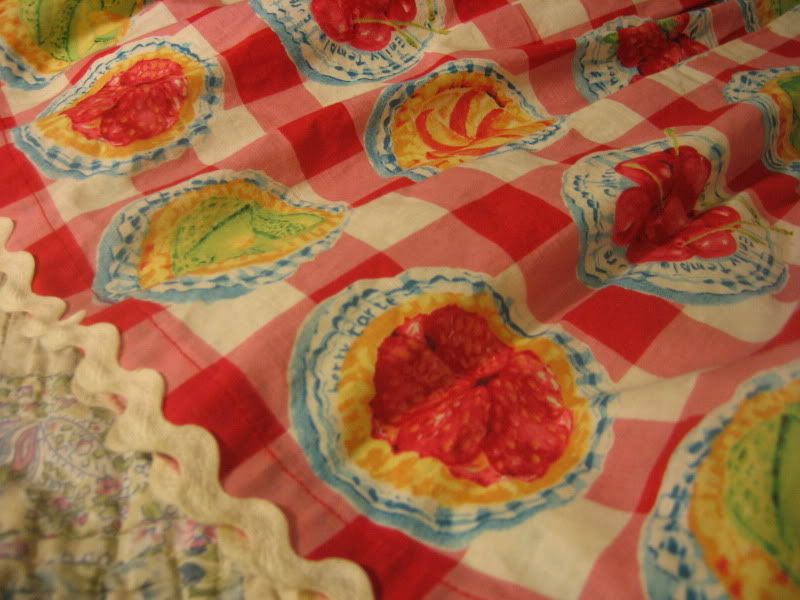 Super cute and great for summer! Rick-rack trim, very vibrant. Excellent condition! Half elastic waist. I'd say 75cm waist max. 20" length.



--------------------



Innocent World Dolce skirt
Asking Price: $85

http://i2.photobucket.com/albums/y44/t0ky0fr0/IWdolce.jpg

Like new, and in excellent condition, as it was only ever tried on.Laid flat and unstretched, the skirt is 12.5 inches across. With the stretch, I'd say it would fit a 27" waist most comfortably, more if you've got a squishy tummy or want to move the button over. For the length, it's 23.5" .



--------------------



Alice and the Pirates white sailor hoodie w/ detatchable sleeves
Asking Price: $80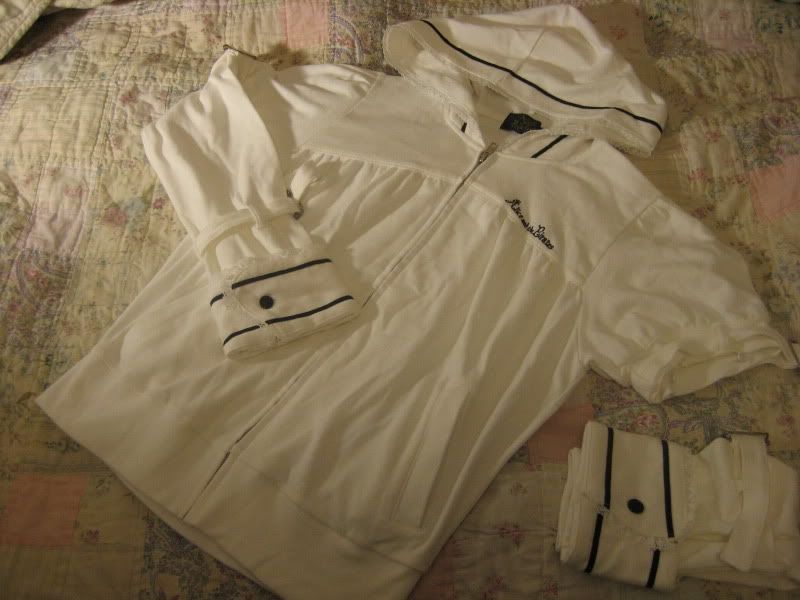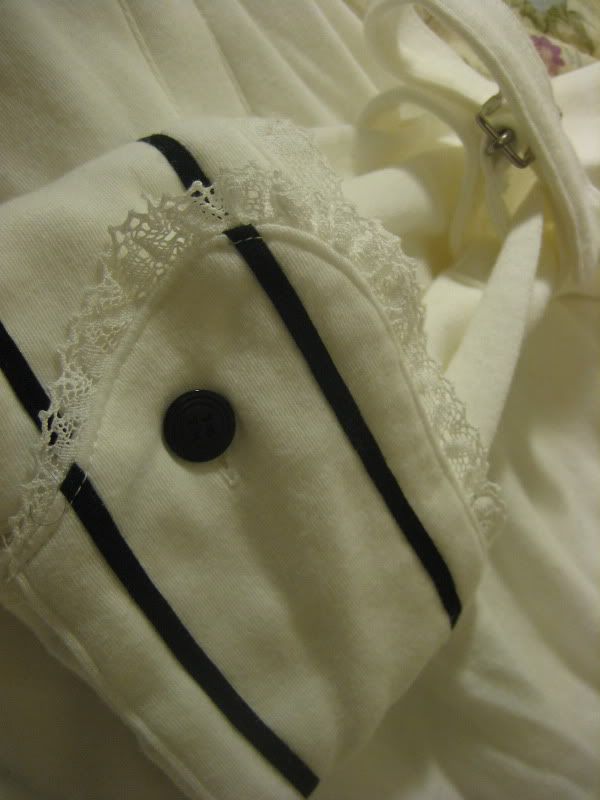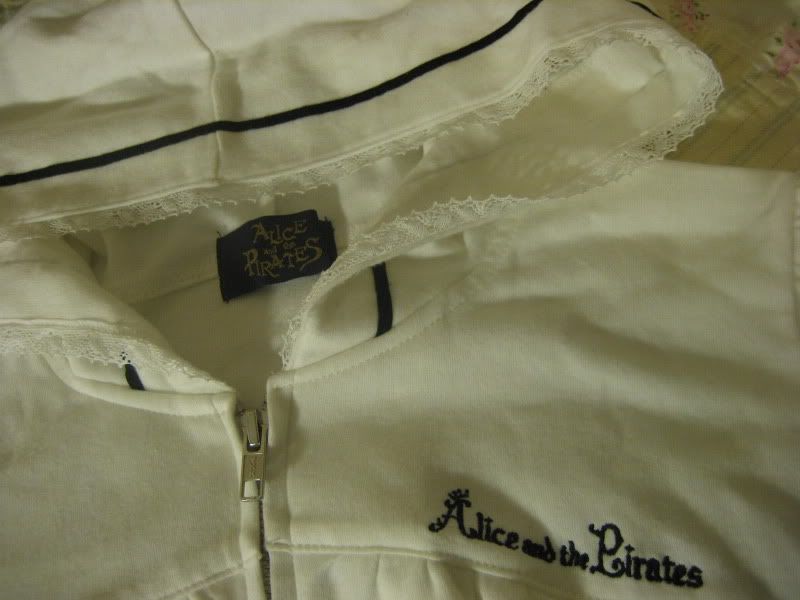 LOVE this hoodie! It's in excellent condition, as I never had a chance to wear it. Embroidered chest logo, sailor-esque trim on the hood and wrist with lace detailing, adjustable buckles at the hoodie's sleeves and on the detachable sleeves as well. 22" length, 20.5" bust laid flat.



--------------------



Angelic Pretty black hoodie
Asking price: $80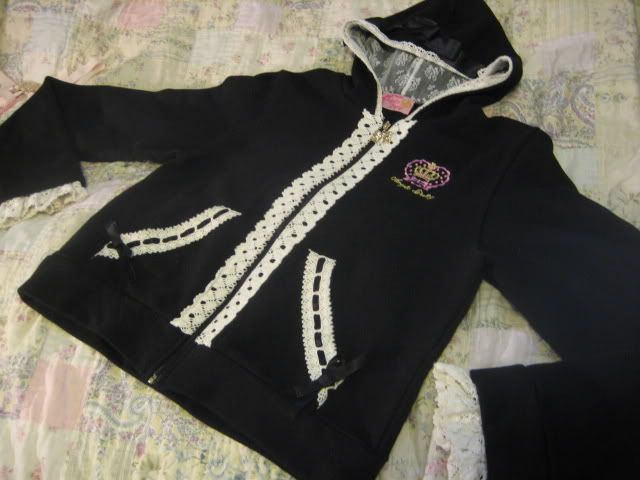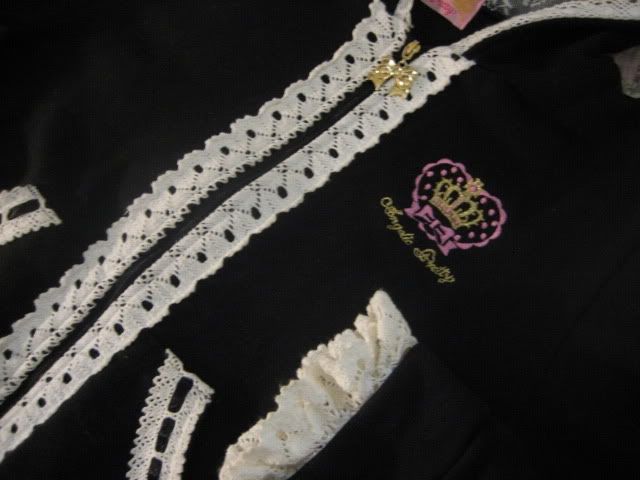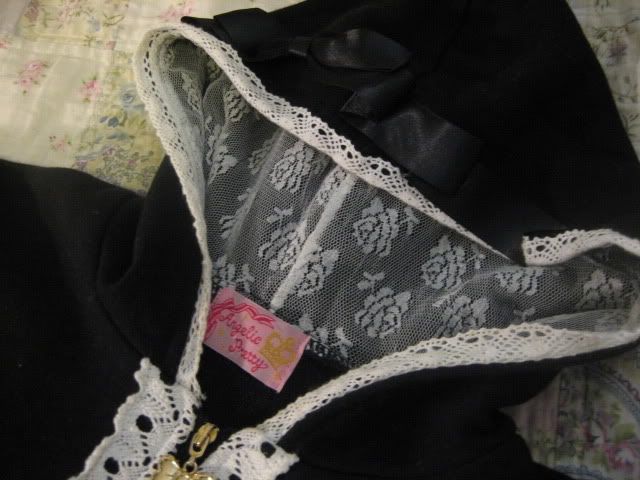 Excellent condition! No fading/discolourations/pilling/holes. Features removeable lace cuffs on the sleeves, pretty lace detailing with bows on the (functional) pockets and zipper, AP embroidered logo, a gold zipper pull, hood with bow detailing, lace, and a rose lace interior. The inside of the hoodie has rose lace next to the zipper but is otherwise black. Gorgeous!!



--------------------



Emily Temple Cute cutsew
Asking Price: $25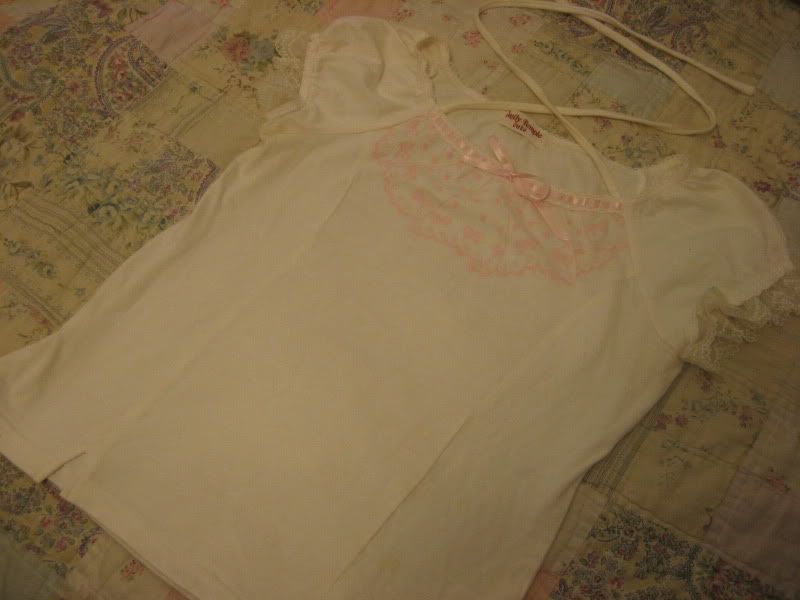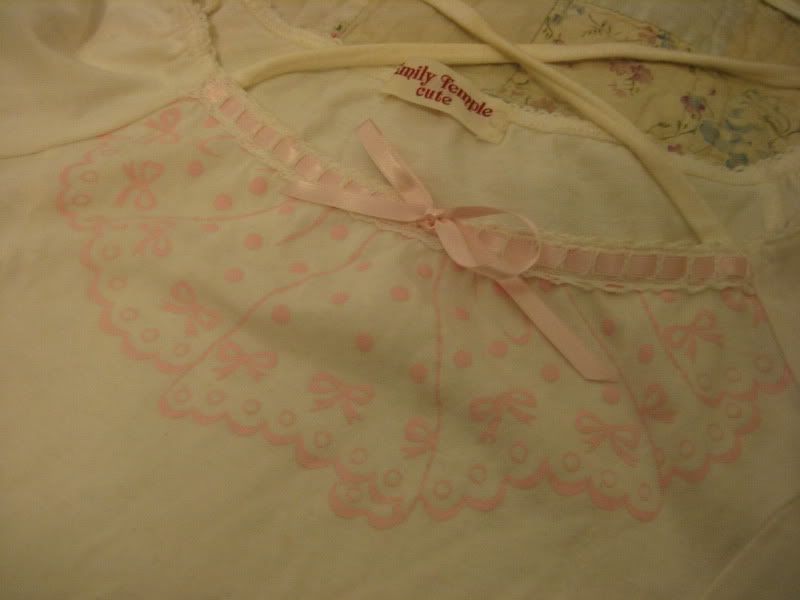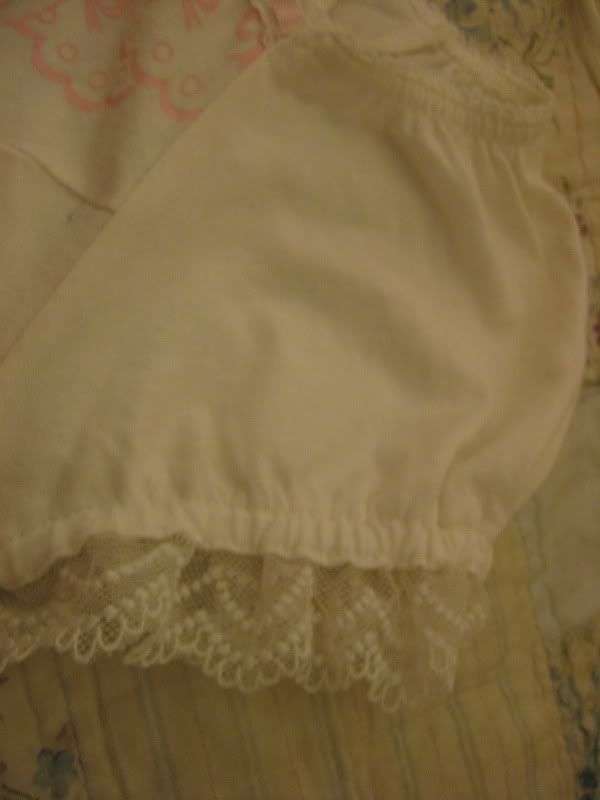 Cute pink lace print bib, soft lace on the sleeves, small slits at the bottom hem. This item is in used condition, but still has a lot of life left! There is some nubbiness to the fabric. There are 3 faint dots on the right side toward the bottom of the cutsew but they're so light that my camera couldn't pick it up. 19" length, 16" bust laid flat.



--------------------



Angelic Pretty pink + white wired sidebow
Asking Price: $35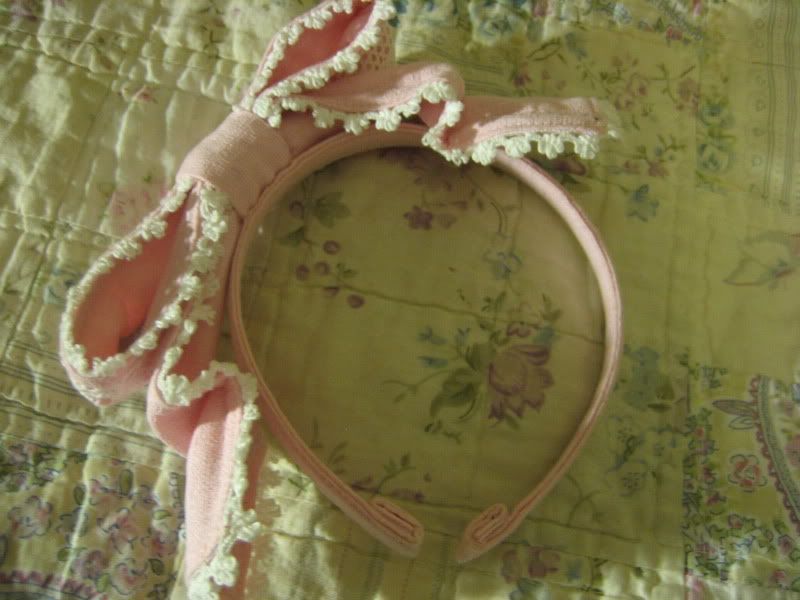 Excellent shape, clean, and never worn by me.



--------------------



Metamorphose omega-lace off-white headdress
Asking Price: $20?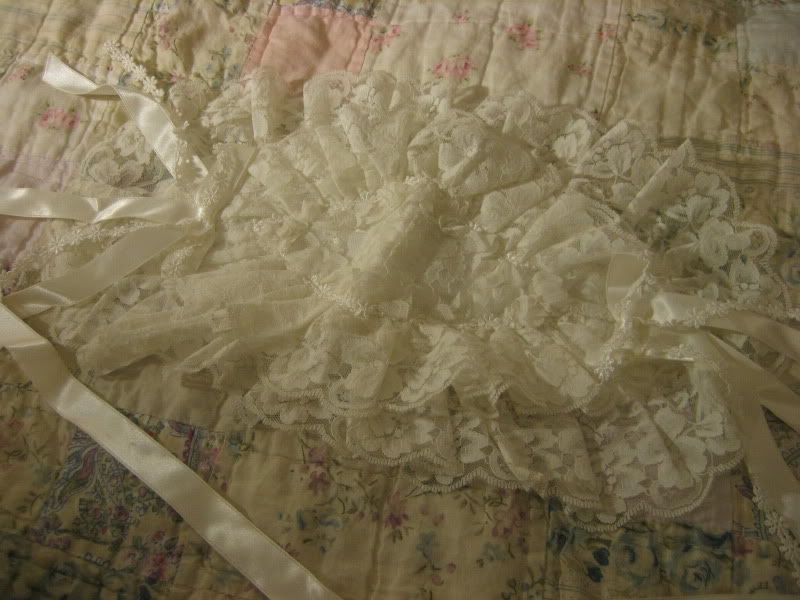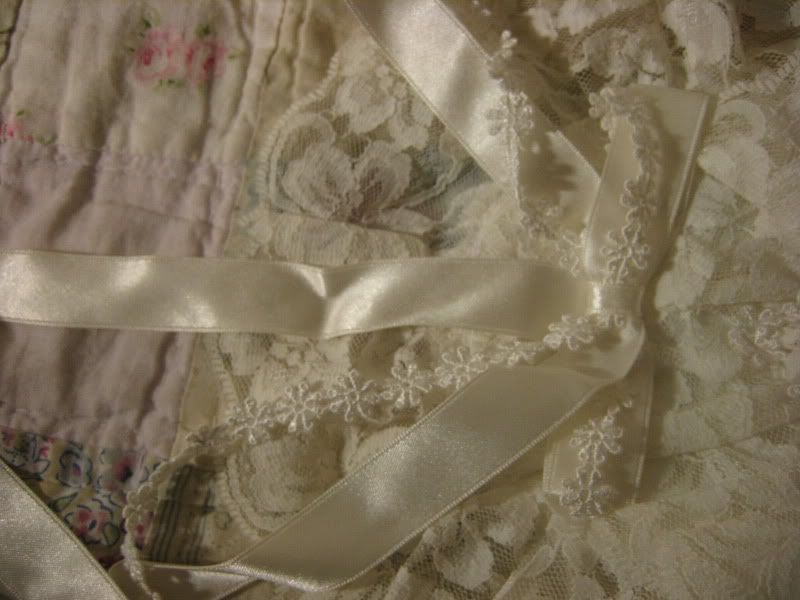 This thing is so super lacey that my camera just couldn't even
It was a gift, and I've never been into headdresses, so this has never been worn. If you need more photos, I'll try my best to provide what you need!
--------------------
BTSSB black knee socks w/ lace
Asking Price: $25?
BTSSB OTK black + silver glitter socks
Asking Price: $25?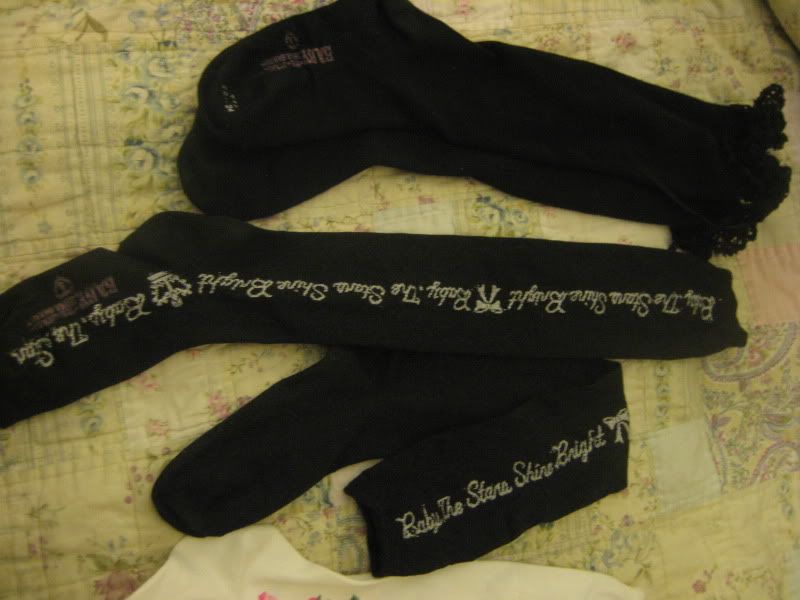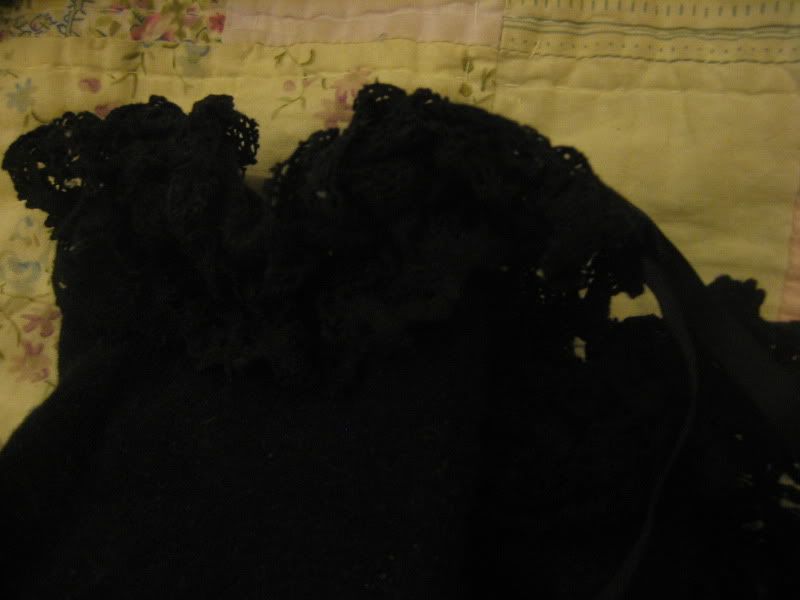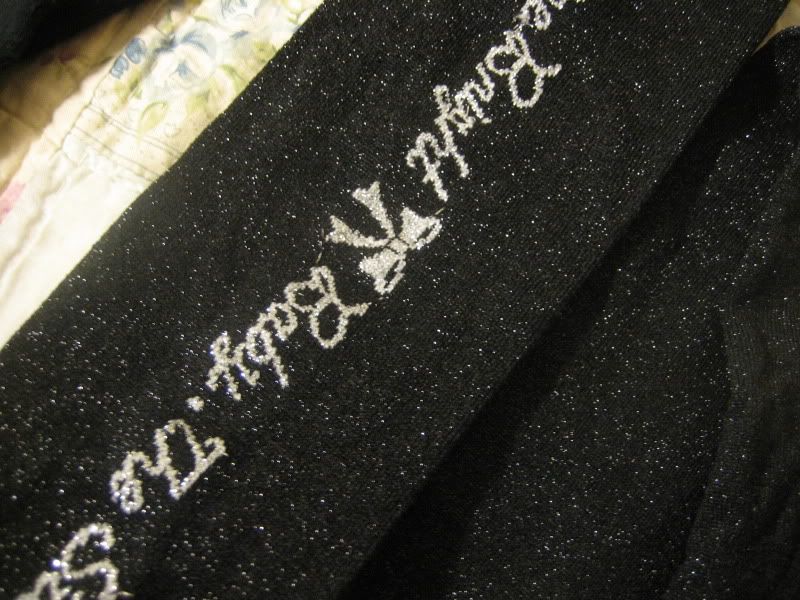 The black knee socks w/ black lace was purchased from someone in the community but was never worn by me. The lace is soft crocheted lace, and is tied with a non-functional black ribbon. The Baby logo on the bottom of the foot shows some wear.

The black + silver socks were worn once. There is some wear on the heel (nothing my camera could capture) and Baby logo on the foot. The silver embroidery shows only on the outside of the leg.



--------------------



BTSSB strawberry basket knee socks
Asking Price: $20?
BTSSB pink + off-white striped knee socks
Asking Price: $20?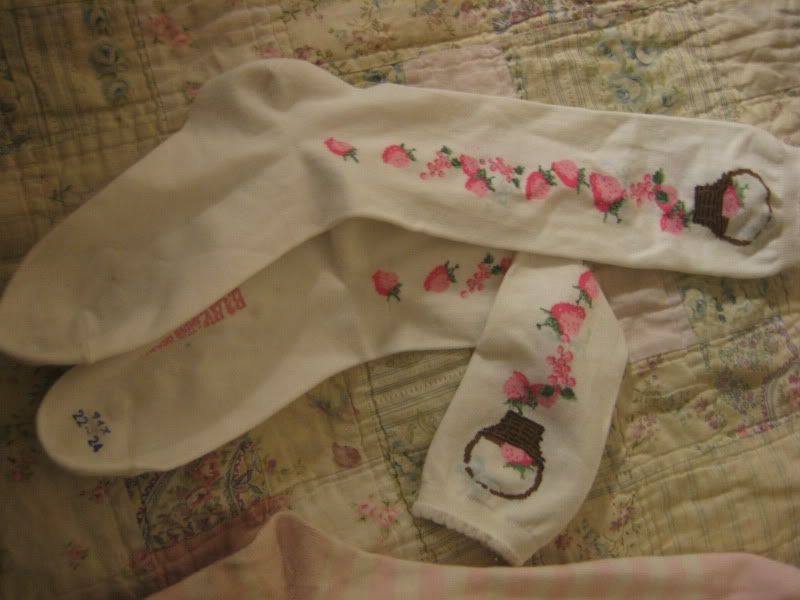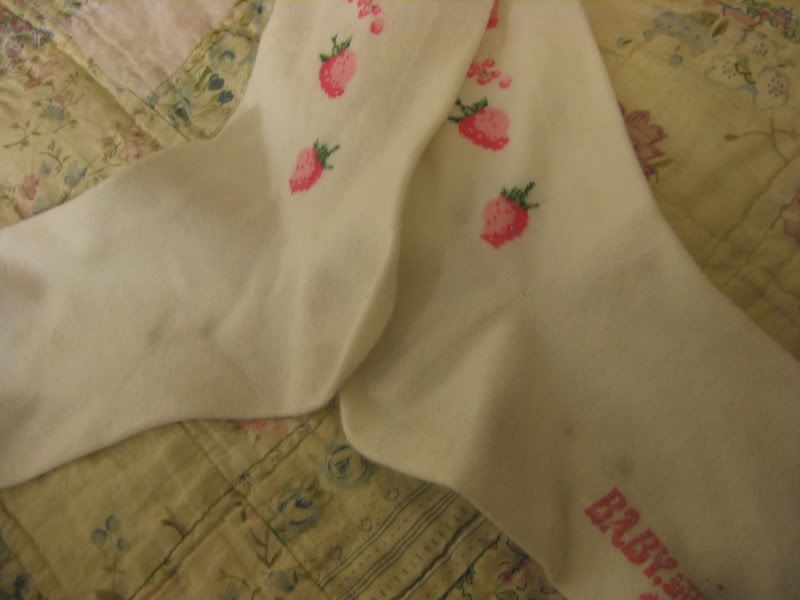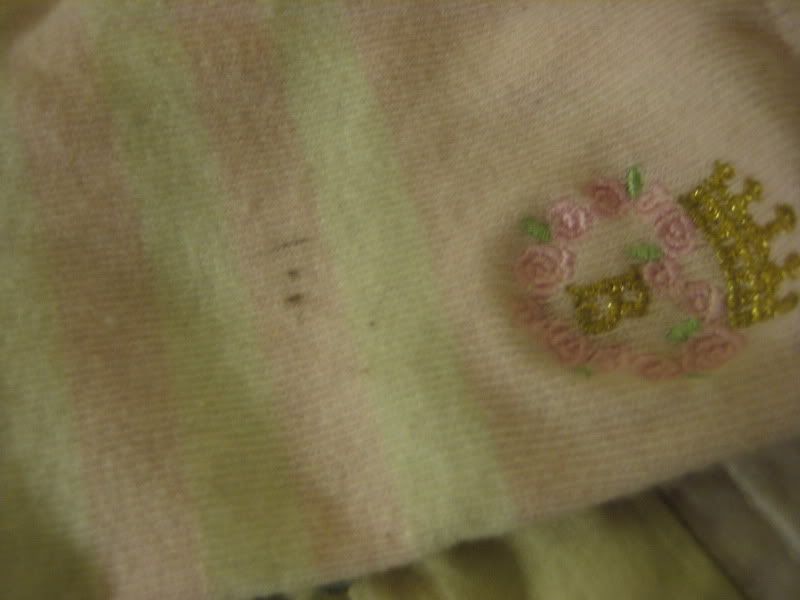 The strawberry basket socks feature the print on both the inside and outside of the leg. They have never been worn by me. There are two round marks on the arch of both of the socks (if you have any Chuck Taylor shoes, it looks like where the holes are at the arch of the foot). Other than that, the socks seem to be in great shape.

The pink striped socks have never been worn by me, but have some slight nubbiness on the feet. There is a black mark on one of the socks by the embroidered logo.



--------------------



Modcloth - Nick and Mo skirt, size L
Asking price: $30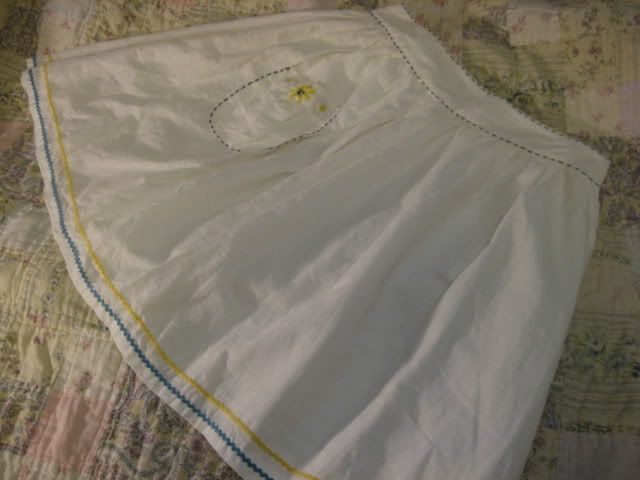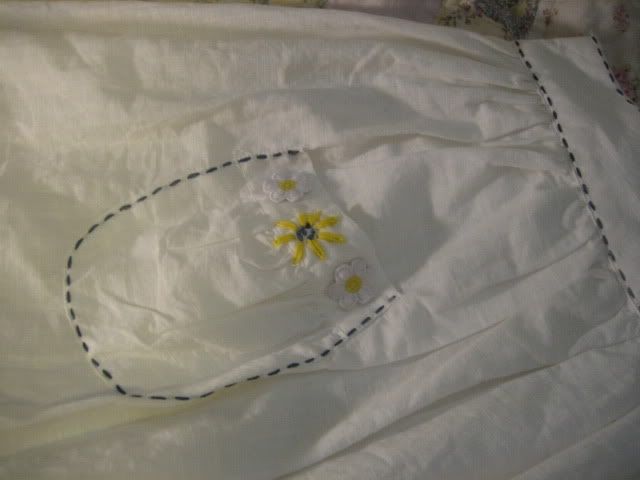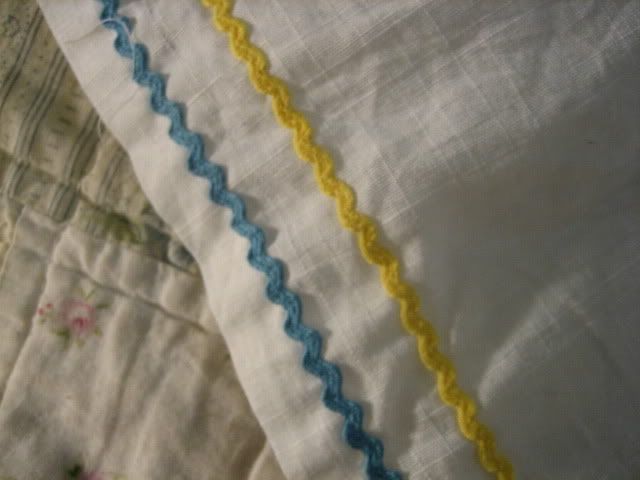 Brand new. One of the tags fell off, but the style/color tag is still attached. An adorable skirt with stitched design on the pocket and waistband, functional pocket with flowers, rickrack trim, functional waist ties. A lightweight material that is lined.



--------------------



Offbrand black rufflebutt hoodie, size M
Asking Price: $20

http://i2.photobucket.com/albums/y44/t0ky0fr0/IMG_3811.jpg
http://i2.photobucket.com/albums/y44/t0ky0fr0/IMG_3812.jpg
http://i2.photobucket.com/albums/y44/t0ky0fr0/IMG_3813.jpg
http://i2.photobucket.com/albums/y44/t0ky0fr0/IMG_3814.jpg

A black hoodie with a ruffle butt. Gray lace trim, lace-lined hood. The hood's lace has a patch of discoloration on the inside bottom left corner, but my camera couldn't capture it. Purchased in the community AGES ago, and was never worn by me.



--------------------



Vivienne Westwood enamel orb bracelet
Asking price: $70 shipped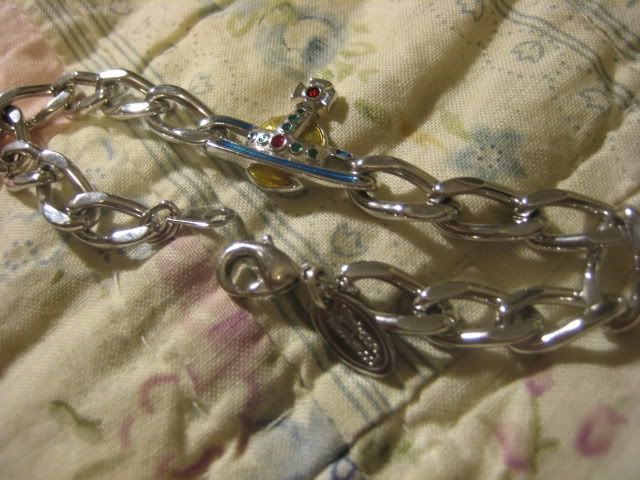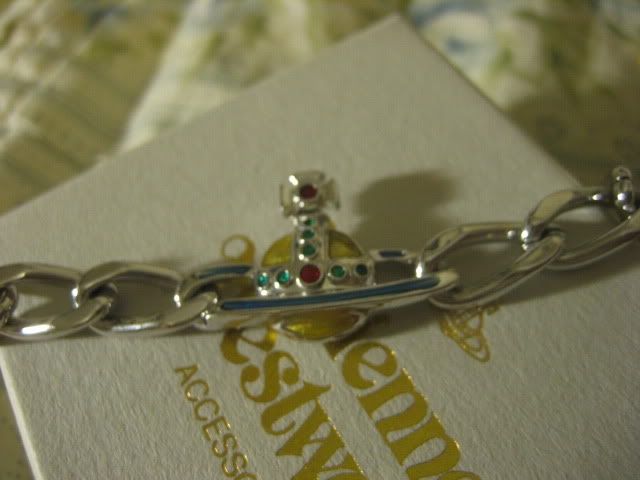 This is darn near brand new. I think it's a really pretty bracelet but I don't wear it! I've worn it once since I bought it, and it wasn't even for more than an hour. Retailed for £80 but I paid £68 for it on sale. I do have the receipt or this item and will scan it upon request. Comes with the pouch, but the lettering has faded a bit from age.



--------------------



Vivienne Westwood swallow orb earrings
Asking Price: $55 shipped in the USA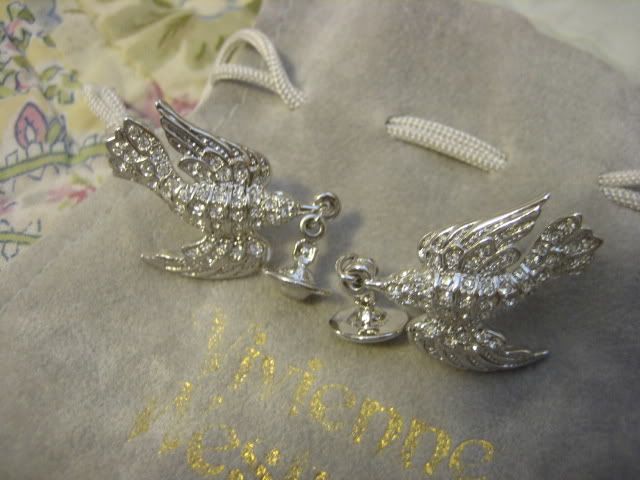 Ladies and gentlemen, these earrings are Not for the faint of heart.... they are nice and big and sparkly. I bought these ages ago and just haven't really worn them. This collection is long discontinued. Comes with the pouch, but the lettering has faded a bit from age. They retailed for £85 when I got them from Boheme, but the site has since been updated and doesn't show the product anymore. But! The item is shown archived here:
http://replay.web.archive.org/20090219164317/http://bohemeclothing.com/prodlist.php?c=access&m=2



--------------------



Black x White headbow
Asking price: $10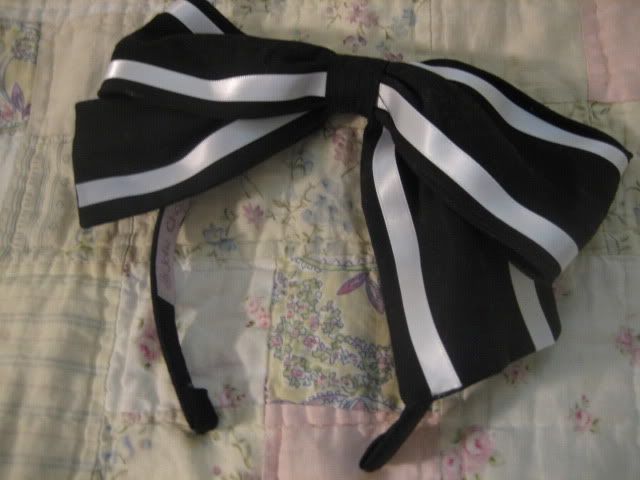 Handmade by Jolie Chose. Wired headbow that is adjustable along the band. Great for sailor coordinates!



--------------------



Switchblade Stiletto Cardigan w/ Faux Fur
Asking Price: $45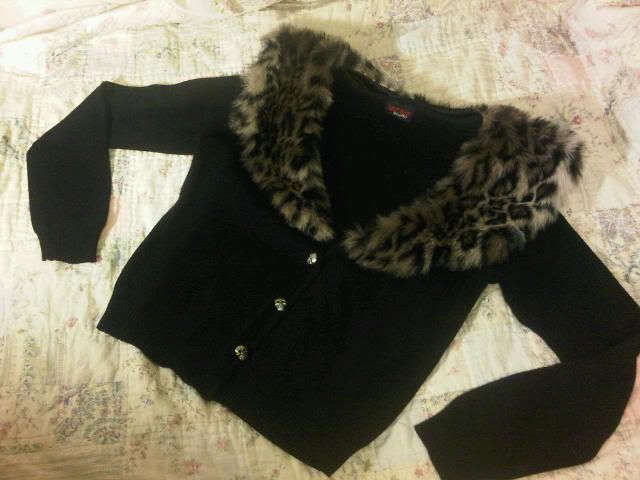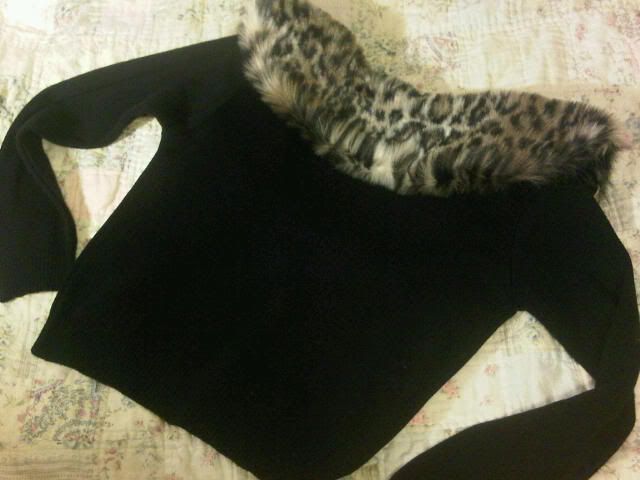 This cardigan was a huge impulse buy. It's completely brand new and I removed the tags with the intention of wearing it. Lo and behold, it just kinda stayed in my closet... D: Soft faux fur collar (it's a separate layer, so you *could* make detachable if you really wanted to!), skull buttons. Tagged a S, but the material is stretchy. I usually wear a Medium and it fits just fine. It includes a red rose pin that came with it that I removed because I didn't like it on and forgot to put back when I photographed it. I'm really looking to get back close to what I paid for it ($65 + shipping), otherwise I'll maybe try harder to work it into my outfits ^^;;