First to provide Paypal address gets the slot/item.

Payment Information:
1. I am only going to accept regular Paypal.
2. You will need to provide the e-mail address associated with your Paypal account so I may send a detailed invoice to you. For DS items that do not include shipping: You will receive TWO invoices, one for the item, one for the shipping after it has been shipped.
3. After invoice is sent by me, you have 48 hours in which to pay it, unpaid invoices will result in neutral feedback on the eglfeedback community, unless you discuss with me before cancelling, in which case no feedback will be given.

Shipping Information/Disclaimer:
1. Prices for DS items do NOT include shipping (unless stated "shipping included"), shipping will be calculated after sending. I can give approximations for shipping, but exact shipping costs will be calculated when shipped.
2. I would prefer only US buyers, but if you are an international buyer willing to pay the international shipping fees, then that's fine. I will send packages with USPS first class unless otherwise desired. If weight limit for first class is exceeded, I will send packages using USPS priority mail.
3. Multiple orders will be shipped together.
4. Insurance is optional, please indicate if you would like to purchase insurance.
5. I am NOT responsible for lost or damaged items after they have left my hands, so please use caution if not purchasing insurance. I will send you a picture of the receipt from the post office after it has left my hands.

Feedback:
http://community.livejournal.com/eglfeedback/165827.html
http://bunny-jean.livejournal.com/2955.html

Items:

Baby the Stars Shine Bright pink Snow Dot OP: $100 PENDING

http://i8.photobucket.com/albums/a27/bunny_7373/daily%20lolita%20and%20egl%20post%20pics/DSCN2211.jpg

Condition is good, worn twice out by me, bought originally from Closet Child. There are some yellow stains on the skirt, but are hardly noticeable. Dress includes the detachable bow, I just forgot to put it in the picture. Hello Lace listing: http://hellolace.net/wardrobe/baby-the-stars-shine-bright/type/op/item/53/

Additional pictures:
http://i8.photobucket.com/albums/a27/bunny_7373/daily%20lolita%20and%20egl%20post%20pics/DSCN2212.jpg
http://i8.photobucket.com/albums/a27/bunny_7373/daily%20lolita%20and%20egl%20post%20pics/DSCN2015.jpg
http://i8.photobucket.com/albums/a27/bunny_7373/daily%20lolita%20and%20egl%20post%20pics/DSCN2015enhance.jpg
http://i8.photobucket.com/albums/a27/bunny_7373/daily%20lolita%20and%20egl%20post%20pics/DSCN2017.jpg
http://i8.photobucket.com/albums/a27/bunny_7373/daily%20lolita%20and%20egl%20post%20pics/DSCN2017enhance.jpg
http://i8.photobucket.com/albums/a27/bunny_7373/daily%20lolita%20and%20egl%20post%20pics/DSCN2018.jpg

Bodyline Tea Party print in blue, with bag: $35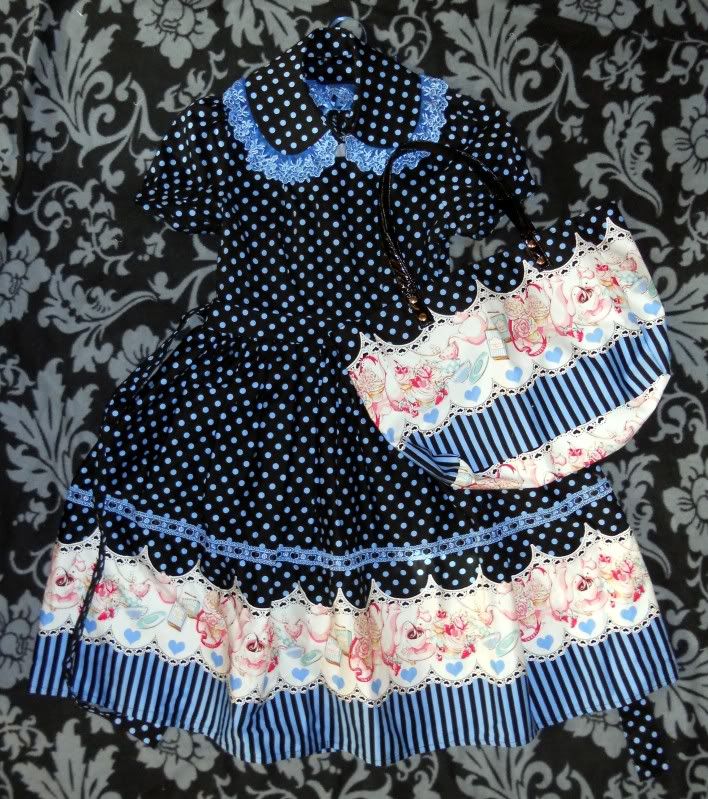 Condition is good, worn about 3-4 times. Size M. No visible damage. I removed the neck lace. Let me know if you'd like a close up picture of the neck area where I removed the lace. Detachable bow included, just forgot to take a picture. :) Bodyline listing: http://www.bodyline.co.jp/bodyline/showTBPic.asp?name=/bodyline/photos/l146-2.jpg

Bodyline Heart Chocolate print in mint, with bag: SOLD

http://i8.photobucket.com/albums/a27/bunny_7373/daily%20lolita%20and%20egl%20post%20pics/DSCN2209.jpg

Condition is like new, worn once. Size M. No visible damage. Detachable bow included. Bodyline listing: http://www.bodyline.co.jp/bodyline/showTBPic.asp?name=/bodyline/photos/l192-2.jpg

Handmade strawberry long JSK: $25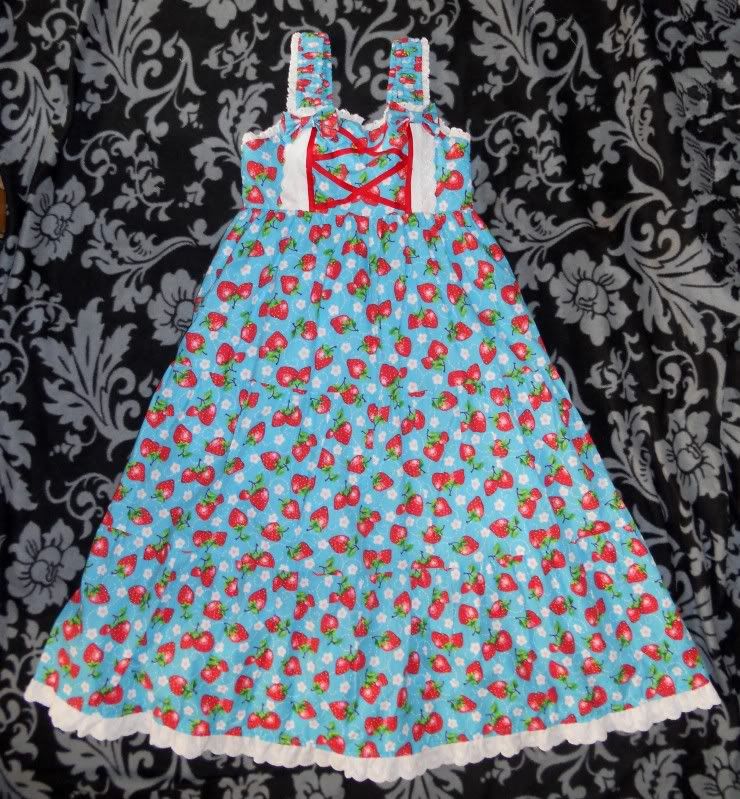 Condition is good, worn 3-4 times. Possible stains, but I cannot find them. Not all edges are finished. I would not recommend to anyone with a bust over 32-33inches, but there is shirring in the back and could probably stretch to accommodate as large as a 34inch bust semi-comfortably.

Bodyline blouse: $30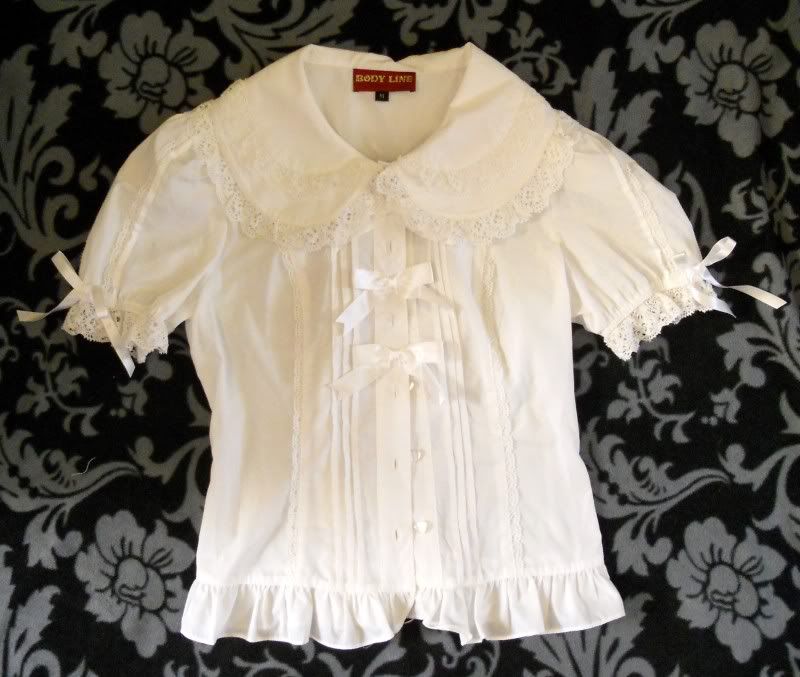 Condition is like new, worn once. No visible damage. Size M. Bodyline listing: http://www.bodyline.co.jp/bodyline/showTBPic.asp?name=/bodyline/photos/l015-2.jpg

Offbrand blouse (Forever 21): $15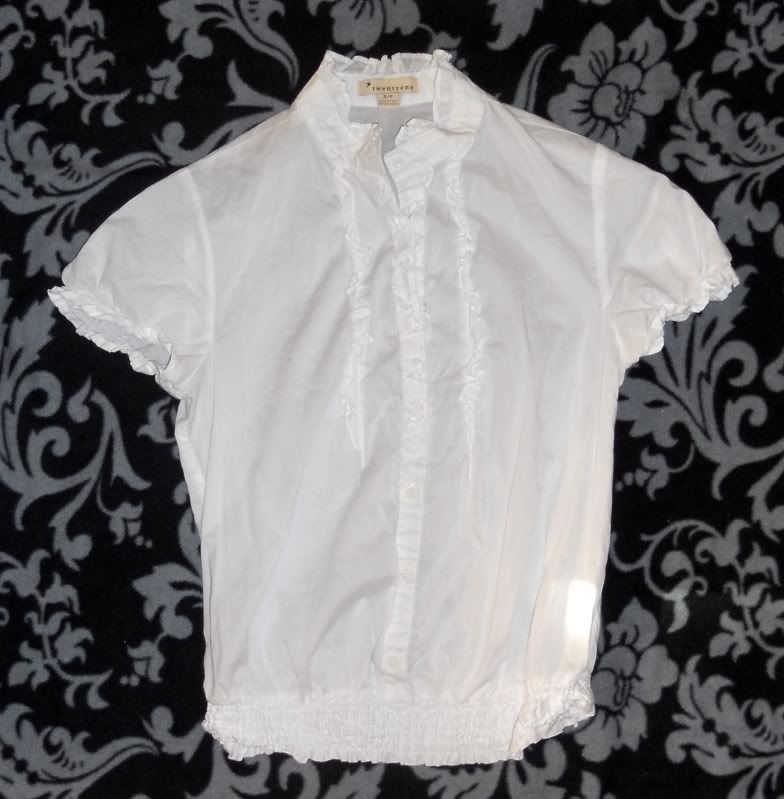 Condition is good. No stains. Will be ironed before mailing. Size small. It has elastic around the waist, so I suggest this blouse only under JSKs. Light fabric, great for summer.

Offbrand blouse: $10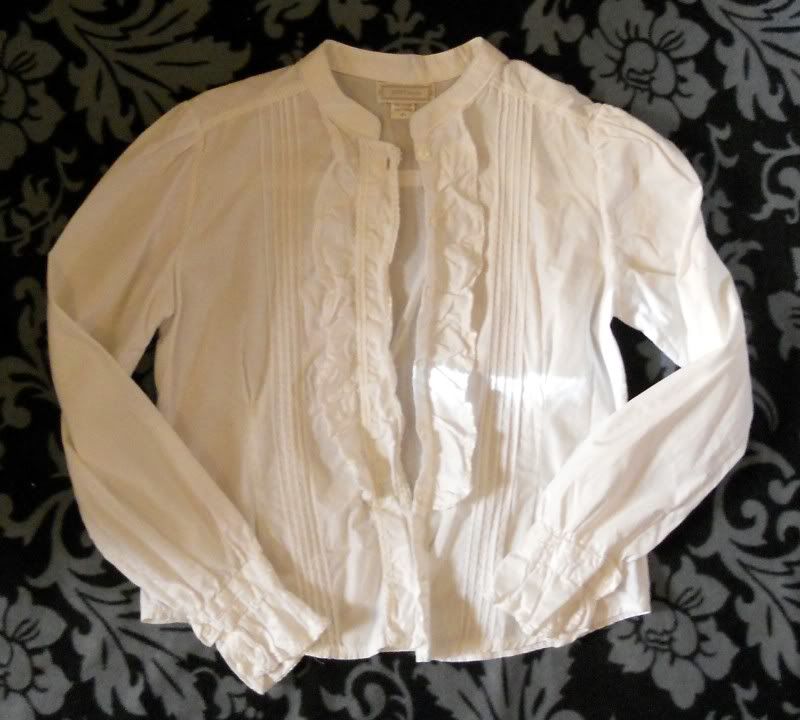 Condition is fair, bought at a second hand store. Buttons are kind of small. Size small (would not suggest to bust size over 34 inches). Would be ironed before mailing.

Offbrand pink cardigan: $15




Condition is like new. Size small.

Offbrand ivory cardigan: $15




Condition is like new. Size small.

Offbrand (Charlotte Russe) black lacy bolero: $15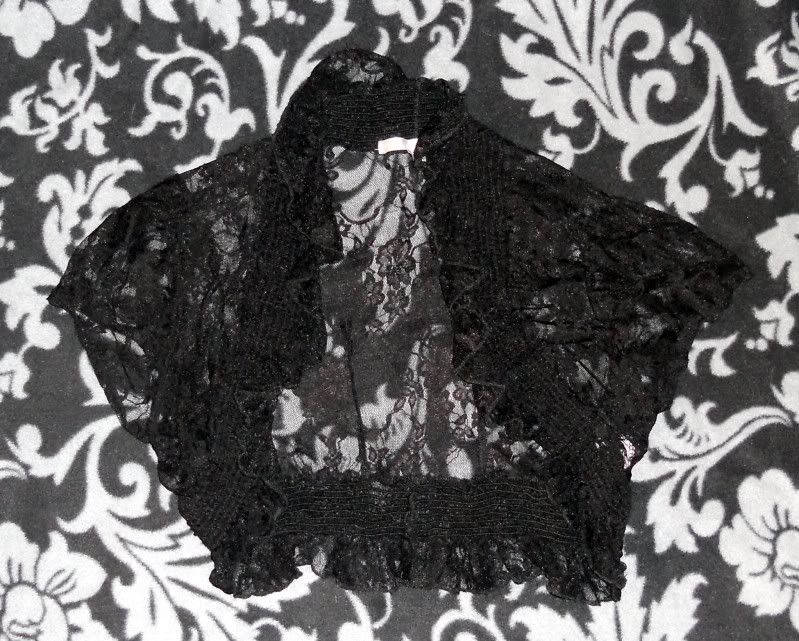 Condition is good, worn 3-4 times. Size small. Light pilling.

Bodyline Teddy Bear print bag in blue (sold out on their site): $10 PENDING

http://i8.photobucket.com/albums/a27/bunny_7373/daily%20lolita%20and%20egl%20post%20pics/DSCN2202.jpg

NWT. Never used. Perfect condition.

Offbrand socks lot: $15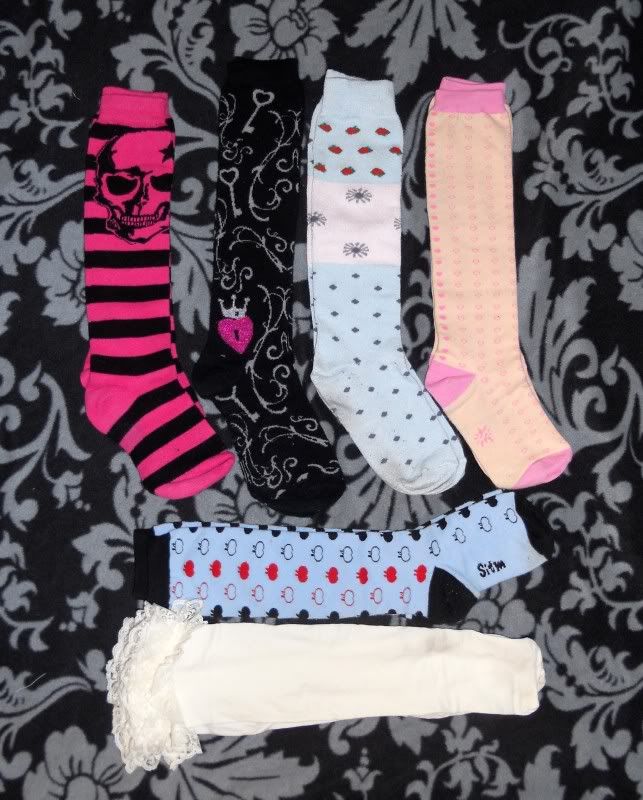 Conditions range from being worn once to being worn 6-7 times. Pilling, stains on the bottoms on some pairs; others only light pilling.

AP pink heart ladder socks: $15




Condition is fair. Worn once by me, bought second hand here. Socks are great except the top is very stretched and will not shrink back. Could be fixed with elastic.

Vintage gloves and fingerless gloves lot: $15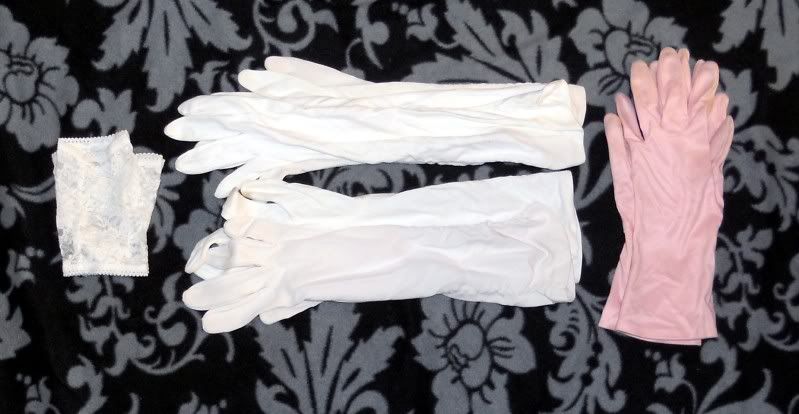 Conditions are fair and good. White/offwhite gloves have some stains on fingers. Pink and fingerless are in good condition. Some snags.

Mint deco parfait necklace: $7




Bought at Sakuracon 2010. There is a heart near the back that had broke, but I fixed with hot glue. Crack is still slightly visible. Never worn out.

Meta winter 2009 LP necklace: SOLD

http://i8.photobucket.com/albums/a27/bunny_7373/daily%20lolita%20and%20egl%20post%20pics/DSCN2201.jpg

Condition is like new. Worn out once.

Thank you for looking, and please let me know if you have any questions or would like additional pictures. Keep in mind that first to leave their PP is first in line, but if after asking questions you decide the item is not for you, you are not obligated to buy the item. If you are seriously interested, but have questions, post PP with your questions. PP addresses will be screened.