Here is my feedback: community.livejournal.com/eglfeedback/975199.html



Payment Info


Prices are in US dollars. Shipping is included but please inquire about tracking or insurance.
I accept PAYPAL ONLY. NO PP FEES.
I accept holds for a NON REFUNDABLE %20 payment. I will hold your item for 3 weeks, unless we discuss otherwise.
I accept payment plans. I ask that you are able to pay for at least %30 on the first payment, which will be non-refundable. If you backout after committing to a payment plan, then I will leave negative feedback :( I have had bad experiences with payment plans before, so please don't take it personally.



Shipping Info

I live in California, US. Once I ship an item it is no longer in my control, therefore, I am NOT responsible for lost or damaged packages. However, if damage was due to poor packaging, then something can be arranged.
I will send you a picture of the reciept after shipping to confirm my shipment. This will be sent to the paypal email you give me.
Please understand as a busy college student I ship out either FRIDAY or SATURDAY mornings. Thank you!



Trading Info



Currently I'm looking for more simple pieces but I'm pretty much open to anything! I do NOT like sax colorways however. Navy is acceptable.

My measurements are:
Bust: 34in
Waist: 30-31in PROOF: This Tokidoki Planner will be my proof

.

DS/DT


IF I DONT HAVE A WORN PICTURE POSTED I WILL NOT TAKE ONE. Thank you!
1. DS/DT Angelic Pretty Fruit Parlor JSK black x pink MORE THAN %20 REDUCED SOLD TO
marikeet
Asking: $260 $200 Shipped US or $270 $215 Shipped Int.
Bought at $295
Original Listing:http://takoyaki-co.livejournal.com/2410.html#cutid1

I literally just recieved this dress only to find that it didnt flatter my body as much as I would've hoped. Dress is in amazing condition, as you can see I paid for its condition. It was bought new and never tried on and I only tried it on a couple times before deciding to sell it. I've reduced the price to what I feel is fair from me simply trying it on.

This JSK is adorable, including a glittery print and cute heart buttons for the waist-ties and adustable straps. There are no flaws in the dress. JSK features partial shirring for flexibility in the bust and is fully lined with a light built-in petti. Also, POCKETS :D

Please excuse the weird lighting my camera decided to make. Colors are vivid dark black and pink. Give this adorable dress a new home!


Print Detail: i1096.photobucket.com/albums/g339/Pakiren/IMG_0622.jpg
Back: i1096.photobucket.com/albums/g339/Pakiren/IMG_0623.jpg
Waist-Ties:i1096.photobucket.com/albums/g339/Pakiren/IMG_0625.jpg
Tag: i1096.photobucket.com/albums/g339/Pakiren/IMG_0627.jpg
Amateur Measurements:
Bust: up to 98cm
Waist: up to 86cm
Length: 88cm from top of strap

2. AP White wired headbow
Asking: $40 Shipped US and INT

Bought from a user awhile ago but it just doesn't look right on me. Cute lace and detailling with handy wiring to shape the bow as you please. Brand new condition, tried on a few times. If you'd like to trade this for my WTB of a BTSSB headbow, please let me know.


DS ONLY


(Note: For the following I forgot to put my planner down, if you still are concerned these proof are not enough, please let me know and I will take another picture, it will be uploaded in a couple days, as I do not have a camera avaliable right now)

Please do NOT offer me trades for these two items. They are strictly DS ONLY.

3. BTSSB Black Babydoll JSK SOLD to
catw07
Asking: $125 Shipped US or $135 Shipped INT

I really love this but I decided the babydoll cut doesn't really suit me. It's been worn a couple times for concerts. I did find a small, white spot while taking pictures. For size reference, I took a picture with the spot next to my index finger. I have not tried to remove it, if you would like me to try I will gently hand wash but I would prefer to leave it up to you.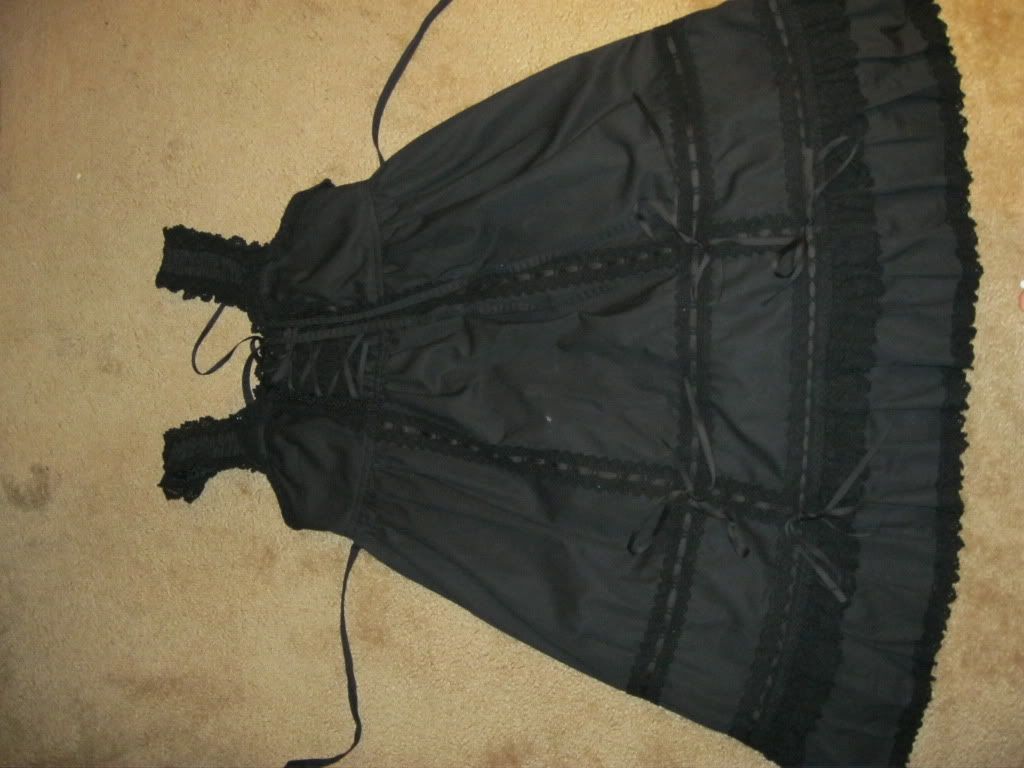 Back:i1096.photobucket.com/albums/g339/Pakiren/IMG_0112.jpg
Spot: http://i1096.photobucket.com/albums/g339/Pakiren/IMG_0111.jpg


4. AATP Black Lilietta sundress
Asking: $125 Shipped US or $135 Shipped INT Sold to
prettykitty84

Hellolace link: hellolace.net/wardrobe/alice-and-the-pirates/type/jsk/item/16/

This dress is adorable. I wore it once to a graduation, however I realized that I don't like how it suits me. I bought it second-hand from a user here and it smelt of smoke. I aired it out and tried febreeze on the dress, however it now faintly smells of smoke, and febreeze. I've reduced the price that I purchased it at by $20 dollars in response to this. Other than that, this dress is in great condition. Comes with a detachable bow for the front and closes via side zipper.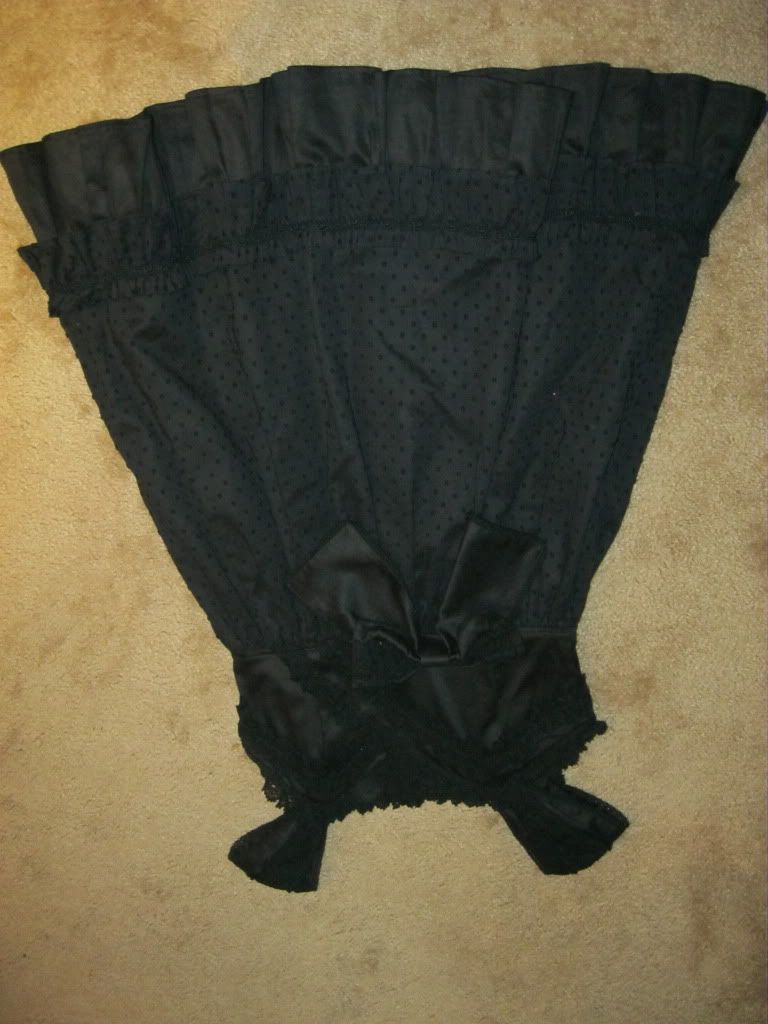 Tag: i1096.photobucket.com/albums/g339/Pakiren/IMG_0115.jpg
Back: http://i1096.photobucket.com/albums/g339/Pakiren/IMG_0116.jpg
Worn: i1096.photobucket.com/albums/g339/Pakiren/Worn-1.jpg





WTB


A black or white BTSSB headbow. Center/side/headeating, it doesn't matter! I'd love to see anything you have to offer.

You are of course welcome to ask me questions! I generally check LJ twice a day. Thank you for your patience!