-EGL Feedback and Etsy Feedback
-Shipping from Toronto, Canada
-Prices are in CAD
-Paypal fee is NOT included
-I ship internationally.
-USA buyers have priority because its cheaper to ship there than within Canada (weird!)
-Also available for local pickup in Toronto.
-Smoke and pet free home.
-I accept Paypal and Email Money Transfer. (Possibly concealed cash if there are no other interested buyers, but at your own risk!)
-Items go to the first person who gives me their paypal address and can pay full price.
-Sorry, no holds.
-I accept payment plans with a 50% non-refundable deposit
-Invoices must be paid within 24 hours.
-Not responsible for lost packages if you purchase un-tracked shipping.
-I will consider reasonable offers, but priority will go to whoever will pay full price first.

Shipping Info: Packages will be shipped with standard, non-tracked, postage. Insurance is included up to $100. If you need tracking, it costs quite a lot more, please ask. Tracking is only included for Canadian buyers.


I will only split the set if there are buyers interested in both items.

Measurements (from hellolace): 86.5cm + 3.5cm (lace) length, 35cm shoulder width, 90cm bust, 76cm waist, 20cm sleeve length, 28cm cuff
Condition: Excellent, Like New. I am the second owner, I've only worn it once. Includes the detachable jabot, and waist ties + the headbow.
Price: $300 + $7 shipped to USA & Canada. + $10 International.

SOLD







Alice and the Pirates 'Anshii Princess' Onepiece (20% reduction) SOL

D


Measurements:
Bust: 42cm
Waist: 60-70cm
Length of skirt: 86cm

Condition: Perfect condition. Only tried on once. It's a really pretty dress, but unfortunately i need the money T_T
Price: $100 $80 shipped to USA & Canada. Please ask for International.





Bodyline Pink OP + mini hat set



Size:2L
Length 90cm
Bust 96cm
Waist 82cm
Shoulder length 35.5cm
Sleeve length 22cm
Condition: Excellent condition. Worn a few times, no damages. Was my first lolita dress!
Price: $45 + $7 shipping to US/Canada + $10 Int'l



Bodyline Sax Bunny Hoodie

SOLD


Proof Pic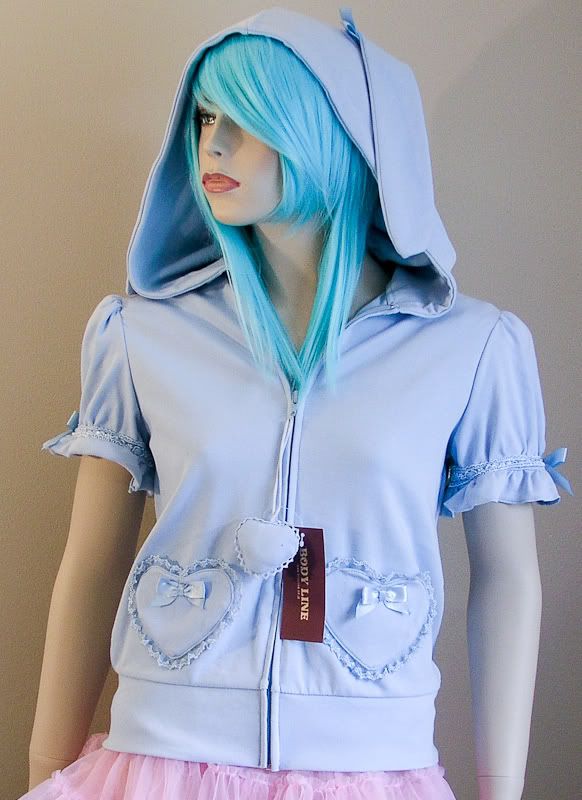 **Note: Pictured without sleeves, but sleeves are included.




Size:Length 56cm
Bust 86cm
Shoulder length 36.5cm
Sleeve lengh 60cm
Half sleeve length 21cm
Condition: Brand New w/ tags. It was an impulse buy ^^;
Price: $25 shipped to usa and Canada $35 shipped Int'l. Invoice pending
Sexpot Revenge Purple/Black Mohair Sweater
SOLD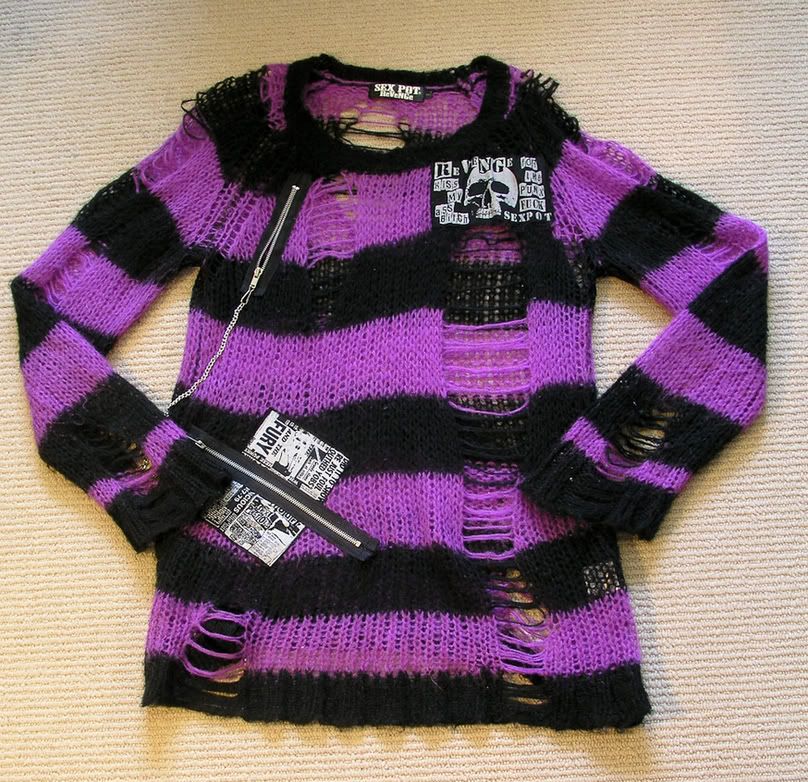 Size: Free size
Condition: Like New! Only worn once, I am the second owner.
Price: $75 shipped anywhere

Milky Chan Inspired Hair Clip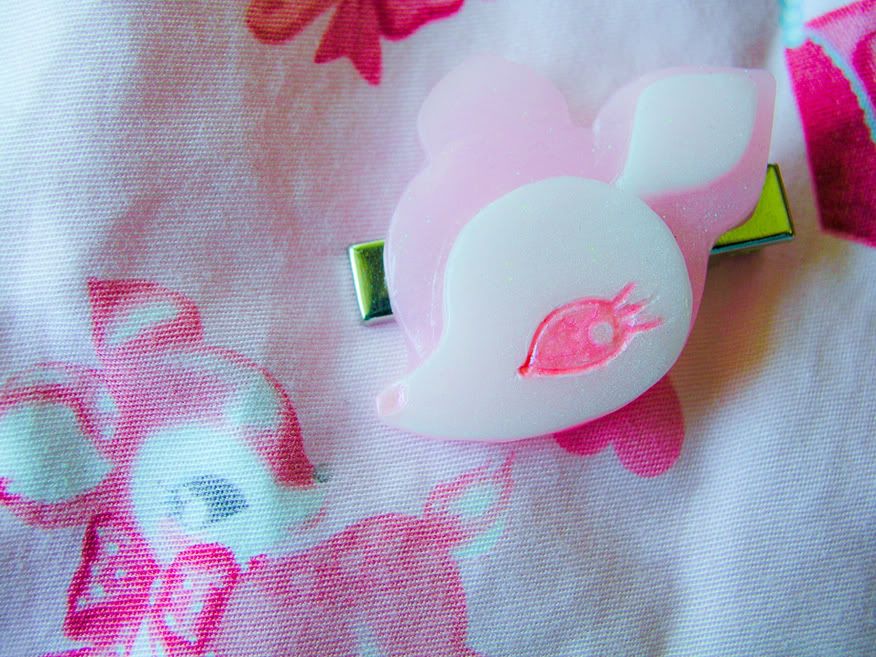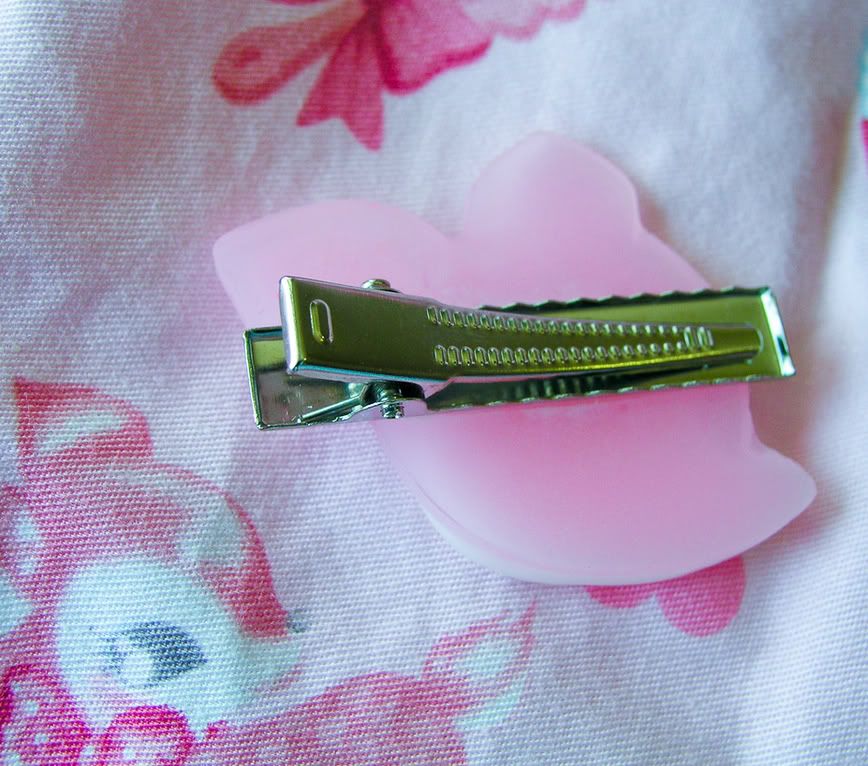 Custom made by me from resin, this is inspired by AP's Milky chan. I used my own custom shape for the head. This can be made in any color you like! Sax, lavender, brown, etc.
Securel fastened to an aligator clip with teeth.


$10 ea.
+$5 shipping to USA/Canada + $8 Int'l
Handmade w/ polymer clay. You can pick your own colors!


Main star color:
Lace color:
Bow color:
Star bead color: (pink/blue/yellow/purple/white/sparkly silver/sparkly gold)
Pearl chain colors: (white/light pink/mint/yellow/fuchsia/dark grey)



$20 ea.


+ $5 shipping to USA & Canada,+ $8 Int'l

Jelly Star Rings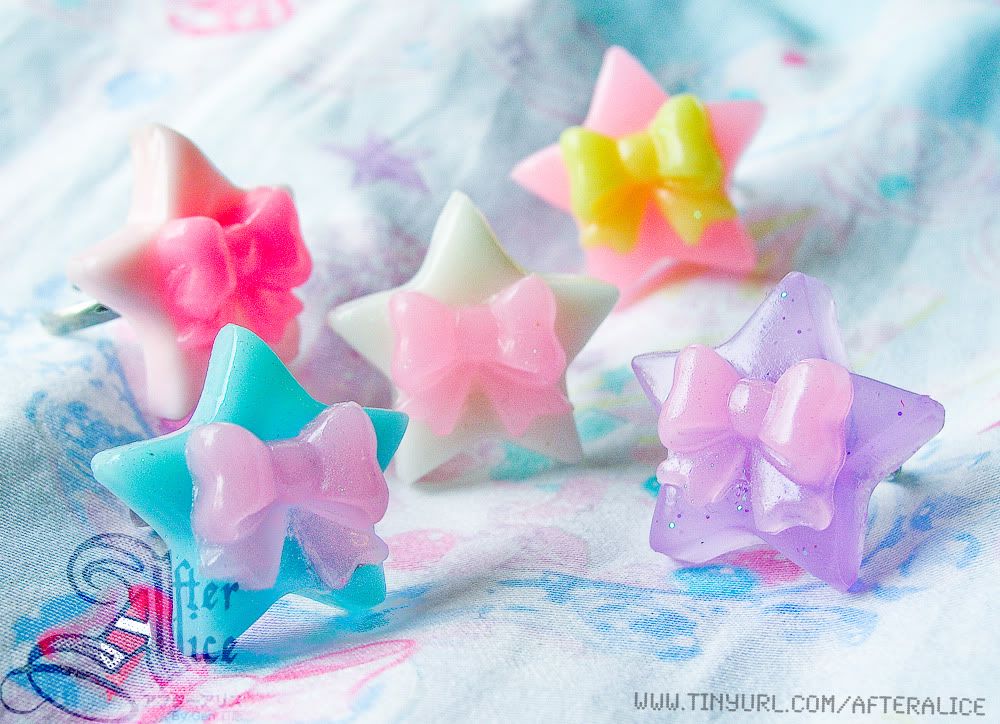 Without Bow: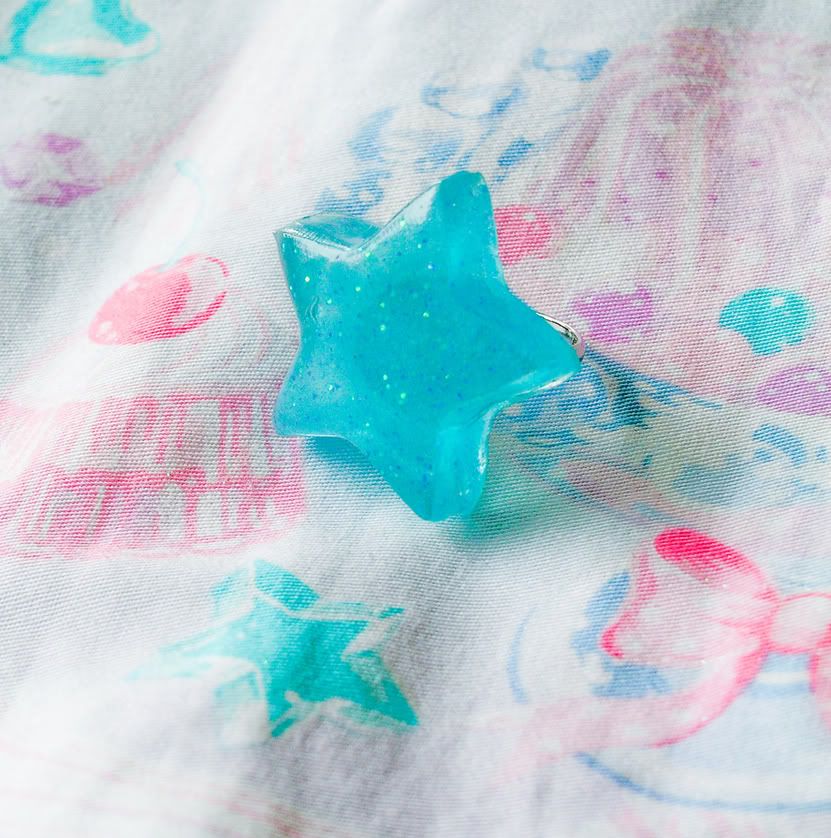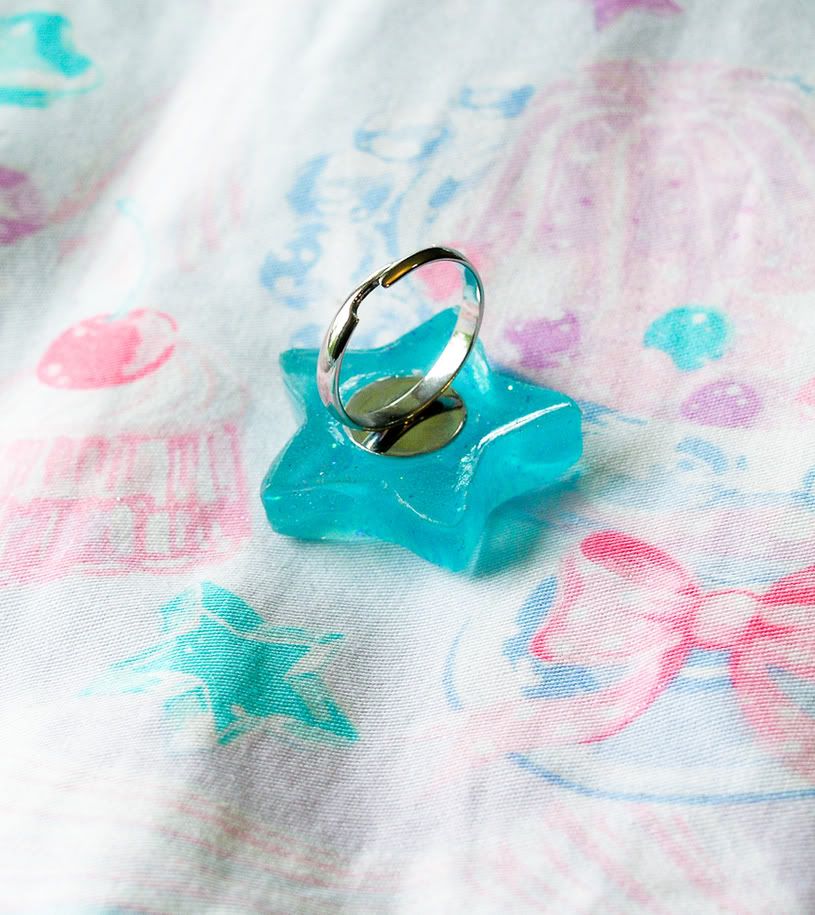 These sparkly star rings can be made with or without a bow and feature a burst of iridescent glitter~!
Custom shape made by myself,cast in resin and then carefully sanded, buffed and glossed. They are each glued to a nickel free, adjustable ring base.

Can be made in any opaque color, as well as semi-translucent (like the purple one).
I'm currently working on heart shaped ones as well!
You can check my Etsy for when I post them up~


$10
ea.
+ $5 shipping USA/Canada, + $8 Int'l

Resin Coffin Rings
NEW COLOR - Ivory & Lavender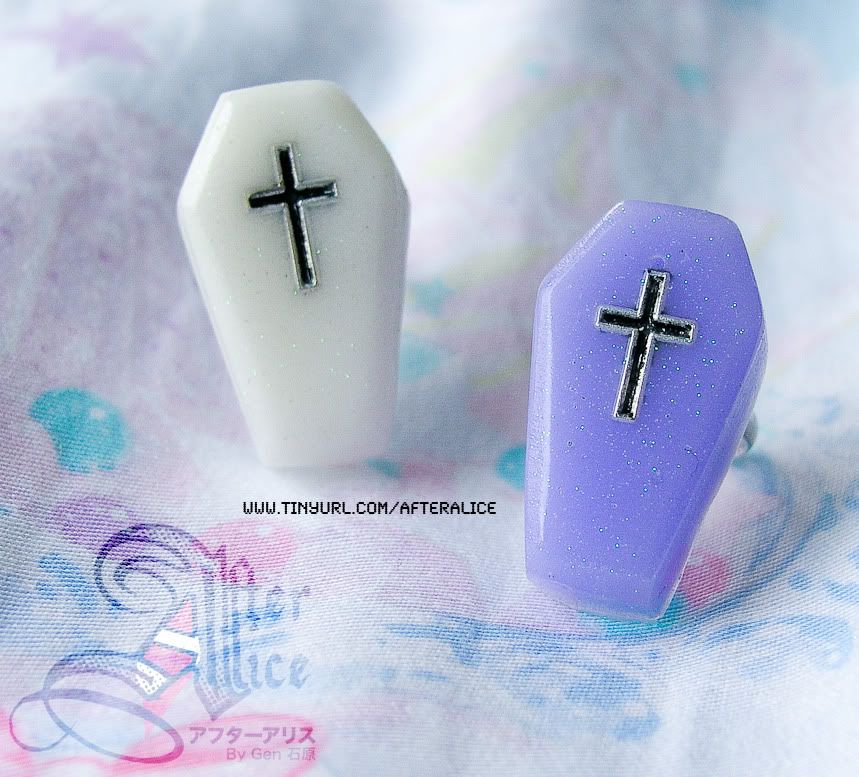 ★New colors!★ 'Bright Ivory' and 'Lovely Lavender.'
Both contain fine iridescent glitter to make it sparkle!
Custom shape coffin rings, handcrafted by me with resin, using my own molds. They are then individually sanded and given a gloss coat.
Unique and one of a kind design! You won't find these anywhere else!
Adjustable ring base, nickel free.
Also available in Ruby Red, Royal Blue and opaque Jet Black
HERE.




$15.00 ea.


+ $5 Shipped USA/Canada + $8 shipped Int'l



Older sales here:
AATP Pink OP, Vivienne Westwood Replica, montreal shoes, black & blue wig, other handmade accessories